I have become more and more excited about the opportunity that Etsy provides for ANYBODY to start and grow their own successful home based business as this year has progressed.
As I approach the first anniversary of the opening of my own Etsy shop I am enjoying daily sales yet I have hardly begun to scratch the surface of this amazing website!
Etsy is a very social site and being aware of my own shortcomings when it comes to social media I decided that a collaboration with a social media expert would be in the best interests of you my reader.
Your Etsy Profit Machine! is the culmination of a 6 month collaboration with Bart Hennin and lays out an easy to follow yet extremely comprehensive road map that will teach you EVERY aspect of growing your very own business on Etsy!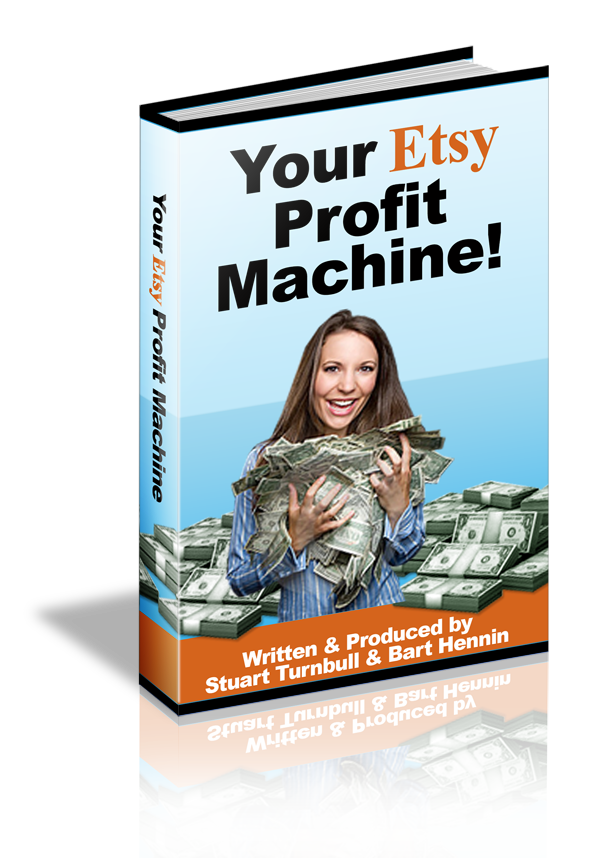 In This Comprehensive Course You'll Learn…
+ How to EASILY find tons of profitable niches fast so you don't waste time listing things that won't sell, and also so you start making higher sales and higher profits sooner!
+ How to source hot high demand products from your computer for pennies and sell them for tens of dollars or even hundreds of dollars of PURE PROFIT!
+ How To Make Profits WITHOUT A Website and WITHOUT technical skills!
+ Secret "Instant Cash" Tips For Sourcing & Selling Digital Products On Etsy (NO shipping, Instant profits!)
+ Why Etsy Produces Higher Profits With Less Effort
+ How To Acquire Rare And Popular ORIGINAL Vintage Prints For As Little As A Dollar Or Two And Resell Them For $10-$35 Or More!
+ How To Create Your Own Exclusive "celebrity" Prints Free Or At Very Low Cost For Resale 90%-100% Pure Profit (WITHOUT Violating Copyrights!)
+ How To Acquire Vintage Goods (Locally) For Additional ETSY Profits!
+ How To Write Irresistible Listings That Will Have People Clamoring To BUY From You!
+ How To Increase People's "Perceived Value" Of Your Products So You Can Get Higher Prices!
You'll ALSO Learn…
+ The Psychology Of Etsy Buyers & What makes Them BUY (This ALONE will put you ahead of 97% of Etsy sellers!)
+ How To Get BIGGER Sales, MULTIPLE Sales and REPEAT Sales
+ How To KNOW and PROVE An Etsy Niche Is Making Lots Of Money BEFORE You Invest Your Time & Effort Into It
+ How To Use ETSY "Tags" To Attract Buyers & Make Sure Your Listings Are Found By TONS Of Buyers!
+ How To EASILY Tap Into ETSY's On Site Social Functions To Get OTHER PEOPLE Recommending Your Items.
+ How To Tap Into The POWER Of Facebook to MAKE MORE ETSY CASH!
+ How To Create A Stunningly Beautiful FB Fan Page In Just 5 Minutes and how to get hundreds or even THOUSANDS of REAL fans FREE in just days!
+ What To Post On Your Fan Page & How To Make CASH From Your FB Posts!
+ How To Embed Your ETSY Store right onto your FB page FREE With NO TECHNICAL SKILLS!
+ How "Simple Creative Packaging" Can Bring You Even MORE Sales & Profits!
+ How To Use The Power Of Simple Email Marketing (Via Your Own Etsy Shop Newsletter) to EXPLODE Your sales and profits.
And Much, Much More including EXCLUSIVE BONUS CHAPTERS  that Show You How To Unlock The POWER Of PINTEREST & TWITTER For Tons More Additional Etsy Sales & Profits!
Some ETSY sellers use PINTEREST EXCLUSIVELY to feed their ETSY profit machine!…we show you how to do this! (and it's so simple too!)
BUT Your PLATINUM Edition guide gives you much MORE! It has BONUS CHAPTERS that also show you how to intertwine FB, Pinterest & Twitter to attract a tidal wave of avid buyers for your ETSY products (whatever they are!).
These additional chapters bring your guide from 100+ pages to over 140 info packed pages! And those extra 40+ pages can more than QUADRUPLE Your ETSY Sales!
But That's Not All – I Wanted To Make This A 'No Brainer' For You So I've ALSO Included NOT 1, NOT 2, NOT 3, BUT 4 (FOUR!!) Incredible BONUSES!!! (Worth $235.00) FREE!
There's no elegant way to say this…
These Bonuses are Simply Amazing!
(And will make you even MORE Profits Faster!)
AMAZING BONUS 1 – Anatomy Of An Irresistible eBay/ETSY Offer
Turn Your Skeptical Viewers Into Avid Repeat Buyers!
***(This FREE Bonus ALONE Is Worth More Than The Entire Course!)***

If you've ever wanted to be able to EASILY create POWERFUL product descriptions that turn skeptical viewers into RABID HUNGRY BUYERS, you'll simply love this guide! It shows you in simple terms, how to easily create ebay & etsy listings that SELL like WILDFIRE! (Even if you're a complete Newbie).
Let's face it…no matter what you decide to sell on ETSY (or Ebay), the success of the listing always comes down to making your offer so irresistible that people will scramble to BUY!
Your item descriptions must contain so much "perceived value" that your prospect's decision to buy becomes a 'no brainer'.
This FREE BONUS guide shows you how to do that in SPADES! (No matter what the product!)
This Amazing Guide Shows You…
How To Stand Out From The Pack And Crush Your Competition……………………(pg 7)
How To Strongly Persuade Your Visitor By Echoing Their Beliefs………………….. (pg 11)
How To Easily Differentiate Yourself From Your Competition……………………….. (pg 13)
How To Get Inside Your Visitors' Heads & Get Them To Do Anything You Want.. (pg 16)
How To Write Persuasive Titles With A Hook To Grab Attention…………………….. (pg 31)
How To Increase Your Productions Perceived Value
(This one's so simple you'll slap yourself!)……………….. ……………………………… (pg 36)
How To Create A Sense Of Scarcity & Urgency So Your Customer Buys NOW…….. (pg 38)
How To Write For "Skim Readers" So They'll STILL BUY!……………………………….. (pg 43)
Even without these tips, product listings will sell, BUT by applying just a FEW of these great BONUS GUIDE TIPS, you will explode your conversion rates! (and profits!!).
AMAZING BONUS 2 – How To EASILY Get THOUSANDS Of REAL FB Fans For ANY FB Page (In UNDER 10 Days) FREE!
(Spending Just 21-31 Minutes/Day!)

If you're not using the POWER Of Facebook to tap into TONS MORE BUYERS, you're losing out on a tremendous amount of additional ETSY profits. But how do you get TONS of loyal fans?
EASY…This guide shows you how!
WITHIN THESE PAGES, you'll learn EXACTLY how to get THOUSANDS of REAL FB FANS FREE (using a unique and stupid simple to do method!).
Whether you choose to make money online by
Affiliate Marketing…
Email marketing…
CPA…
Adsense…
Or selling your own products on ETSY (Easiest!)
You need lots of TARGETED TRAFFIC. Facebook Fan Pages are an EXCELLENT way to get VERY targeted traffic for ALL of these! But again, HOW DO YOU GET FANS??
SIMPLE… Read this guide! It contains everything you need to know to drive hundreds and even THOUSANDS of loyal fans to YOUR fan pages…FREE!
The clever method revealed in this guide takes just 21 to 31 minutes a day for only 10 days and WHAMMO…you have floods of REAL FB Fans for FREE!
BONUS Benefit! As you will see, you can easily adapt this method to get TONS of traffic to your blogs, squeeze pages, or other content sites too!
AMAZING BONUS 3 – EXCLUSIVE "Golden" Interviews With TOP Etsy Sellers
18 TOP Etsy Sellers In 18 HIGH PROFIT Yet FUN
Niches REVEAL Their Inspirations & Success Secrets!
(And Let You See Their Shops Too!)

What would you "pay" to sit down and talk with NOT "one", but EIGHTEEN (18!!) highly successful Etsy sellers? In this valuable one of a kind BONUS guide, we twisted the arms of 18 highly SUCCESSFUL Etsy shop owners and asked them to talk about their wares and reveal what inspired them.
They ALSO reveal how they got started with Etsy & HOW THEY SUCCESSFULLY PROMOTE their listings!
These are ordinary people just like you and I, but with EXTRAORDINARY ETSY SUCCESS!
And they reveal their secrets to YOU personally! (PLUS they let you see inside their actual Etsy stores!)
This guide is chock FULL of great shops and inspirational ideas! It presents example after example after example of attractively fashioned, high profit Etsy shops for your leisurely perusal!
If you want to get your own "creative juices" flowing with an avalanche of incredibly inspired Etsy store & listing ideas, this UNIQUE beauty of a guide will be YOUR FAVORITE BONUS RESOURCE!
(Easily a $ 67 VALUE and it's yours FREE!)
(HINT: Don't "copy" their products or shops outright, but rather use them as examples to inspire your OWN grand ideas!)
AMAZING BONUS 4 – How To Enter Virtually Any Hand Made Items Niche on Etsy!
This book has links to over 350 SIMPLE hand made gift tutorials!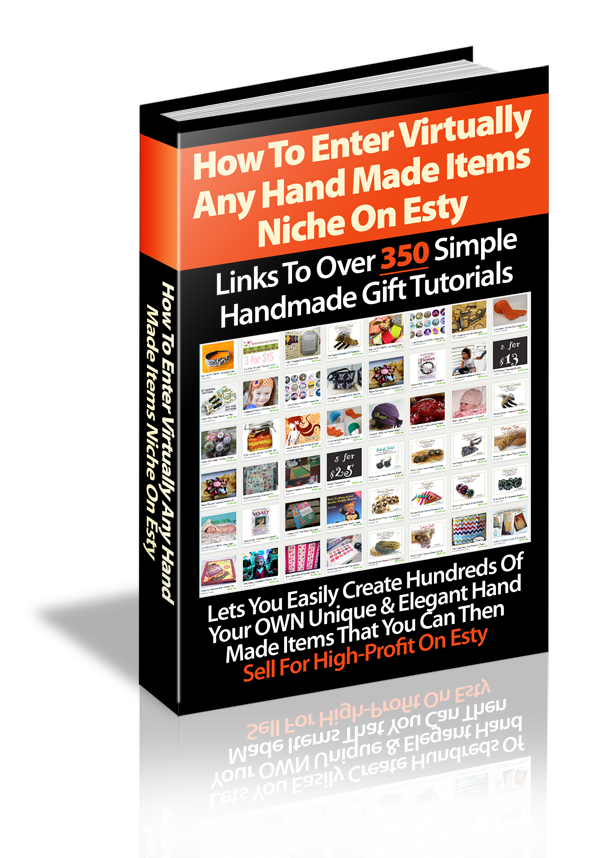 This Guide Lets You Easily Create Hundreds Of Your OWN Top Quality Unique & Elegant HIGH DEMAND Hand Made Products That You Can Then Sell On ETSY For Huge-Markups and Profit!
This Info Packed Guide Includes LINKS To…
-101 Simple Handmade Gift Tutorials -Beautiful!
-101 Sewing Tutorials -Simple, Fast & Elegant!
– 7 Hand Made Gifts For Dogs Tutorials -Unique!
-Over 150 MORE Etsy Craft Tutorials -I Lost
Count!
Find out ALL the simple secrets to creating spectacular ETSY products in virtually ANY niche!!
You Get Links To ALL Of These Step By Step Product Making Tutorials!
So You Can PROFIT FROM VIRTUALLY ANY NICHE ON ETSY Fast!
OH! There's ONE MORE Thing You Get!
I want you to be able to buy with COMPLETE CONFIDENCE! So I TAKE ALL THE RISK FOR YOU!
I am so confident that you will LOVE THIS COURSE and PROFIT HANDSOMELY from it that I am giving you a FULL UNCONDITIONAL 60 day "NO Questions Asked" 100% REFUND GUARANTEE.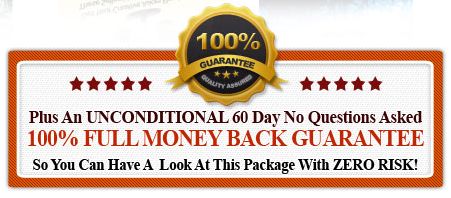 If you aren't fully satisfied (and in fact THRILLED) with this course package and everything it contains, I will GLADLY refund you in FULL so you are not out one single penny!
So you can take an in depth look at this entire course with ZERO RISK! We're that confident you will SUCCEED with this incredible course!
PS – Are You A Tire Kicker? Or An Action Taker?
You can "delay" and pay a HIGHER price later, or "strike while the iron is hot" and click the button for INSTANT DOWNLOAD NOW. You'll get this entire in depth course immediately & also get your invaluable exclusive bonuses too (included FREE!)
When you acquire your OWN copy of this incredible course TODAY you can get started making profits virtually immediately! You can be CONFIDENT that this huge package will thrill you tremendously!
Rest assured everything in this course is TOP QUALITY. We spent literally HUNDREDS of hours putting this course together for you (and hundreds more hours putting the bonuses together). We then spent HUNDREDS MORE HOURS searching for the BEST FREE TOOLS AND FREE ONLINE RESOURCES to help you so nothing would stand in the way of your success.
After that, we spent even HUNDREDS MORE HOURS polishing everything and making it easier to understand and faster to implement.
THEN we slapped on an incredible FULL Money Back 60 DAY 100% NO QUESTIONS ASKED GUARANTEE so you could look at this course with ZERO RISK.
AND FINALLY, We slapped on an embarrassingly LOW price on the whole shebang!
You get ALL THIS…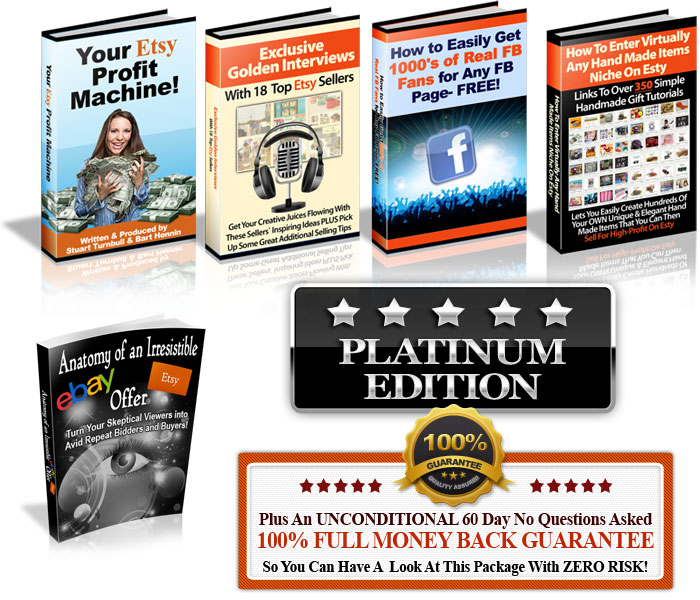 FOR JUST THIS :-  (tiny ONE OFF payment);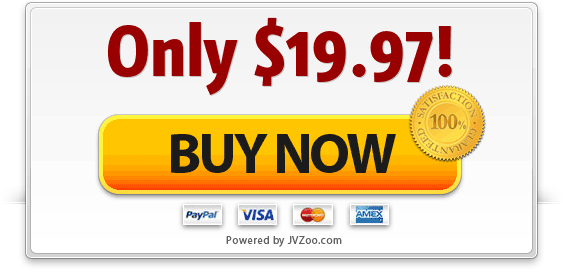 Get Immediate Access To Everything! (even if it's 2 am!)
FAQ:
How much money will I have to spend to start making money?
Very little! We designed this course to make people money with a BARE MINIMUM of out of pocket expenses. Since this course shows you how to acquire high demand products for just pennies, and even for FREE, there is little to ZERO upfront expense for "inventory".
Your ETSY store is also completely FREE.
The ONLY "expense" you must pay 'upfront' is your ETSY listing fee (just 20 cents covers you for FOUR FULL MONTHS. And if you have more than one of a given item, you still pay only 20 cents to list the WHOE LOT! If you start out listing ten different items, just $2 has you covered for 1/3rd of the year!
Is this course newbie friendly?
Absolutely yes! ANYONE can do this.
Will advanced ETSY marketers also benefit from this course?
Absolutely yes! In SPADES!
Can this course be completed internationally?
Yes! You can make money with the techniques shown in this course from any country in the world with an internet connection, Paypal and a connection to Etsy.com!
Is this difficult to do?
No. But you must take action. We show you in a step by step format everything you need to know & do to be highly successful, AND we give you many different options. Anyone can do this. If you work consistently you WILL see results!
Who is this Course suited to?
This comprehensive course is suited to everyone from novice right up to experienced ETSY marketers. I assure you that even advanced ETSY sellers will learn many awesome approaches & methods from this course.
Yet this course is also written in a clear, simple, step by step manner so as to not leave even a complete newbie behind.
Can these methods become saturated?
Absolutely not! There are so many options, so many physical and digital products to promote in so many niches, sub-niches, and sub-sub-niches AND SO MANY STORE BRANDING OPTIONS AVAILABLE, that you couldn't POSSIBLY even come remotely close to saturating these methods ever.
What is your refund policy?
Our refund policy is super simple: We take all the risk FOR you. You have a FULL 60 days to use and review your comprehensive course.
If, for any reason, you are not fully satisfied and in fact, completely thrilled with the exciting info contained within this package of five comprehensive guides, you get a FULL 100% no questions asked refund.
Your happiness is worth much more to us than a few dollars, so we're more than happy to honor this guarantee. We're that confident you'll love this course and SUCCEED with it!
If you'd like to talk to me personally about any aspect of Your Etsy Profit Machine! my Skype ID is stuart_turnbull
or drop me a line at stuart@stuart-turnbull.com
You can also also get answers to your questions by leaving a comment on this post.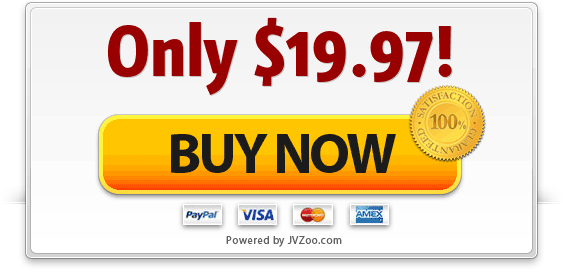 Get Immediate Access To Everything! (even if it's 2 am!)
| | |
| --- | --- |
| | If you have enjoyed reading this post and you'd like more free tips and advice, pop your details in the boxes and I will email you whenever I update my blog PLUS You'll receive a valuable gift that you can use to make money TODAY absolutely FREE! |