If you have been following me for any length of time you will know that I am a HUGE fan of Steve Poke's ebay business model!
Steve's idea cleverly solves the main barrier to long term success on ebay – mass competition.
He does this by creating his own UNIQUE products!
Recently Steve emailed me with the news that he has updated and improved his best selling ebay business course "The $50 a Day Auction Challenge"
I blogged about Steve's business last year and because I believe in this idea so strongly I want you to have the opportunity to check out the latest update.
(Do click the link in the post below to take a look at Steve's most recent completed listings and bear in mind that Steve has been doing this business equally successfully for the past several years – this is definitely no 'flash in the pan' idea)
In the course of my vintage prints business I have come across some very popular prints that always fetch top prices when listed on eBay.
These particular prints tend to be from books that are scarce and more difficult to source and the problem of course is that you can only sell the original prints once before you have to source another copy of the book.
One solution to this problem is to take a digital copy (scan) of the prints and compile a collection of prints which you can then burn onto a CD for sale on eBay.
Steve Poke has had great success with this particular business model on eBay (you can check out Steve's completed listings at 'phoenix-e-books-uk')
Steve researches eBay to identify hot selling niches then compiles collections of vintage books and images from the public domain which he burns onto CD/DVD's for sale on eBay.
The next two screenshots show the Terapeak stats for Steve's eBay store: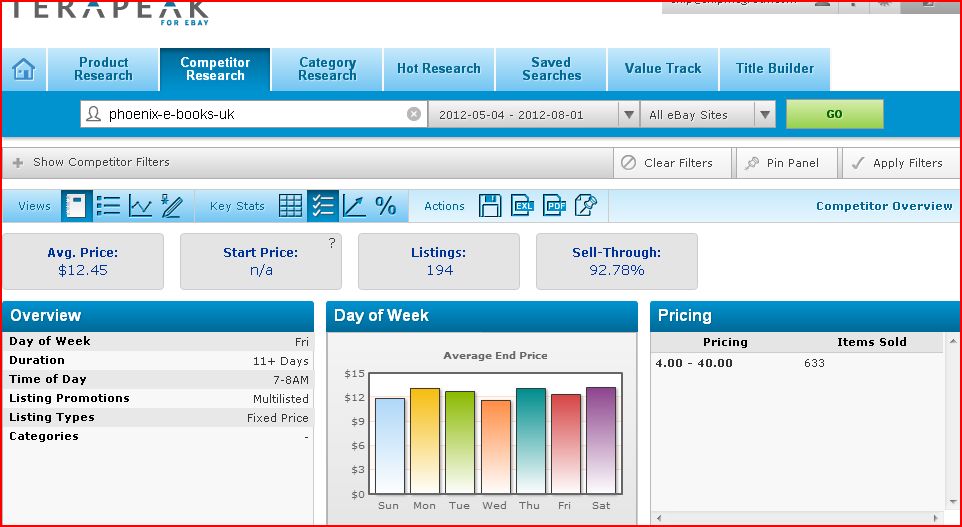 NOTE: click on image to enlarge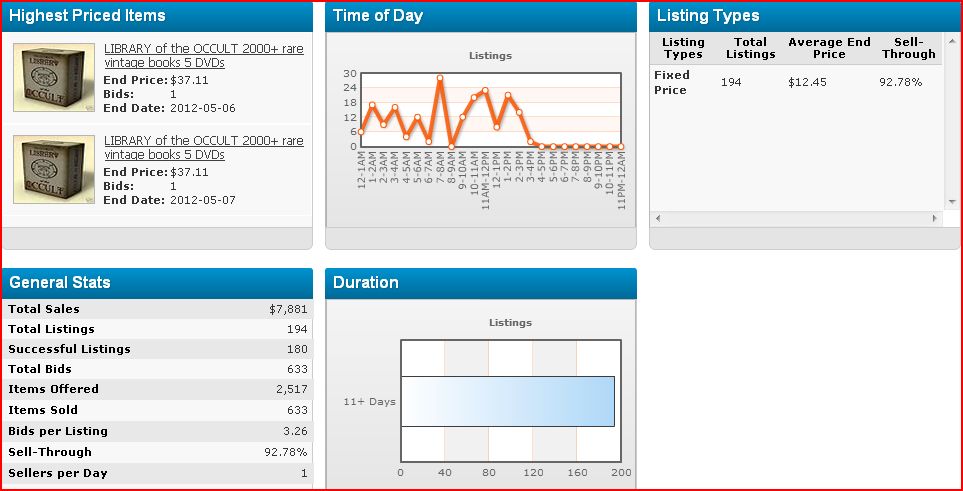 NOTE: click on image to enlarge
An impressive 92% sell through rate and total sales of $7,881 over the 90 day period!
Remember, this is all from selling public domain material that costs nothing to source!
This is a great business model because you can sell these digital collections over and over without limit. This is also a high profit margin business because you don't have to invest in inventory, your only costs being the CD/DVD's and your eBay/PayPal fees.
This business model does require work (all the best ones do!) but having created your product and your eBay listing the only work remaining is to burn and pack your CD/DVD's and ship them to fulfill your buyer's orders.
"The $50 a Day Auction Challenge"
Don't fancy burning and shipping all those CD/DVD's?
Check out the services of Kunaki.com They will manufacture your CD complete with jewel case (or DVD with case) for $1 per copy and ship it to any address worldwide (shipping is extra).
That's retail quality, full-color, glossy, fully assembled, cellophane-wrapped, high-quality, retail-ready products with free UPC bar codes.
All you have to do now is take the names and addresses of your buyers off eBay and pass this information onto Kunaki and you have the nearest thing to a fully automated eBay business that it's possible to have!
Steve Poke has kindly agreed to keep an eye on this post to answer any of your questions so don't be shy, now is your chance to grill the expert!
Talk soon!

| | |
| --- | --- |
| | If you have enjoyed reading this post and you'd like more FREE TIPS and ADVICE pop your best email in the box and I will email you whenever I update my blog PLUS send you advance notice of all my future product launches! |