Since the launch of the third edition of Prints Make Profits at the beginning of September (the third edition update is available free of charge to all past buyers of Prints Make Profits. Leave a comment at the bottom of this post if you haven't received your link to the update yet and I'll be in touch)  we have had dozens of emails with questions about various different aspects of the business.
We thought it would be a good idea to share the most frequently asked questions and their answers with you:
Q  I just finished reading your Print for Profits 3 today. I was very pleased with the ebook and can't wait to get started selling!
I do have three questions.
1. I see some black and white items sold. Do black & white items sell relatively well?
2. I haven't sold a lot on eBay. I used to run an account for a relative so I do have some experience there. I've had my own account since 11/09 with a feedback score of 16 and positive feedback of 100%. I've sold different types of items and will continue to sell different types of items. Do you think I should open another eBay account just for selling prints or do you think I should use my existing account since I have a history established?
3. Postage – on page 76 you mention in relation to shipping for cost that "you should always quote this rate in the listing for all buyers (domestic & internationally). Maybe this is my lack of shipping experience (I have never shipped internationally) but how do I quote a shipping cost that can vary greatly depending on the location? I usually use the 'calculated' option so I'm not sure what you are saying.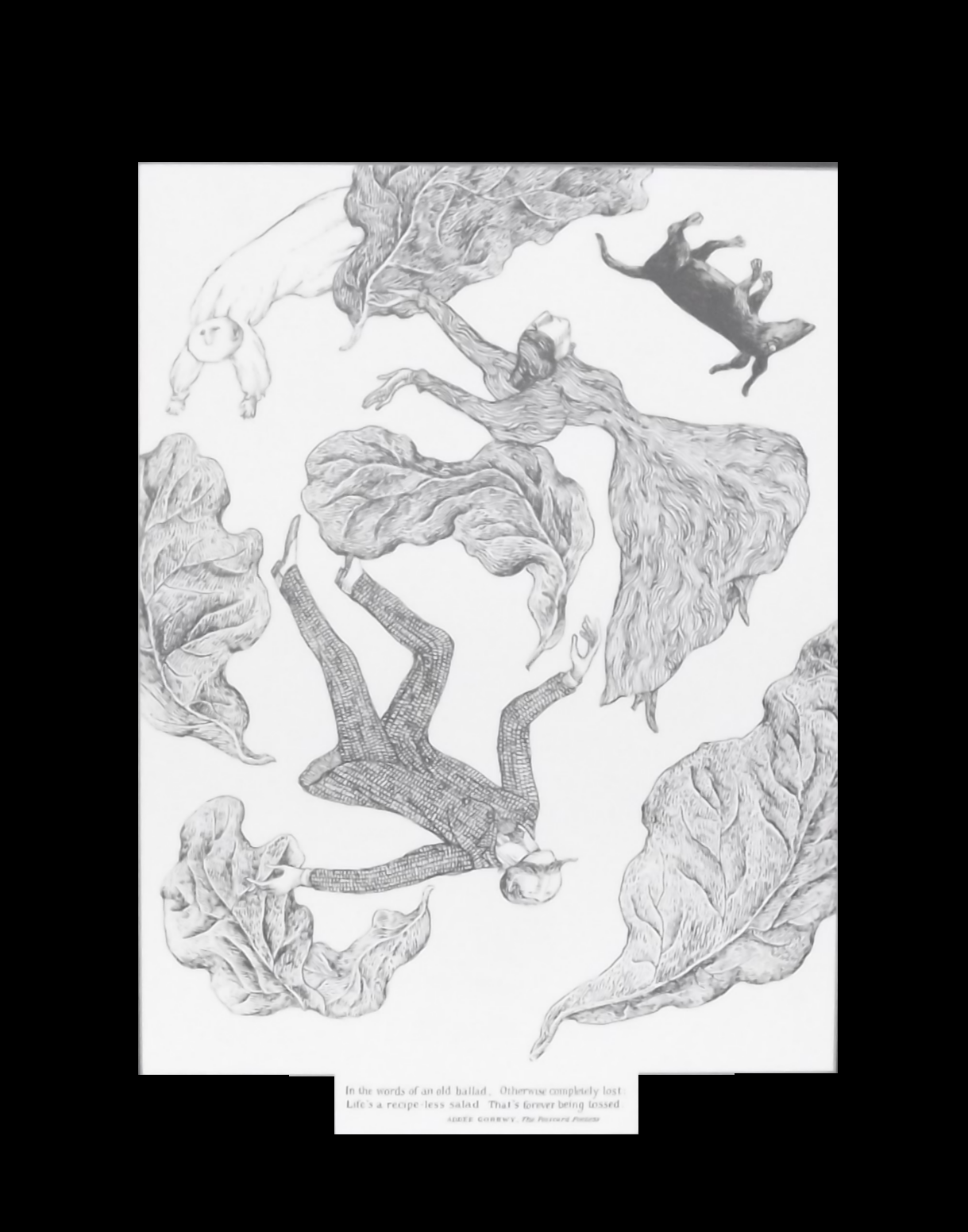 A  I tend to find that b/w prints fetch lower prices than color prints but the right ones do sell. I also find that the source books containing the b/w prints are often a lot cheaper so your profit margins can actually be higher than with the color prints.
I suggest you use your existing account since you have some feedback. When your print business takes off you can change the ID of your existing account and use this exclusively for your business and open a second account for personal stuff.
When I set up an auction I quote a shipping rate for domestic buyers, a rate for European buyers and a rate for the rest of the world. It is only 3 different prices but it covers all possible buyers.
---

Q  We are in the US and have sold collectibles on eBay for years and have generally had a no return policy except on very expensive artwork. However, I just purchased your ebook "Prints Make Profits" (Great Book!) and am rethinking some of our policies. In your book you do make a convincing argument for allowing returns. Ebay currently allows a 3 day return policy but that will have to increase to a minimum of 14 days after January 1, 2012. Would you still recommend allowing returns once the period is extended to a minimum of 14 days?
A  I'm a huge believer in the benefits of a really strong guarantee. It is a great way to differentiate yourself from the competition. I know from experience that it doesn't lead to more returns but I am sure it leads to more sales and higher final values. I wouldn't hesitate to offer an unlimited guarantee.
---
Q  Just got your update on Prints make Profits and have some questions. You say to use ebay.com for research and again you say to use Addall.com but why aren't you using the UK site for Addall. And why do you do everything in dollars. I find this confusing.
Also, in one of your demonstrations you sourced a book for around 32 dollars for the Flower Grower's guide but it didn't state it was 1896 but did state the illustrators. Are you saying to buy books on the US site. This book was around £32 on the Addall site. Sorry but I want some clarity as to where you're supposed to be sourcing products from.
A  I quote all prices in dollars because the US dollar is the main currency of the internet. You and I both use sterling but around 80% of my readers are in the USA.
I agree it is confusing at first but I always keep a currency converter open on my desktop, I use: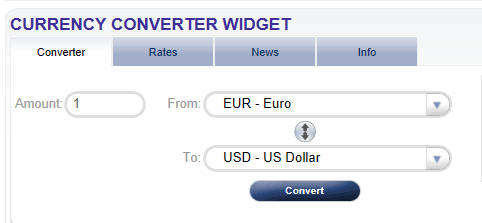 I recommend the US eBay site for research because it has 10 times the sales volume of the UK site so you are more likely to discover lucrative print niches.
I use addall.com which provides price comparisons from book sellers around the world, I am not aware of a UK addall site.
My advice on sourcing is to buy the cheapest book whether it is in the US or the UK or any where else. You need to take the postage costs into account but it really doesn't matter where the book comes from so long as you get it for the right price.
I tend to buy books from UK sellers because they cost less to ship but I have bought from the US and only last week I ordered 2 books from a German book seller.
One of the biggest benefits of the internet is that we can buy and sell globally.
---
Q  I'm excited about your prints book and would really use your expertise on selling prints. I am a retired Magazine Art Director and looking for a way to add extra income.
The problem I see is your endorsements mention videos. Well now, I live in the mountains of Southern Calif. and only have dial up. Our phone lines are so old that it takes forever to download videos!
Please advise — as I really would like to purchase your Print Making Profits program.
A  The Prints Make Profits eBook doesn't contain any video content so you won't have any problems learning the basics of the business model (the only video is on the sales page)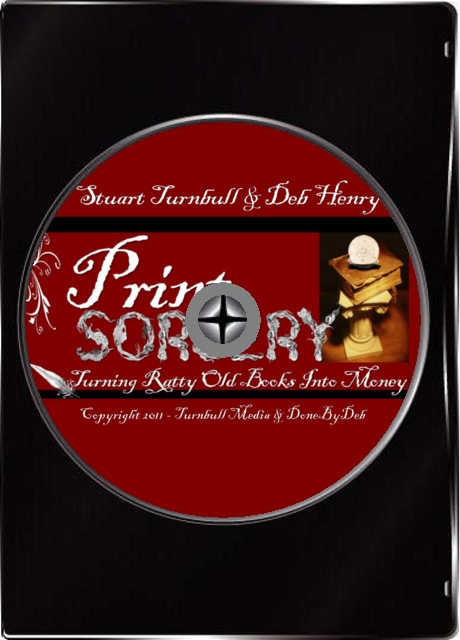 I do offer an advanced product called Print Sorcery which is a multi-media course including video and this is available as a DVD in addition to the digital download so this should solve your problem.
Here are the appropriate links;
Prints Make Profits 3 eBook ==>> CLICK HERE
Print Sorcery multi-media course (digital download) ==>>  CLICK HERE
Print Sorcery DVD ==>>  CLICK HERE
---
Q  I recently purchased Prints Make Profits and am thinking of also purchasing Print Sorcery. I am having a problem, however, in that I almost cannot read the ebay examples. They come out with small, fuzzy words and pictures. I just tried blowing up the example on the Print Sorcery advertising and can still barely read only some of it. I'm not sure that a magnifying glass would help. I have a good printer with a brand new cartridge. I have some other ebooks that use similar examples, but the print is larger and readable, (though never really ideal.)
Do you have any suggestions? I feel as though I'm losing a lot of the book.
A  If you are using the latest version of Adobe reader to read the PDF you can adjust the size of the text as in this screenshot: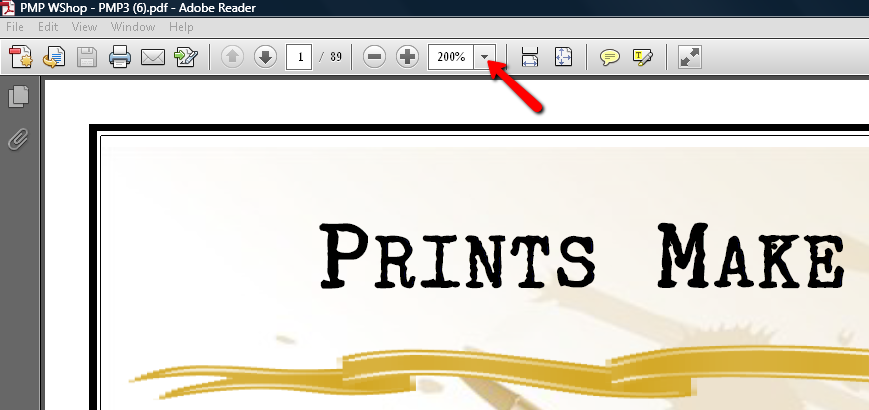 Click on Image to Enlarge
Here is a link to get Adobe reader; http://get.adobe.com/reader/
---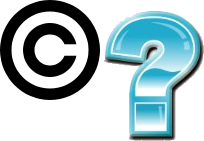 Q  I found a large book with 144 color plates published in your country in 1987. It is a first edition according to the title plate. The artist painted the original illustratons in 1833. Can I buy the book and sell the plates without getting into any infringement problems? I did find some of the images already being sold on Ebay.
A  You can do this with no copyright problems, the "first sale doctrine" covers this: http://en.wikipedia.org/wiki/First-sale_doctrine
Make sure that you find demand for the images from the same edition before you buy the book.
---
One of the coolest things about this business is the opportunity it affords you to learn about different types of print genres and artists.
But what if you just want some help to get started so that all you need to do is find the books to source and then you can get started right away….
That is what we are providing you!
Deb Henry & I put our heads together and came up with a product that compliments BOTH "Prints Make Profits" & "Print Sorcery."
We created a set of guides which we call *PROOF* –
Prints Return Outstanding Online Fortunes.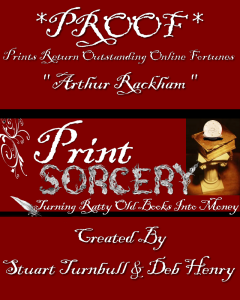 Our product is simple. We have selected a single artist, we then researched what sold successfully on eBay, we show you the book(s) that we found on addall.com that WE would purchase to source the prints from and then we give you a calculation of the potential profit you could realize from that particular book.
The guide includes a short bio of the artist (or description of the niche) and a bibliographic listing of the major works of which the artist is featured.
Along with the completed eBay listings for prints from several different book titles we also feature a section that gives you additional income ideas; completed eBay listings that were created by using (mostly) digital content.
Each *PROOF* Guide is only $5.00, but we are offering a special if you decide to invest in all three; we have reduced the total to $12.00.
In the past, we have only had the "Arthur Rackham" & "Gustave Dore" available for purchase, but we now have a BRAND NEW, third title available:  "Natural History".
The "Natural History" *PROOF* covers a niche or genre, rather than an individual artist.  As with the first two *PROOF* guides, it is jam-packed with additional insights, ideas and tips and tricks not found elsewhere.
Order one, two or all three via
the "Buy Now" buttons:
---

Arthur Rackham

Gustave Dore

Natural History


---

Special 3-Set Discount


---
Talk Soon!

| | |
| --- | --- |
| | If you have enjoyed reading this post and you'd like more FREE TIPS and ADVICE pop your details in the boxes and I will email you whenever I update my blog! |