PLEASE NOTE THAT THIS COURSE IS UNDERGOING A FULL UPDATE AND WILL BE AVAILABLE FOR PURCHASE VERY SOON
I get commissions for purchases made through the links in this post
If you were to ask me the question – "what one skill sets successful online business people apart from the rest?" my answer would be – the ability to influence people with the written word.
I have been selling online since 2004 – initially vintage book prints on eBay, in 2008 I began sharing my methods via my blog and my digital ecourses.
Over the years I have learned lots of new techniques and tools but the most important skill in my business is the ability to write persuasive copy – whether it is a sales page for my latest ecourse, or a product description in my Etsy shop – this skill puts money directly into my pocket.
So whether you run an eBay store and/or Etsy shop, write product reviews as an affiliate marketer, write emails to your mailing list, promote your own digital or physical products or any of dozens of other online business models you MUST master this one essential skill.
**********************************
I first connected with Bart Hennin in 2014 and since then we have co-created a number of very successful ecourses.
Bart's background is in direct sales – in fact, over 20 years of face to face selling which taught him how buyers think and how to use this 'buyer psychology' to create highly persuasive sales copy.
Bart has been using these techniques to sell tens of thousands of dollars worth of his own digital products and to help other marketers (including yours truly!) to boost their own bottom line.
In fact, Bart's methods have proven so successful that he decided it was high time he shared them with everyone and not just his inner circle of marketing friends.
This blog post is an honest review of Bart Hennin's brand new ecourse  "Discover The Insider Secrets To Creating Magnetic Offers For ANYTHING!"
So, what is "Discover The Insider Secrets To Creating Magnetic Offers For ANYTHING!" all about?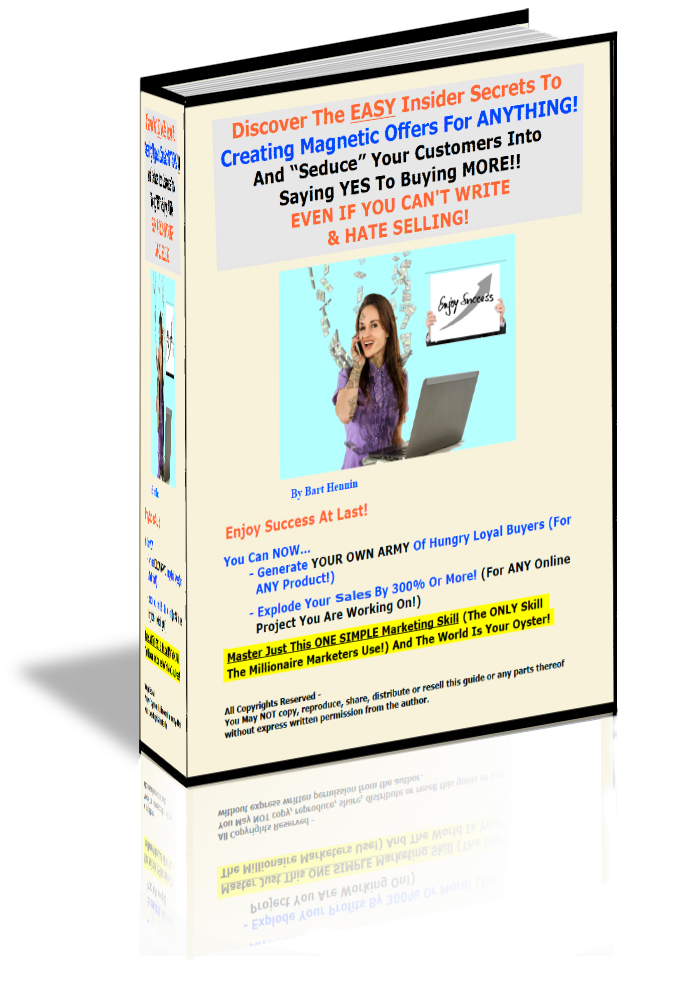 The course consists of an 87 page ebook which is divided into two parts – part one teaches you how to trigger your prospect's buying emotions – this is all about building that all important relationship with your prospect.
Part two focuses on the 'nuts and bolts' of your sales copy – the images and graphics, the headlines and titles, how to use guarantees, how to write for skim readers etc. etc.
The ebook then concludes with 3 bonus sections:-
1 The Psychology of buyers and how to more powerfully tap into people's emotional buying triggers.
2 How to adapt your copy for email, social media posts, product review pages and self published books.
3 How to easily create exclusive bonuses to add to your offers and promotions.
In addition to the ebook, Bart also includes 3 in depth case study videos which take you step by step through 3 real life sales promotions that show you how to apply the theory taught in the ebook.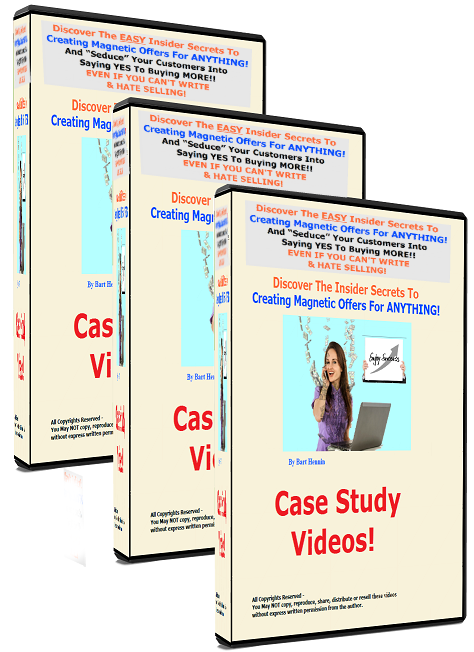 The videos are excellent quality (although a little long for my taste – but as Bart points out you can stop and start them whenever it suits you!) they add real value to the course and provide the kind of insight into the mind of the expert copywriter that you just don't get with ebook only courses.
**********************************************
Writing effective sales copy can appear to be a rather complicated subject with so many different aspects and subtle details to consider but Bart has a real talent for making the subject easy to follow and understand for the non-expert and his easy, humorous style helps transform this essential learning into an enjoyable experience.
Bonuses instead of upsells!
This offer is an 'all in one' package deal – you get everything you need to become a successful copywriter for one great value price with no additional product upsells offered.
In fact, Bart goes one better and actually includes 2 more valuable ebooks to sweeten the deal (both written by Bart – NOT rehashed private label rights material.)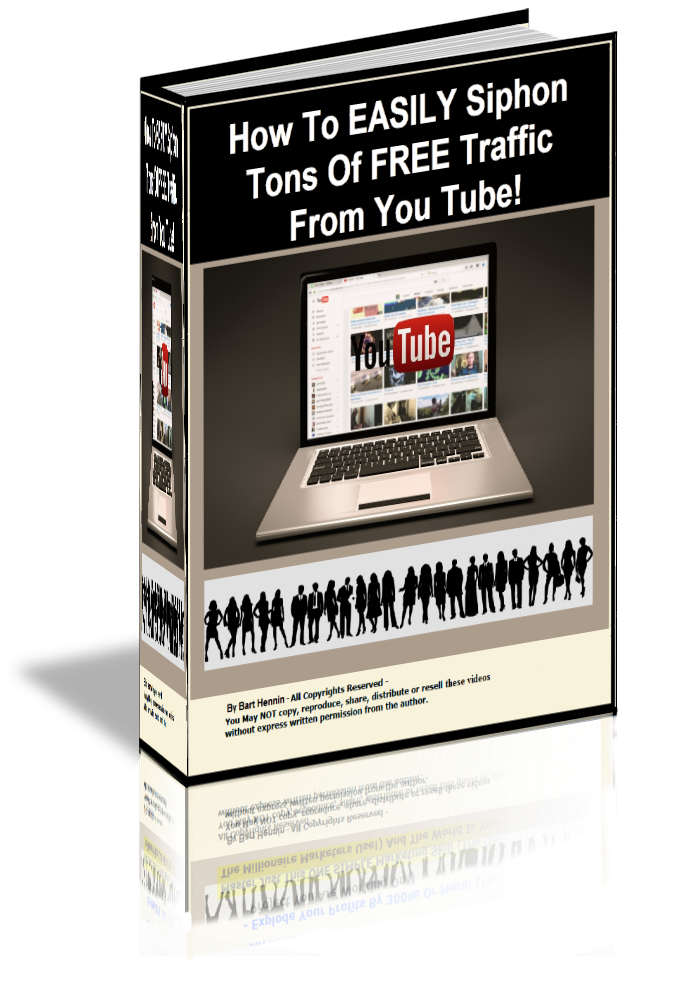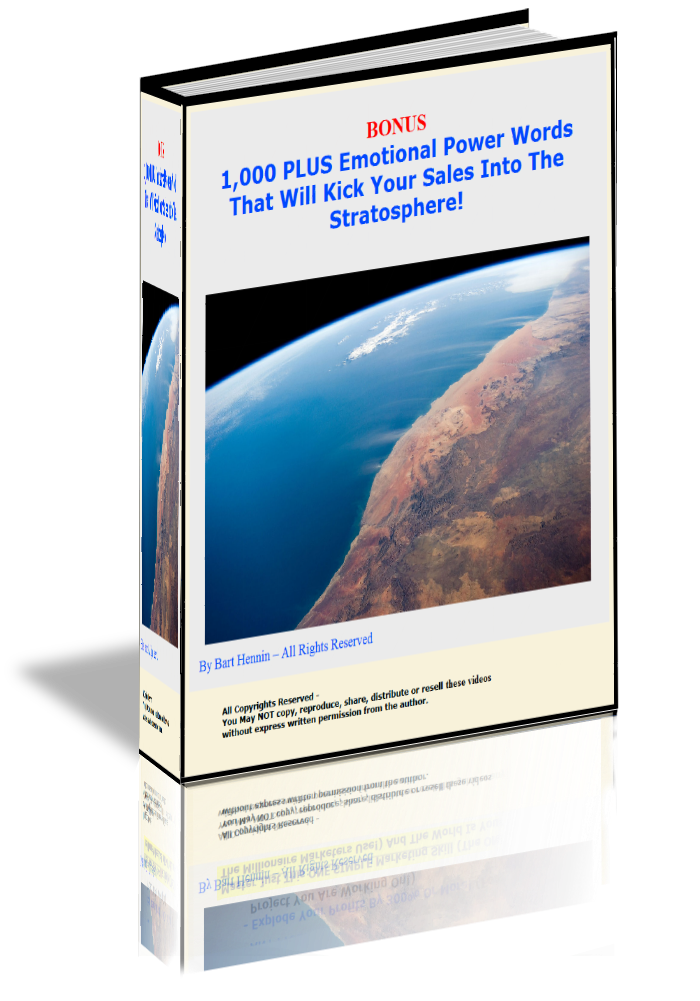 Both bonus ebooks are relevant (one of my pet hates are bonuses that consist of dozens of totally unrelated and random ebooks that serve only to distract you from your product purchase!) and individually worth the cost of the whole course package.
Additional Bonus Exclusively For You!
I am so impressed with the quality of Bart's course and so convinced that YOU need it that I wanted to go the extra mile to ensure that YOU benefit from it.
To this end I have created a Bonus ebook exclusively for my subscribers!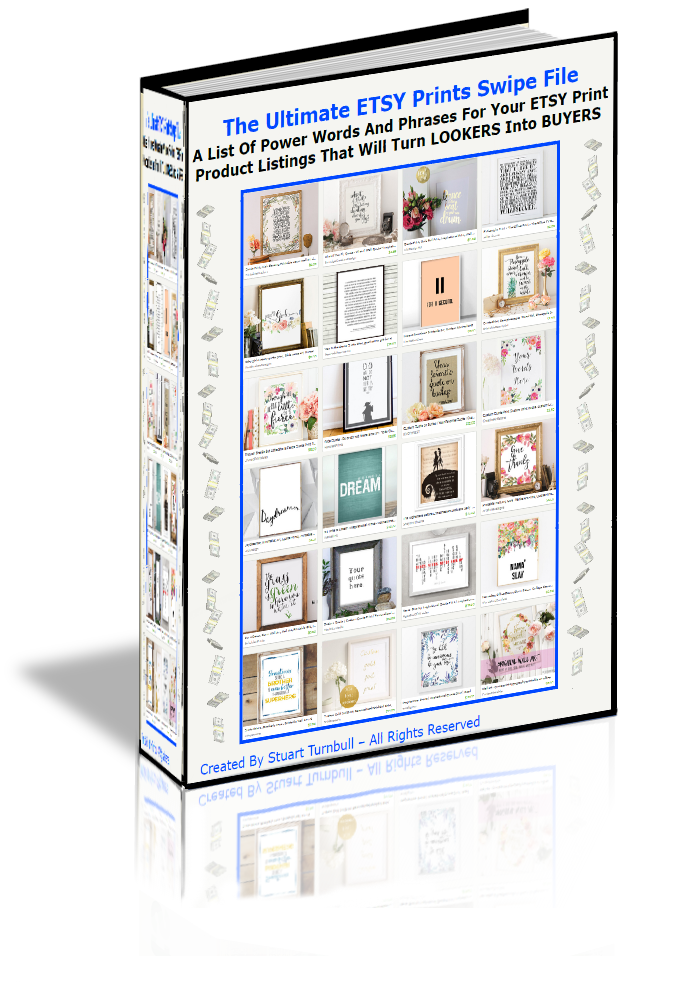 The Ultimate Etsy Prints Swipefile will help you to increase your Etsy and/or eBay print sales using my secret list of power words/phrases and emotional triggers.
These are the actual words and phrases I use in my own personal Etsy listings – my Etsy sales record PROVES they work!
You will receive your free copy of my exclusive bonus ebook when you purchase Bart's course through my affiliate link:-
PLEASE NOTE THAT THIS COURSE IS UNDERGOING A FULL UPDATE AND WILL BE AVAILABLE FOR PURCHASE VERY SOON
ANY QUESTIONS?
Bart is delighted to answer all of your questions so don't be shy – add a comment to this post!
NB
Bart has chosen the Warrior Forum (the biggest internet marketing forum online) as the platform to sell his new course, if you scroll down through the sales copy you'll find lots of reviews and opinions from forum members who have gone through the course material.
| | |
| --- | --- |
| | If you have enjoyed reading this post and you'd like more FREE TIPS and ADVICE pop your best email in the box and I will email you whenever I update my blog PLUS send you advance notice of all my future product launches! |