I blogged about Etsy's Promoted Listings feature last December:- https://stuart-turnbull.com/tutorials-2/how-to-boost-your-etsy-sales-with-promoted-listings/
Last year's post does provide a good introduction to the workings of Promoted Listings so I won't cover the same ground twice but I do want to share my recent experience with the feature to help you with your own Etsy sales.
Up until the 22nd of July 2015 I had my daily advertising budget set at $1 and this was working very nicely for me as you can see from this screenshot:-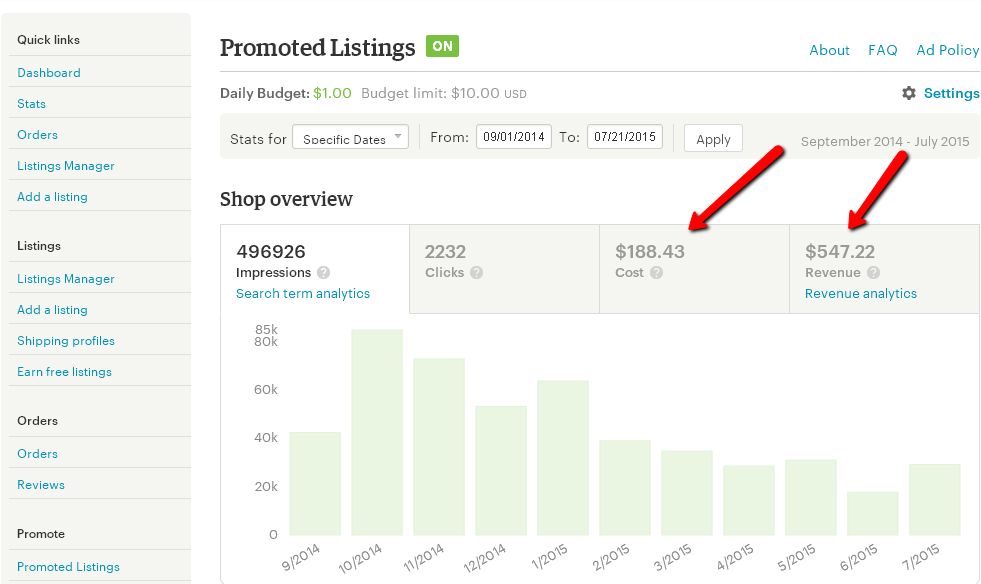 Click on all images to enlarge them in a new window
These are my Promoted Listings stats from Sept '14 (when the service began) until 21st July '15.
As you can see from the figures indicated by the arrows my total ad spend for the period was $188.43 and the revenue gained directly from clicks on these ads was $547.22 (this revenue figure does not include any other sales).
Obviously, I was delighted with the performance of my Promoted Listings and I decided to tweak my daily ad budget from $1 to $2 to see if I could increase my clicks and revenue further.
The following screenshot shows the stats for the 101 day period from July 22nd to November 1st during which I maintained my ad budget at $2 per day:-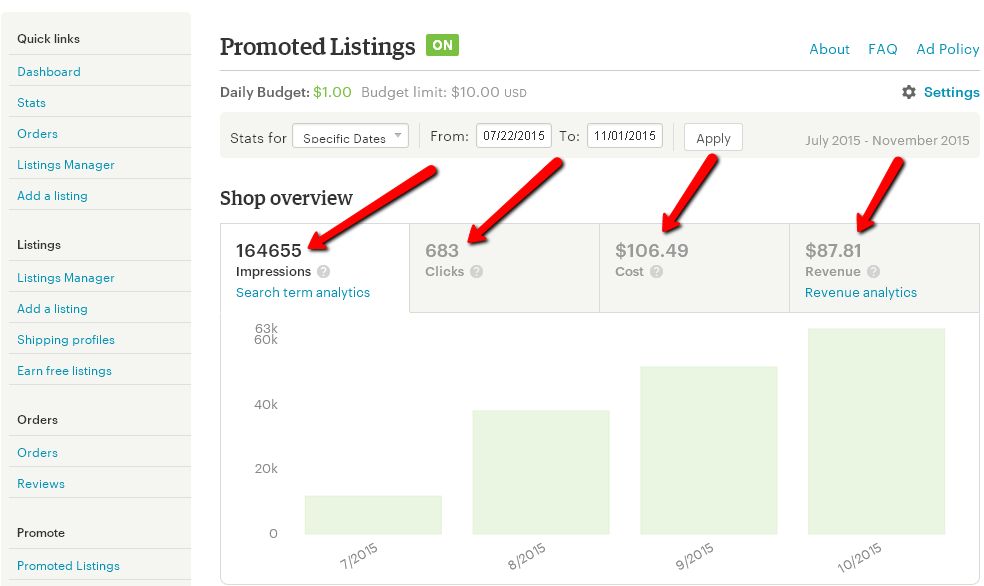 Compare this to the 101 day period immediately before I increased the budget:-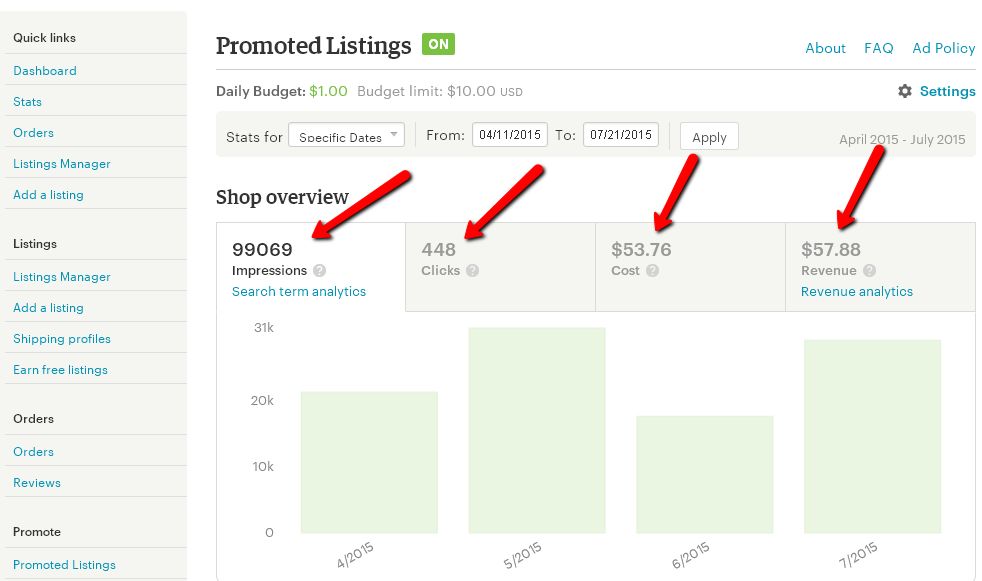 Interestingly, the increased budget had the desired effect on my clicks and my revenue with both increasing by approx. 52% – unfortunately, the 100% increase in the ad spend meant that my campaign ran at a loss for the period!
Unsurprisingly, I reverted to a daily budget of $1 after this experiment and am pleased to report that my campaign has since returned to profit!
Conclusion
Clearly there is a relationship between ad spend and clicks/sales – the more you spend the more sales you will make.
The important thing to keep an eye on, however is the cost of the increased clicks/sales.
Merry Christmas!
I'd like to thank you for your loyalty during the last 12 months and wish you and yours a very Happy Christmas and a peaceful and prosperous 2016!
Coming Soon!
I am currently working hard on a brand new video/PDF guide that is going to blow the lid on one of my favorite vintage book print niches!
My mark up in this niche is 9,375%!!
My new guide will include all of the valuable content you love –
Video proof of the huge profitability of the niche based on my extensive personal experience
A video sourcing guide to walk you through the best places to find the source books so you will know which books to buy AND which books to avoid (vital) and exactly what they look like
Detailed listing advice including my recommended keywords to help make writing your titles and tags a breeze!
My personal 300 DPI scans ready for immediate upload to Etsy (this will save you many hours of work)
My personal preparation and packing tips based on hundreds of successful overseas orders
PLUS all of the clever strategies I use to maximize my sales and profits!
My new guide will be ready for you in the New Year so do look out for my emails!
Talk soon!




Want 5 easy side hustles?
Get your FREE guide: "5 Easy Etsy Product Lines You Can Do Right Now!"