By now I think we all have a pretty good understanding of the treasure trove of FREE resources that is collectively known as – "The Public Domain".
Most people know that they can use public domain material commercially without having to pay anyone for the privilege. They can simply help themselves to any of millions of –
Articles
Images, photographs and illustrations
Audio recordings
Video recordings
Film
And much more!
and use these resources to create products that they can sell online (or anywhere else) for profit.
"I love the idea of using Public Domain material to make money but how/where do I find this goldmine, Stuart?"
This is one of the questions I get asked a lot so when Amy Harrop

contacted me about reviewing her new PD training I didn't hesitate to dive in to see if it could help YOU!
Amy lives in North Idaho and specializes in helping others to build their own content based income streams often using PD resources. She has published many of her own products using these methods so you can rest assured she knows what she is talking about!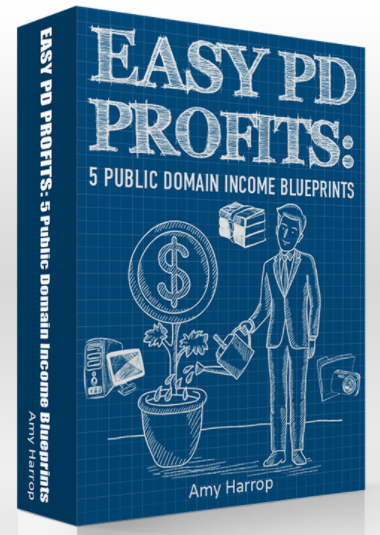 The product comprises a 71 page PDF ebook which explains how to use PD material to set up 5 different online income streams.
The ebook begins with a brief introduction explaining what public domain content is, Amy then dives into the meat of the course with a chapter dedicated to each of 5 tried and tested income streams that you can set up easily using PD content.
Chapter 1
Setting up and monetizing a website using PD content.
Chapter 2
Creating and selling image based content collections
Chapter 3
How to publish books with public domain content
Chapter 4
How to tap into the HOT vintage marketplace
Chapter 5
How to sell image based physical products
Each of the chapters is well written and to the point with lots of real life examples and links to further resources.
The text is broken up with plenty of images which helps make this book a pleasant read.
Exclusive Public Domain Dashboard Software!
This for me is the real value in Amy's course because it answers what I know to be the main question people ask when they first consider using public domain content – "How do I find it?"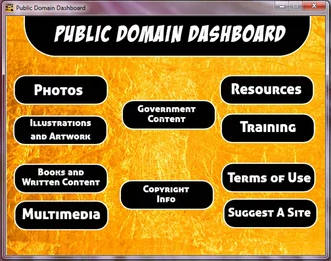 Amy has created her own piece of software which you simply download to your PC (works on both Windows and Mac).
The dashboard has several sections each of which takes you to a huge archive of links to websites containing PD resources.
The sections are headed;
Photos
Illustrations & Artwork
Books & Written Content
Multimedia (audio & video)
Government Content
Copyright Info
Amy has even created a couple of easy to follow training videos which step you through how to use the dashboard.
It couldn't be easier to find what you are looking for!
I take my hat off to Amy for listening to what people want and creating the solution!
Bonuses!
Amy includes 2 bonus ebooks – the first is a guide to setting up an Etsy shop (16 pages)
The second bonus is "Getting started with Shopify" (21 pages)
Both are basic, step by step guides to getting started on these platforms complete with screenshot illustrations to make them easy to understand and follow.
My Recommendation
If you have ever considered using public domain material to kick start your online income then buying Easy PD Profits is an absolute no brainer!
The PD dashboard puts all of the PD resources you need at your fingertips – no more spending dozens of hours researching trying to find quality PD resources – they are all neatly organised into categories and laid out here for you!
Easy PD Profits plus your imagination and hard work is a winning combination!
Click the link to check this out now (there is a video demo of the PD Dashboard on the sales page)
>CLICK HERE TO FIND OUT MORE!<

| | |
| --- | --- |
| | If you have enjoyed reading this post and you'd like more FREE TIPS and ADVICE pop your best email in the box and I will email you whenever I update my blog PLUS send you advance notice of all my future product launches! |