Support my blog – I get commissions for purchases made through the links in this post
One of the most frequently asked questions that plops into my inbox reads something like this;
"Hi Stuart, I need to make some emergency cash – can you recommend the best way to make money quickly?"
Of course, the business ideas that I usually write about and the ideas behind our courses are all about setting up long term income streams – businesses that take time and work to set up but are designed to produce substantial and growing income for many years to come.
But what if you just need to lay your hands on a couple of hundred to make your rent payment before the end of the week?
Making fast cash TODAY is a completely different challenge but the more I thought about it the more I realized that the ability to make emergency cash is now super relevant with the global health crisis that has shut down large parts of our economies.
Bart and myself set ourselves a challenge to come up with some answers to this question and I'm delighted to share with you what we discovered!
As well as several quick cash methods we also stumbled upon a recently published guide written by Jim Daniels called "Fast Money Methods"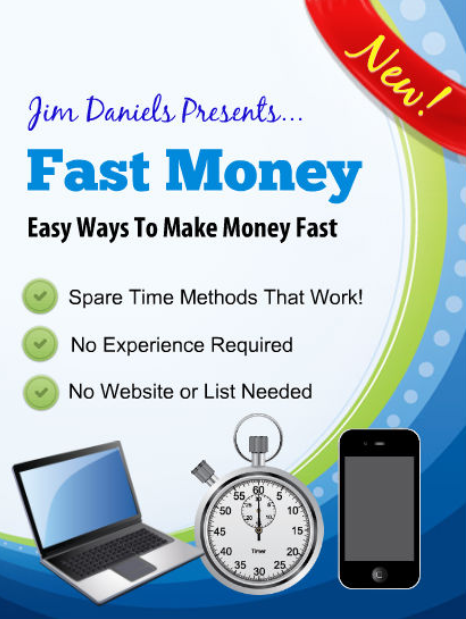 Jim is a veteran marketer with an excellent reputation who has been publishing his own products since 1996.
Fast Money Methods is a collection of money making methods that don't require any knowledge or experience, you don't need a website or a mailing list in fact you don't even need a computer as many of these methods can be done successfully using just your smartphone!
Remember, this isn't about setting up a business – this is about completing quick and simple tasks and earning cash payments.
Would you like to see an example?
Click here to read a short case study that Bart put together to share his experience of trying just one of Jim's fast money methods.
If the idea of making small but regular cash payments just like this appeals to you I urge you to checkout Jim's ebook.

For less than $20 you get 16 quick and easy ways to make money
(Most of the methods featured are work at home ideas that fit perfectly with the current need to stay indoors to protect everyone's health. Some of the ideas will apply after the self isolation period ends. The websites and apps we recommend work in the USA, some work in other countries but not all, if the sites mentioned don't operate in your country it is likely there will be similar alternative sites that do)
There are a couple of upsells with Jim's ebook. The first is a collection of 6 passive money makers – ie. you do the work once and get paid over and over potentially for years to come – I recommend this upsell if you have the budget (it's not expensive).
Personally, I'd pass on Jim's second upsell as it is a collection of his other products/courses which aren't necessarily related to our making fast cash theme.
Jim backs his ebook with a unique guarantee – he has undertaken to refund your money in full if you fail to make at least 5x your investment back within 30 days!!
If you are sitting at home trying to fill your day why not give Fast Money Methods a try – you have nothing to lose and these methods are perfect if you have a few spare hours on your hands!
Sincerely Yours,



Want 5 easy side hustles?
Get your FREE guide: "5 Easy Etsy Product Lines You Can Do Right Now!"