Recently I've had great success selling Edward Gorey's poster sized prints on Etsy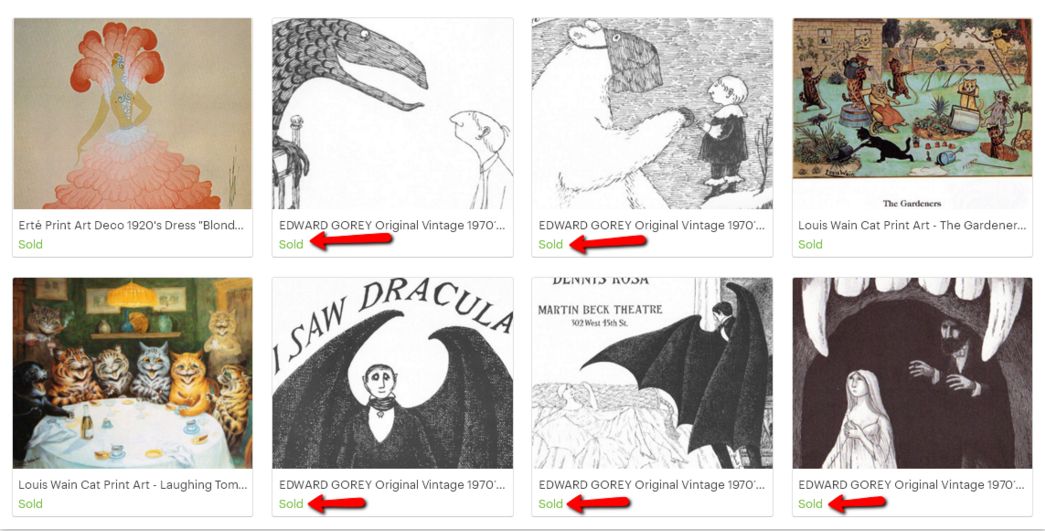 The work of Edward Gorey is a RED HOT NICHE on ebay and Etsy and I have made hundreds of dollars profit selling these large poster sized book prints.
Being larger than the average book prints – they measure 16×11.5 inches they do require a little more thought when listing – particularly because they don't fit onto the average home scanner.
One of the most frequently asked questions I receive relates to the problems of listing larger sized prints so I will use this blog post to share my methods with you.
"My prints don't fit onto my scanner – what should I do?"
The scanning glass of the average home printer can handle a maximum size of A4 which is approximately 11.5×8.5 inches.
You can, of course simply include a photo of your print to illustrate your Etsy or ebay listing but I find that a photo can never match the detail picked up by a 300 DPI scan.
Edward Gorey's work is often characterized by very fine detail drawn with pen and ink and as you know it is the gallery image that does 99% of the selling when it comes to selling art prints online so it is essential to show off as much of this detail as possible.
My solution is to include 3 images with each listing – a scan of the top (or left) half of the poster print, a scan of the bottom (or right) half and a photo of the whole print (I use my phone for the photo).
You can see an example of how this works by clicking on this image and scrolling down:-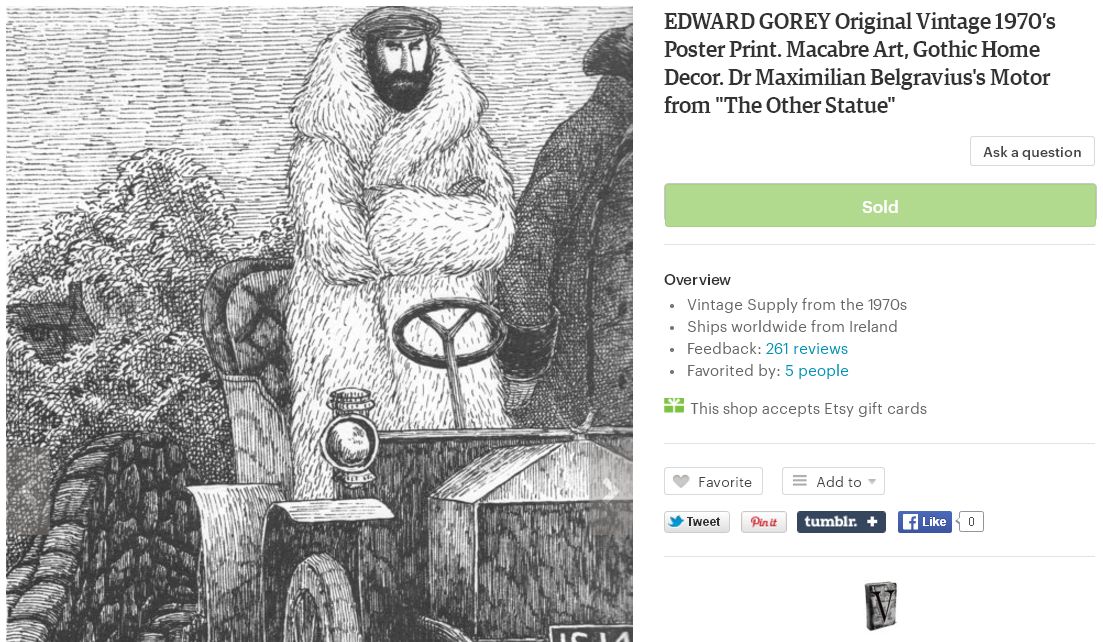 With this particular poster I scanned the left half and used this as my gallery image as it included the focal point (most interesting part) of the poster.
My final step is to include a paragraph in my description explaining how and why I have used my images in this way to avoid buyer confusion:-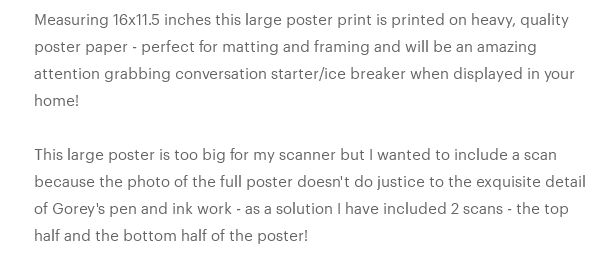 So far I have sold 19 posters at just under $20 each from a book containing 29 posters that cost me just $27 (including shipping) – so these methods are tried and tested!
Next time you come across one of these larger folio sized books of prints don't be put off by its size – larger prints tend to fetch higher prices so grab yourself a bargain and get it listed!!
As ever, your questions and comments are very welcome!
Talk soon!

| | |
| --- | --- |
| | If you have enjoyed reading this post and you'd like more FREE TIPS and ADVICE pop your best email in the box and I will email you whenever I update my blog PLUS send you advance notice of all my future product launches! |