I love "Grid Logic Puzzles!" They are so addictive!!… I do them all the time! They are also hugely popular on Amazon too! In fact… It's a hugely under-served book niche!
So, what the heck are "Grid Logic Puzzles" you ask?
These are fun brain teasers that give you a short story and a series of clues and from that, you deduce who did what, where or when… (See the image and example below).

These are very popular on Etsy too!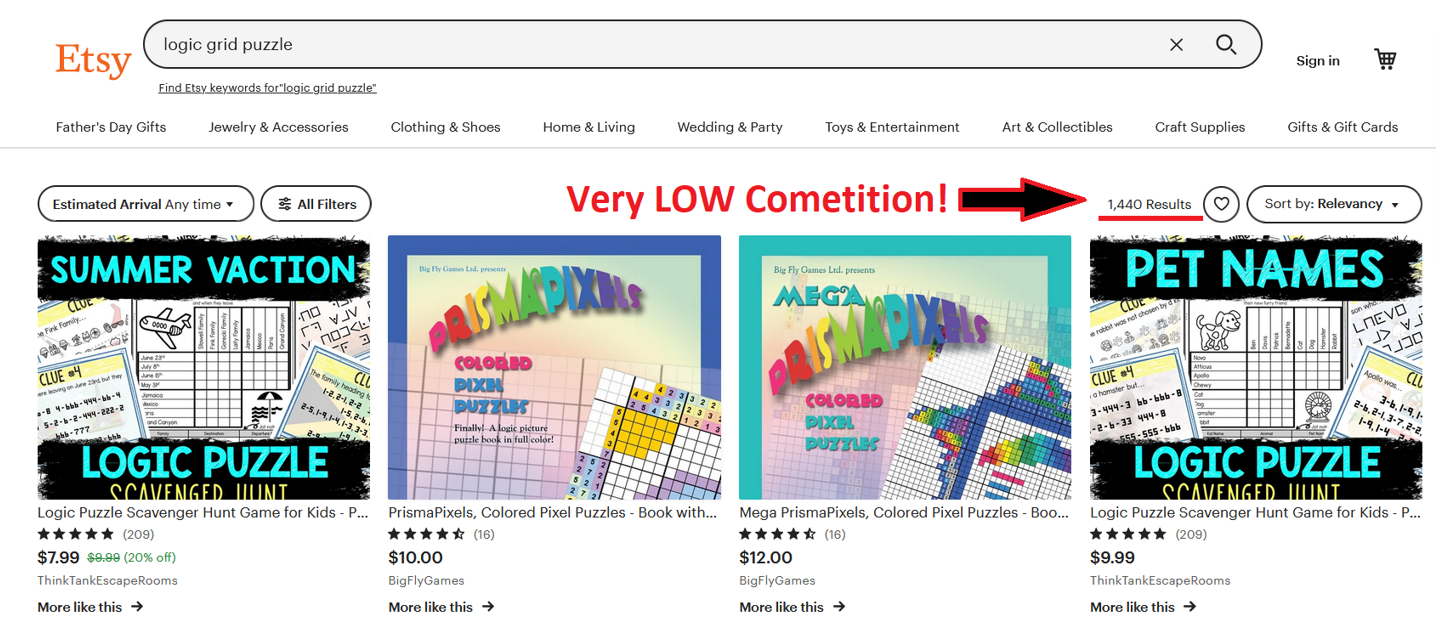 For example, a typical puzzle might be…
Jane and four of her friends each bought a new piece of clothing. Each bought a different article to wear from a different shop and each chose their item in a different color.
From the following 6 clues (statements) can you determine which lady bought which item, the color of that item and the store they bought it at?
The "grid" would contain all the names, colors, stores and clothing items (in this example, there are "Jane and 4 friends"; so, 5 people total; there would also be 5 different colors, 5 different stores, and 5 different articles of clothing listed).
Then there are a series of clues…
The grid makes "solving" these puzzles much easier (and fun!)
For example, one clue might say, "Jackie didn't buy the blue dress". From that one clue, the solver knows that the blue item bought was a dress and Jackie didn't buy it.
In the grid, they would place a dot in the grid square to note the dress is the article that is blue and place "X"s in the grid to show Jackie didn't buy the blue item nor the dress.
I won't get too deep into this example (no need for our purposes)… Suffice it to say that after all the clues are read (and noted in the grid) the solver can deduce the correct matchings and done!
So, why is this niche so under-served?…
Because almost no one knows how to make these dang puzzles!… Imagine my excitement when software creation expert Ken Bluttman announced his latest software release – "Logic Puzzle Mastery"!
I thought it took a genius to make these puzzles… Wrong! It turns out that anyone can make these puzzles! Here's one I created in just minutes!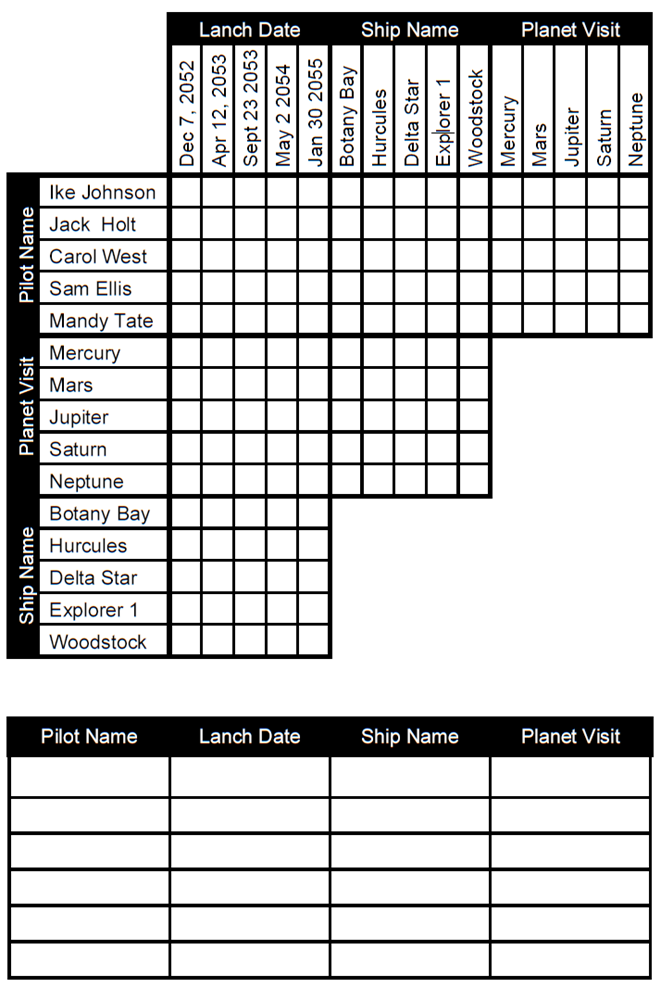 In my story, 5 astronauts 'lift off' on 5 different dates in 5 different spaceships and visit 5 different planets…
And there's no duplication of content!!
This is my favorite part! Ken's software lets you enter your own puzzle items! (and save them!) so your puzzles are guaranteed to be completely unique!
Just pick anything!…
• Flower shop, 5 kinds of flowers bought by 5 people for 5 purposes (wedding could be one, anniversary gift another…) at 5 different prices… done!
• On the same day, the town librarian checked out 5 books to 5 well known towns people who each had a different
occupation and each returned their book on a different date… done!
• Etc.
Just type in your names in each category (that you choose) and the software instantly generates the puzzle grid with everything in it!… bam!
You can even create themed Grid Puzzle Books! (Halloween, Craft, Animal, Sci-fi, History, Travel…)
In Ken's complete package, you get:
1. His amazing (online) software that creates these puzzles fast and easy!
2. Clear, simple directions via video for using the amazing software to create puzzles (super easy)
3. Another video explaining how to create a list of clues (not difficult once you know how) and our own included Free Bonus (see below) makes it even easier!
And more!… The software also lets you create three additional puzzle types! Symbol Math puzzles, Word Tetris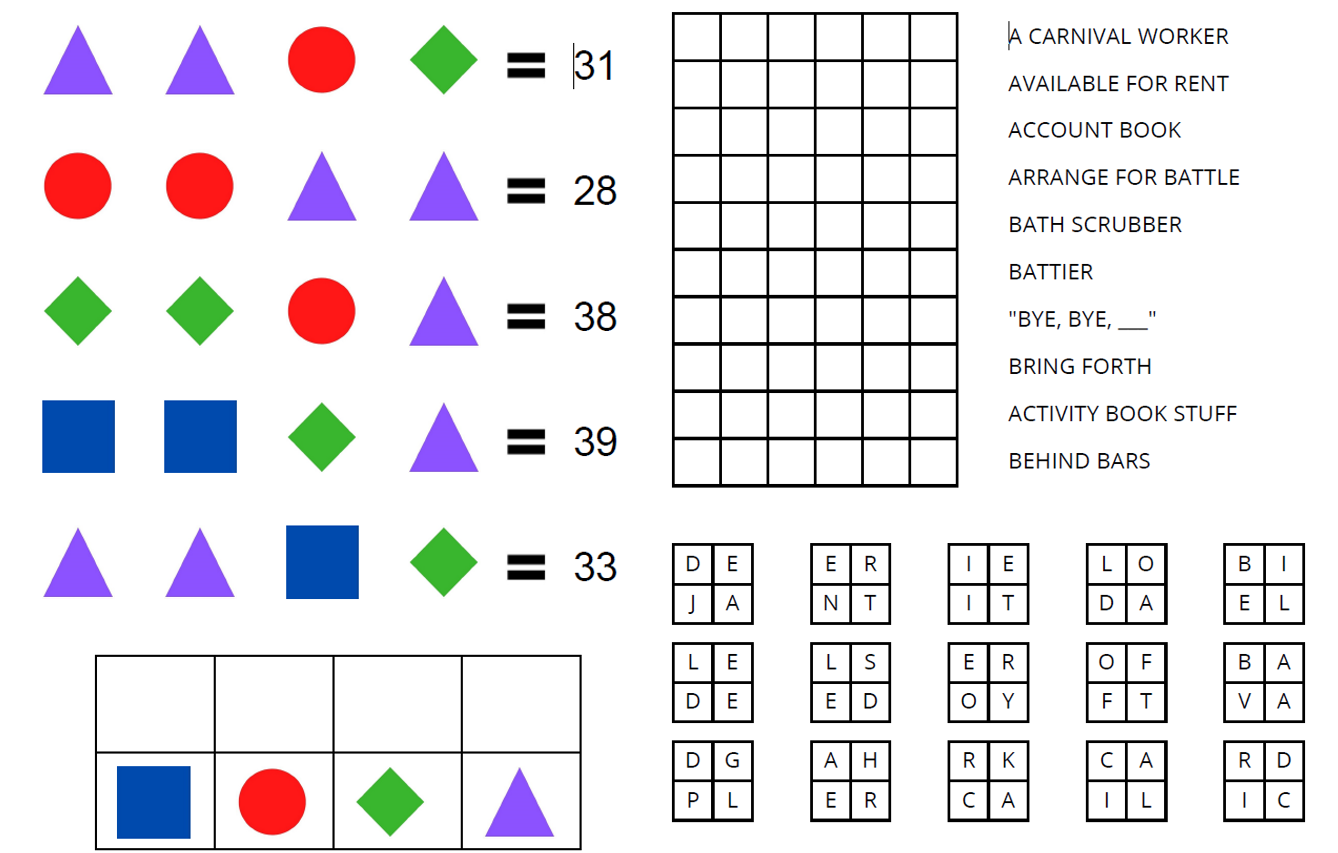 and Nonograms! (also known as "Griddles")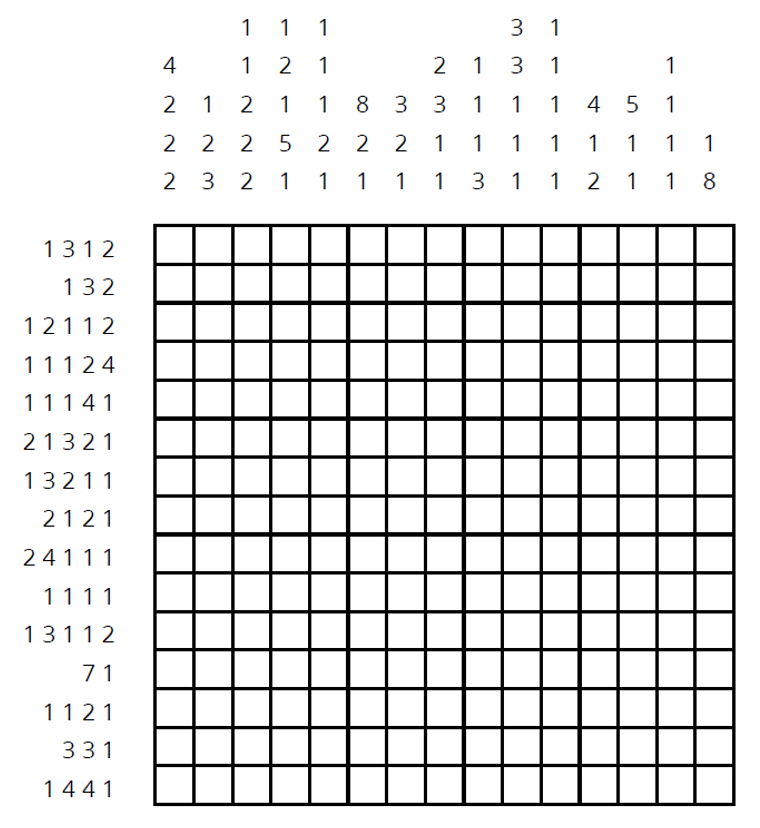 And Ken fully explains how each puzzle type works so even a complete novice can understand what they are creating!
The Grid Logic puzzles are created 1 at a time but it's very fast! The other three puzzle types are created ten at a time!
And all puzzles are unique!
This provides you so much flexibility!
You can sell these on Amazon and/or Etsy!
You can create books with "all 1 type" of puzzle or 'mix and match' to create a series of "variety puzzle" books!
To see how Ken's software works, just play the demo videos Ken includes on his offer page here!
We love this niche! These types of puzzle books are in huge demand on Amazon (and Etsy too!).
So, we looked at everything Ken includes and also put his software through its paces.
Here are the advantages (Pros) Ken's software offers:
• Low competition niche!
• Under-served market because few people know how to make these puzzles!
• The software creates two puzzle sizes – 3 category logic puzzles (for kids) and 4 category logic puzzles (for adults).
• The creation process is very systematic.
• It's worth the effort to put out these types of books because again, so few know how to make these! You will!
• No duplicate content!
• Puzzle books still get a free Amazon ISBN which means, unlike other low content books, these books have the 'look inside' feature!
• Plus, we created an awesome Exclusive free bonus (only available when you buy through our link! – see below!)
So, what's the downside (Cons)?… Honestly, quite a few… But we fixed them!
1. Although Ken's software creates the grid logic puzzles, it does not create the "clues"…you must create them yourself. (However, this is much simpler to do than what you might first imagine!).
2. Ken has a video showing you how to create your logic puzzle clues but quite frankly, in our opinion, it is lacking.
However, we fixed this in our bonus!
When we saw how poorly Ken explained the "clue creation process" for these puzzles, we went on a search… a mission… to find a better and easier way to create our logic puzzle clues… and we were successful!!
We found a way that even a complete newbie could do! It tremendously simplifies the clues creation process and
guarantees your puzzles are both entertaining and solvable!
We then went further… This will take your puzzles to the next level!… We also reveal (in our bonus) 25 ways to write your logic puzzle clues so they are much less "repetitive" and much more clever, fun, and interesting! (Super simple!).
With this method, I now enjoy creating my clues! (even more than I like doing the puzzles themselves!). It's my favorite part of the creation process! It's actually easier for me to create logic puzzles than it is to try to solve them!
3. OK, next; although Ken's software creates two puzzle sizes… As said, 3 category (for kids) and 4 category (for adults); It doesn't create larger 5 category grid logic puzzles which are also popular.
Now don't fret… 5 category grid logic puzzles are optional… You do not need to do them.
But… We wanted to give you the option! So, inside our bonus, we reveal how you can even do this! (So, no worries!)
Hint – We show you how to efficiently build custom logic puzzle grid "templates" in Canva! With just 1 template you can create an endless supply of unique puzzles! Just fill in your categories and items …done!
We also show you how to create symbol math puzzles in Canva too; in case you want to use different symbols than what Ken's software supplies (although Ken's software makes beautiful Symbol Math Puzzles!).
4. Ken's software exports each logic puzzle as a separate PDF so if you are making say… a "50 Logic Puzzles" puzzle book, you end up with 50 PDFs you need to join into 1.
Fortunately, there are free online tools we reveal in your bonus so that you can assemble your PDF book pages easily.
We even show you how to reduce the number of pages needed to reduce Amazon's print costs (and thus significantly increase your profit margins!).
The other puzzle types come out 10 at a time so you still need to joint several of these PDFs to create a single book… Again, easy as our bonus shows you!
We also show you an alternate way to create Nonogram puzzles so the finished puzzle actually makes a picture! (Ken's software only produces random patterns).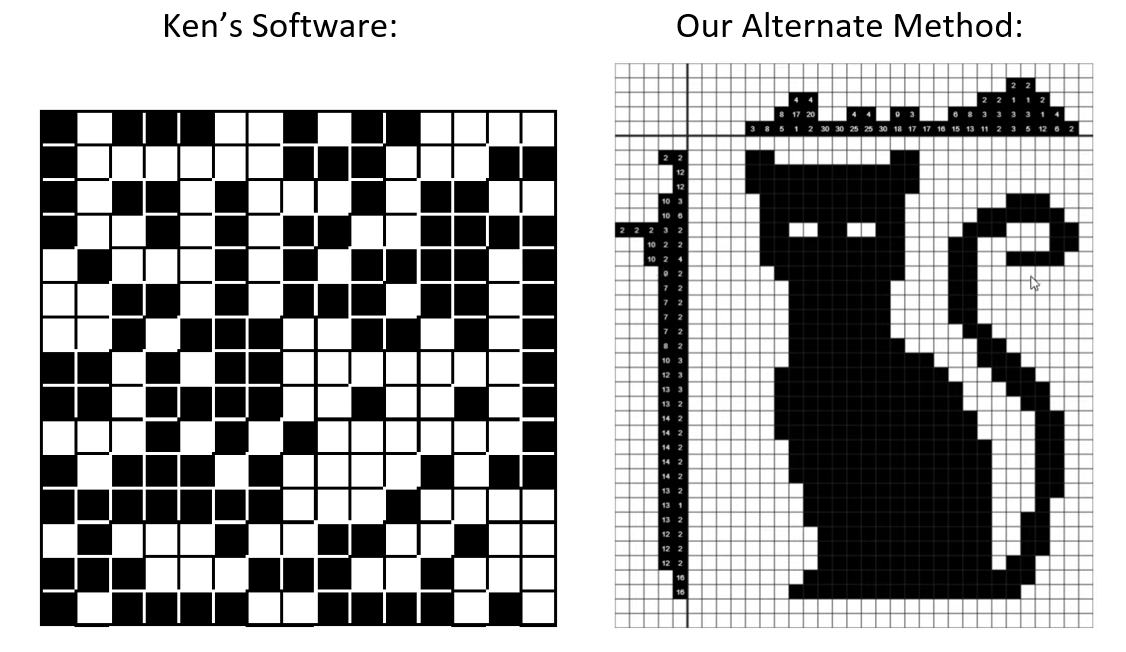 Our Free Bonus is titled…
Your Logic Puzzles MASTERCLASS!
And inside it you'll Learn The Insider Trick That Tremendously Simplifies Creation of These Popular Puzzles!
(Plus Learn Other "Time Saving" Puzzle Creation Hacks!)
You'll also discover:
1. How to find low competition sub-niches!
2. What customers 'look for' when solving these fun brain teasers! (Makes creating your clues much simpler!)
3. An easier & much faster 'foolproof system' for creating your puzzle clues!!! (Much, much better than what Ken shows you!)
4. How to "re-sequence" your puzzle pages and assemble your books!
5. How to make larger puzzles (that people crave!!) with free online tools & software!… Create one "template" (In Canva) that can be used to create an infinite number of puzzles!
6. 25 Ways to write your logic puzzle clues to make them much more clever, fun, and interesting! (Super simple!)
7. How to easily make Symbol Math puzzles with Canva!
8.How to make better nonogram puzzles with a free online tool we discovered! …And more!
All in all our bonus is a whole course in itself! Quite honestly… Between Ken's software and our exclusive bonus, you'll have everything you need (and then some!) to get your share of this ultra-lucrative niche!
===========================================
OTO's/Upgrades
There is just 1 (optional) upgrade… It's not needed but it's a very nice add on…
It gives you three Additional (fast) puzzle types you can do…
Sequence puzzles
Triple guess puzzles and
Magic Squares
Again, Ken explains each puzzle type and how to use the software to make them.
"Magic Squares" puzzle books in particular are searched for on Amazon and very few of these books come up so it is a ripe market to cash in on.
But also, seeing as how variety puzzle books are very popular, it's nice to have the added puzzle types if you have the budget.
The sequence puzzles print out 2 pages at a time with 5 puzzles per page (10 puzzles total at a time)
The triple guess puzzles print out 2 puzzles per page X 10 pages (20 puzzles) at a time.
The magic squares print out 1 at a time…you can pick the grid size and difficulty level.
And you can use our exclusive Logic Puzzles Masterclass bonus to learn how to assemble these additional puzzle types into full books for Etsy and Amazon too!
==================================================
To sum up, this package ticks all of the boxes – a hot, in demand niche, low competition, a product you can create at zero cost using easy to understand software plus our free bonus package to smooth your way!  – we award it our highest recommendation!
Sincerely yours,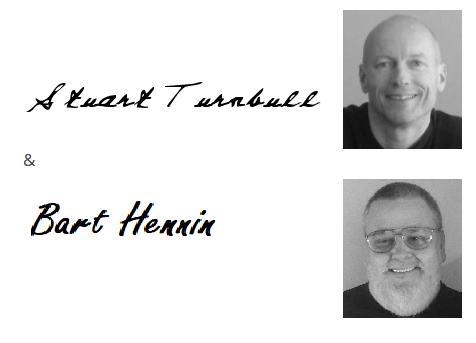 Want 5 easy side hustles?
Get your FREE guide: "5 Easy Etsy Product Lines You Can Do Right Now!"