This launch package ends TODAY at midnight EST!
Here's a LUCRATIVE Niche Market that is HUGELY Overlooked! (You Can Add these to ANY Shop!)
If you are tired of making "printables" that sell for just $1-$2 and would like to have a line of simple to make "digital" products that sell for $10.00, $20.00, $30.00 or more each, read the following review carefully…
"Forget Low Profit Printables"
"This (Digital Product) Is the Real Way to Skyrocket Your Sales!"
At least that's what expert software creator Ken Bluttman says… And we investigated…He's right!
(This is perfect as a 'stand alone' business blueprint but also a terrific "add on" to your info products business as taught in our recently launched course – Etsy Infomania!) Either way you're ahead!
Here's the scoop! It turns out there is a huge demand on Etsy for simple spreadsheets! These can be simple Excel spreadsheets or simple Google spreadsheets! (or both!). And these are much easier and faster to create than you might imagine!
It turns out Ken besides being an expert software creator is also an expert teacher on spreadsheets! Ken's latest release is titled: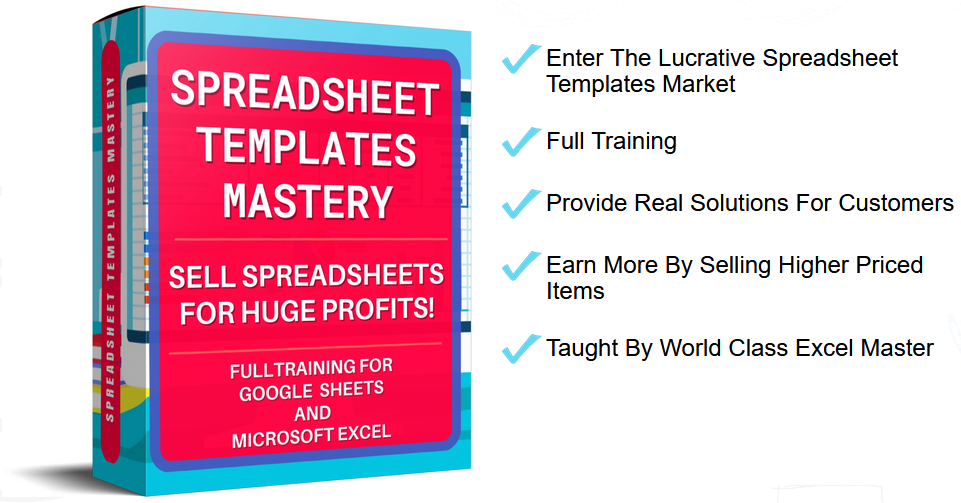 Inside this info packed video course Ken shows you everything you need to know to enter this lucrative underserved market! Ken takes you step by step as he…
Analyzes the market
Teaches you step by step how to create simple spreadsheets people will buy (both for Excel and Google Sheets)
Shows you actual examples of spreadsheets others have created (Ken bought a whole bunch of spreadsheets off Etsy to see what sellers were offering; You need not purchase anything like Ken did)
Shows you an actual example of creating a spreadsheet from scratch to finish based on a spreadsheet he purchased!
And Ken is an excellent teacher! He keeps everything very simple!
In short, by the end of Ken's simple to follow video course, you'll have all you need to create different kinds of spreadsheet templates people will love and gladly pay you for! (and it's much simpler than you think!).
Just look at these successful shops Ken points out on his offer page!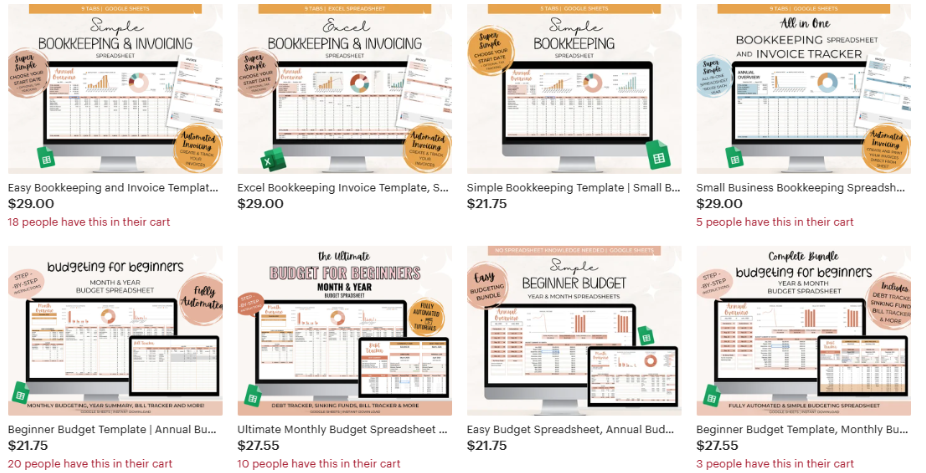 This shop opened just seven months ago, has only 19 active listings and has made 996 sales! All spreadsheets are priced over $20!
Estimated earnings: $20,000!

This shop opened ten months ago, has Just 4 active listings and 5,103 sales! All spreadsheets are priced at $25+!
Estimated earnings: $129,000!
Here's a list of the videos Ken includes in his terrific course package!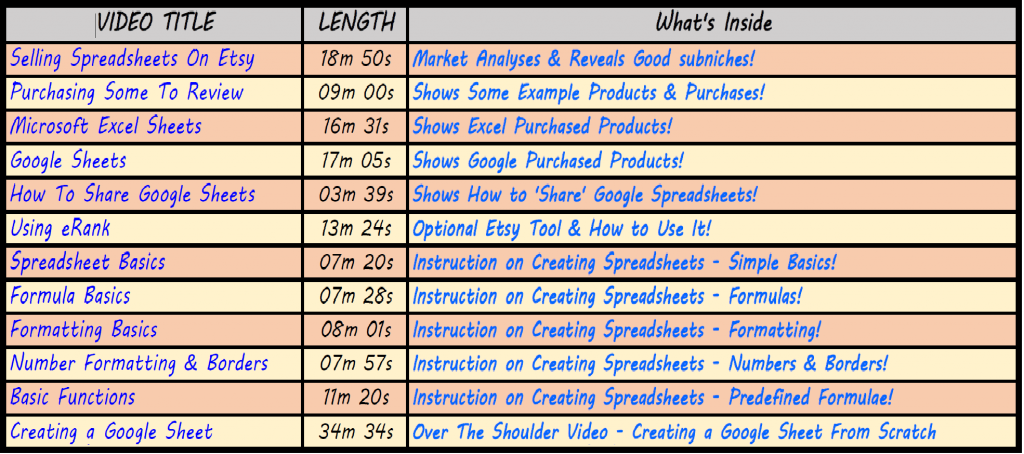 Using Ken's videos, I created my first "for sale" spreadsheet as shown in the next screenshot! This spreadsheet took a while because I was learning – my second only took 90 minutes!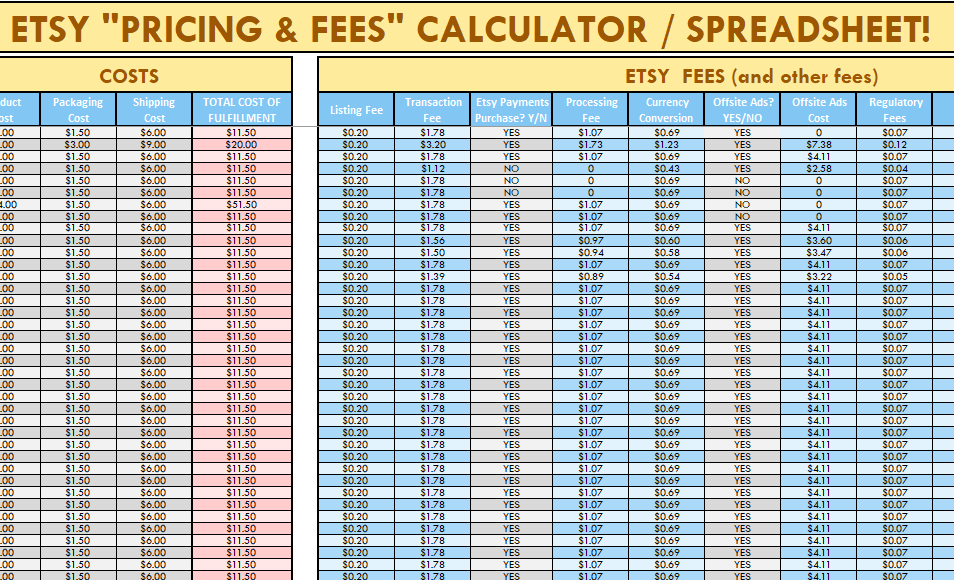 Now will Ken's videos show you everything?
Yes and no. [And this is where our exciting exclusive bonus comes in!]
Ken's videos keep things simple. His goal is to get you to a point where you can start creating simple, popular Excel and Google spreadsheet templates easily & quickly and start earning solid profits ASAP.
He gives you plenty of 'how to' info…plenty to get you started making great products; but obviously Excel and Google Sheets are vast and Ken can't cover every last feature of these massive softwares (nor do you need to know every feature to make good money!).
However, as your "spreadsheets" business grows, you may want to know more and/or add even more features to your worksheets than what Ken shows…
As such, we have created an awesome exclusive bonus for you!
It's titled:
Spreadsheets on Steroids!
Taking Your Spreadsheet Templates Business to The Next LEVEL!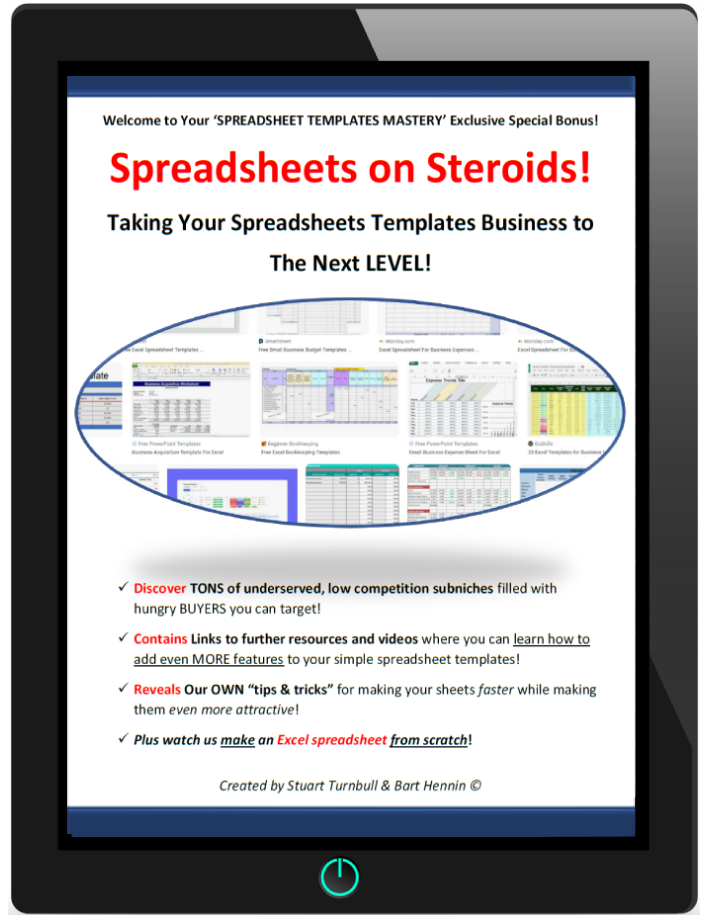 Inside our own 58 page cutting edge bonus we reveal;
Tons of underserved, low competition subniches filled with hungry buyers you can target!
Links to further resources and videos where you can learn how to add even more features to your simple spreadsheet templates!
Our own "tips & tricks" for making your sheets faster while making them even more attractive!
Plus watch us make an Excel spreadsheet from scratch!
And you get it free when you go through our link to get Ken's course!
Conclusion: In a word, we wholly recommend this course (if you want a simple way to succeed online and get some popular digital products for sale on Etsy fast in a unique and fun, underserved niche, this is it! ).
And best of all you can look at Ken's entire course with zero risk! Ken offers a full 30 days to make sure this is for you. If for any reason you're not 100% satisfied, he will gladly give you a full refund. He (and we!) are that confident you will be thrilled with what this course and our exclusive bonus reveals!
>Click her now to see everything you get in Ken's latest course!<
But hurry… Our free bonus ends in just days!
Are there Upsells? Ken's main course is totally self contained, and has everything you need to succeed. There are 2 optional upgrades however which can open up more money making options for you.
OPTIONAL UPGRADE #1: Ken's first optional upgrade ($47) contains advanced training: Including how to…
Create charts
Do advanced formatting
Working with dates
Use additional functions
Add sheet protection
And Ken includes 8 PLR spreadsheets (monthly budget, mileage log, household inventory, and client tracker – each of these as both an Excel file and a Google Sheet) – You can edit and sell these sheets as your own! < This ALONE is worth picking up this valuable upgrade!
If you have the budget, this upgrade is well worth picking up!!
OPTIONAL UPGRADE #2: Ken's second optional upgrade is a premium package ($97). It is a 2 hrs long live training (March 6 at 11am EST.) where you also get to ask questions live!
or
You can opt for an additional four live video trainings (five total for $297)… Your choice!
The optional live training(s) are not needed but can certainly be of tremendous ongoing value if you have the budget and are serious about building your spreadsheet templates business with a maximum of profit and with a maximum of additional support.
This launch package ends TODAY at midnight EST!
>Click here now to see everything you get and secure your lifetime access!<
(And get our bonus guide free!)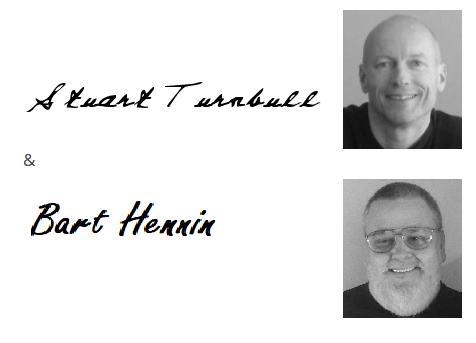 Want 5 easy side hustles?
Get your FREE guide: "5 Easy Etsy Product Lines You Can Do Right Now!"