Book Print Sales Update!
I hope you are having an enjoyable summer, my kids are home for the holidays now and we have a family vacation planned for late August.
Traditionally I have taken a break from listing my book plate prints on ebay during the quiet summer months but this year I decided to maintain my listings on both ebay and Etsy and I have some interesting sales stats to report.
Sales on ebay are slow which is typical for this time of the year – however, the sales from my Etsy shop are showing no signs of slowing down at all!
My Etsy sales have averaged around 1 sale per day in May and June and July has started in a similar vein.
Read on to discover a couple of the things I have been doing to boost my sales.
'Thank you' notes
One of the techniques I am having success with is 'thank you' notes.
I have written a thank you note which I print onto quality, parchment type paper and include with all of my Etsy orders.
You can see the text of my note here;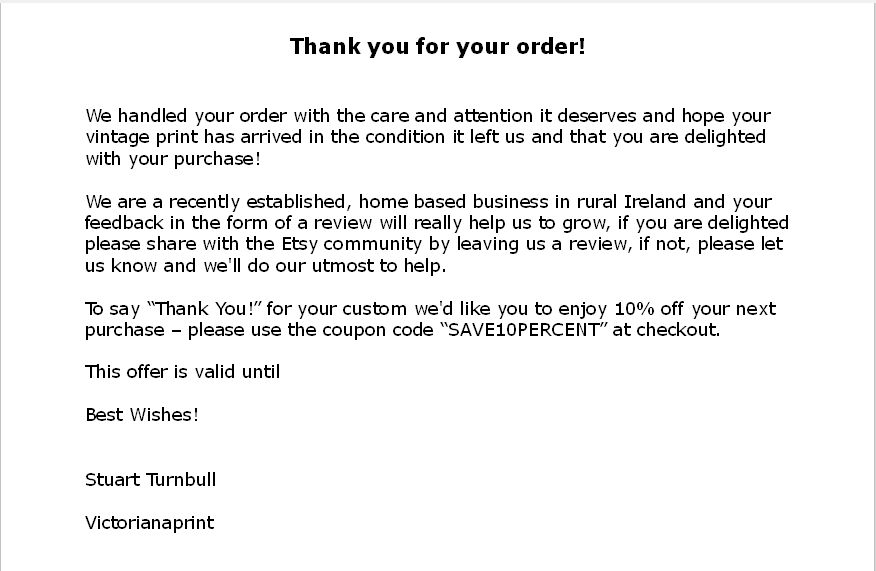 click on the image to open it in a new window
The note is designed to do 3 things;
* Thank the buyer for their order
* Encourage the buyer to leave a review
* Encourage the buyer to visit my shop again and make additional purchases
I personalize the note by hand writing the buyer's name at the top, hand signing it and I also add an expiry date which is 30 days after their initial purchase.
Limiting the availability of the offer with an expiry date is very important because it adds a sense of urgency and is much more likely to be used.
Search Ads
Recently I began testing Etsy's Search Ads.
Search Ads are paid advertising spots that promote your items at the top of the search results when buyers search for keywords that match your items, you can read a detailed explanation of how they work here https://www.etsy.com/search-ads
You select your weekly budget and you are only charged when a searcher clicks on your item.
It is early days yet but so far I am pleased with my results;

 click on the image to open it in a new window
The left hand figure is the amount I have spent so far, the impressions are the number of times my items have been displayed in search results. The revenue figure is quoted in Euros (my home currency) and is equal to $70 at time of writing.
Search Ads are very easy to set up, you simply choose your maximum weekly budget and whether you want to promote some or all of your items and Etsy chooses the keywords based on your item titles and tags.
If you have an established Etsy shop with a good number of items listed then I recommend you give Search Ads a try, if you have yet to take the plunge and open your Etsy shop then what are you waiting for?
There is no monthly fee to pay and Etsy's transaction fees work out 80% cheaper than ebay's!
PLUS, if you open your shop through my link you can list your first 40 items free!
Your comments, questions and ideas are very welcome – do you have any sales boosting tips that you'd like to share?
Talk soon!

.



Want 5 easy side hustles?
Get your FREE guide: "5 Easy Etsy Product Lines You Can Do Right Now!"