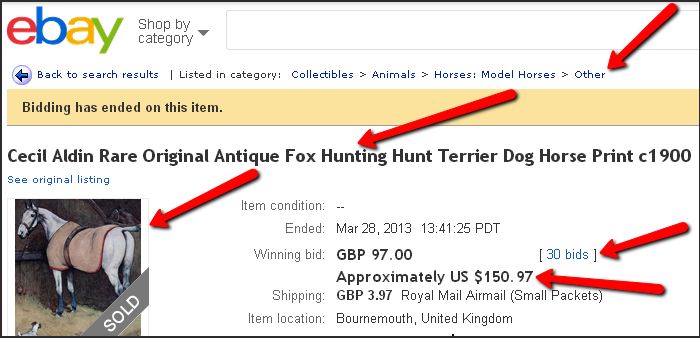 NOTE: click on all images to enlarge
There is no mystery – you need only four things to be successful on ebay:
#1 The right niche.
#2 The right category.
#3 The right keywords in your title.
#4 The right image.
Combine all 4 correctly and you will hit a home run just like in the example above with an amazing 30 bids and a final value of $150.97!
#1 Cecil Aldin is a highly collectible artist and one of my very favorite vintage print niches on ebay – lots of buyers trying to out bid each other for that rare or unusual item to add to their collections!
#2 A surprising choice of category in this case but it has worked very well (horses are very popular subjects on ebay!)
#3 The title is packed with the keywords that the buyers are searching for.
#4 The image is a sharp, close up view showing all of the detail of the art work.
Here is another example: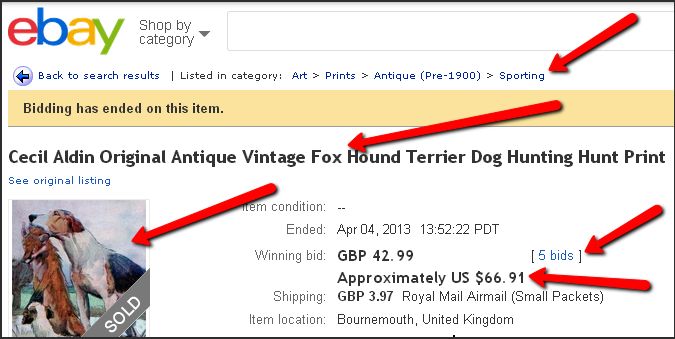 Again, a good choice of category to attract the right eyeballs (lovers of sporting art)
Plenty of keywords in the title using up all of the available space – again attracting the right eyeballs!
Another crisp, close up image – done properly, this sells the item.
Another great result with multiple bids and a very healthy final value!
Cecil Aldin – a very lucrative niche!
This niche is perfect for the Prints Make Profits business model because it is a very active niche with lots of buyers from all over the world and Cecil Aldin was a prolific artist who illustrated many hundreds of different book titles during his long career.
This means that the books containing the sought after prints are easy to find and if you know which books to buy you can't fail to make substantial profits just like in my examples above (both of the book plates above are from a book that can be purchased for less than $100 and contains 16 similarly sought after illustrations)
Would you like to see some more examples from this amazing niche?


Here we have 3 more prints taken from a book illustrated by Cecil Aldin.
This particular book can be bought online today for less than $30!
Oh and it contains 18 beautiful examples of Cecil Aldin's horse art!
If these numbers have piqued your interest then I have some great news for you!
My Cecil Aldin Instant Expert Course is available for HALF OFF but only until midnight May 5th
Click on the banner graphic below to find out more:
This offer is now closed, to be kept in the loop with more great money making ideas sign up to my blog using the opt-in form below!
.
Talk soon!



Want 5 easy side hustles?
Get your FREE guide: "5 Easy Etsy Product Lines You Can Do Right Now!"