If you are already selling successfully on ebay then it makes sense to explore other platforms to increase your sales and they don't come any bigger than Amazon.
This post is a review of Skip McGrath's "ebay to Amazon" product, this product isn't about switching from ebay to Amazon but rather about becoming a multi-channel seller.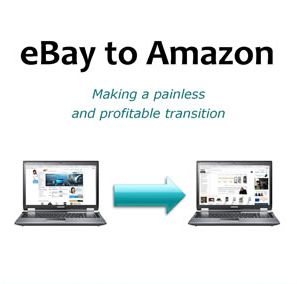 Skip started his online selling journey on ebay in 1999 and began selling on Amazon in 2006, today he uses both platforms in his business and his Amazon sales exceed his ebay sales by about 17 to 1 – I'd say this is compelling proof if any is needed that a multi channel approach to your online business is the way to increase your sales and grow your profits.
The meat of the product is contained in a 171 page ebook. I am not a big fan of loooooong ebooks as I find it difficult to stay engaged for more than say 100 pages but Skip writes in a way that holds your attention, the content is put together very professionally and at no time did it feel like a chore to read this ebook.
The content is very detailed and copiously illustrated with lots of screen shot examples so it is very easy to understand whether you are a complete novice or a more experienced seller.
Skip's expertise is based on personal experience and this shines through with lots of advice on what to sell and where to source it with examples from Skip's own sales.
It is this personal touch which sets this product apart – it isn't just a dry step by step tutorial.
The  ebook is split into 2 parts
The first part covers all of the selling on Amazon basics
*  How does selling on Amazon work?
*  What types of selling accounts are there?
*  How do you get started selling?
*  The Amazon A to Z Guarantee
*  How to access Amazon support services by phone or email
*  What to sell and where to find it?
*  Product photography
*  Listing existing products
*  Listing unique products
*  Packaging and shipping
The second part covers the "good stuff" – the advanced techniques which will make you the money
*  Making the move from Casual Seller to Pro Seller (Sell Professionally)
*  Creating listings for unique items
*  Introduction to Fulfillment By Amazon (FBA)
*  Winning the Buy Box
*  Creating product bundles
*  Finding and creating unique items to sell
*  Pricing strategies
*  Third party services, systems and software
*  Re-Pricing systems and software
*  Creating shipments for FBA
*  Removing inventory from FBA
*  Using Amazon FBA to fulfill your eBay and website orders
*  Strategies to maximize your profits
*  Holiday and seasonal selling strategies
*  Business licenses, income tax and sales tax
*  How to perform market research on Amazon
This material is designed to get you up and running with your first Amazon sales if you are a beginner and then guide you to becoming an expert seller.
In addition to the ebook you also get seven videos from Suzanne Wells which provide a step by step introduction to Amazon's FBA program (Fulfillment By Amazon).

The videos follow Suzanne as she completes the various steps in her own Amazon account so you can follow along. I love this method of learning because you can pause and restart the videos as often as you like until you feel comfortable with the process.
The package also includes several bonus items including a guide to an unusual ebay/Amazon niche that anybody can exploit. Skip sells in this niche himself and provides specific high margin product examples that you can source yourself!
Conclusion
All in all this is a top quality package of resources that will help any ebay seller transition to a multi-channel seller. The material is professional and up to date, it is offered at a very fair price in my opinion AND is backed up by a 90 day money back guarantee if you are not happy for ANY reason.
Click the link for more details including a full list of the bonuses on offer:
CLICK HERE> Skip McGrath's eBay to Amazon
(Please note that the order form includes fields for your postal address that you will need to fill in to complete your purchase although this course is a digital course.  You will NOT receive a postal delivery.)
Skip has very kindly offered to answer any of your questions related to selling on ebay and/or Amazon so do leave a comment on this post.
Talk soon!

.


Want 5 easy side hustles?
Get your FREE guide: "5 Easy Etsy Product Lines You Can Do Right Now!"