Welcome to this weeks newsletter and a special welcome to the 19 new subscribers who have joined since my last newsletter thanks to the power of www.listcrew.com
eBay
Today I want to focus on eBay as we move into the peak holiday period.
Yes, now is the time to de-clutter your home to make room for this years Christmas purchases and make a few extra dollars at the same time.
My two daughters (Rebecca is 11 and Ciara is 6) have been hard at work sorting their bedroom out this week and you wouldn't believe how many toys and games they have discarded. They have already written this years lists for Santa so last years stuff is ready for the bin as far as they are concerned!
A close inspection of their stuff has turned up several items that are still in unused condition and some of these are in their original packaging.
I reckon eBay will be particularly busy this year with millions of financially strapped parents around the globe looking for the latest toys and kids gadgets at bargain prices so I'll be spending the next few weeks listing as much of this stuff as possible.
My eBay Sales
I've re-started my vintage print sales on eBay in the last few weeks and you can check out my progress here;
Victorianaprint/currentauctions
Victorianaprint/completedauctions
I started listing on October 3rd and have since grossed $1,010
eBay and PayPal fees total around 13.5% which is $136.35
All of the vintage prints I am currently selling are taken from one particular book that contains 23 similar prints and cost me $250 ($10.87 per print)
$4 per print covers the mat/mount and packaging costs.
This leaves me with a net profit of $109 per print sold!
Contest!
I noticed a competitor listing the same series of prints as myself this week (TIP:  set up 'saved searches' for all of the most sought after items in your niche and receive an email from eBay whenever any of these items are listed – a great way to keep an eye on the competition and pick up inventory)
I thought I'd take this opportunity to run a little contest and at the same time demonstrate a few key ways to maximize your final values.
Check out my competitor's auction HERE
Now have a look at my auction for the identical item HERE
Make a note of the differences between the 2 auctions that you think contributed to the difference in final values and email it to me at;
stuart@stuart-turnbull.com
The reader who spots the most key differences will win a mystery prize!
I will announce the winner and summarize the key differences in next weeks newsletter.
Prints Make Profits
If this newsletter has opened your eyes to the profit potential of selling vintage prints on eBay I have written an easy to follow, step by step guide that shows you exactly how to identify your own hot print niches, where to source your inventory and how to list and present your prints to earn profits of 500%, 600% or even 1,000%  and more!
Click the cover graphic for your exclusive subscriber discount!
'20 ways to make money' contest winner! (see my post "we need your 'make money online' ideas")
I am delighted to announce the "20 ways to make money now on the internet" contest winner is Deb Henry!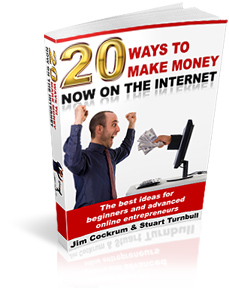 Congratulations Deb!
Deb's money making idea is all about finding unknown niches on eBay and she has devised a system for identifying only those profitable eBay items which guarantee big profits.
I have been working with Deb for the last few weeks helping her put together her very first eBook all about her system and as part of her prize Jim Cockrum has agreed to promote the book to his subscribers and feature it in the bonus pool at his "My Silent Team" membership site.
In addition to this, Deb's idea will be featured in "20 ways to make money now on the internet" (Click the book cover graphic for a HUGE 50% subscriber discount!)
Deb's eBook "Fishing for Niches" is an absolute must read for all budding eBay entrepreneurs (AND experienced sellers) and will be launched within the next few weeks, I'll make sure that you get to see it HERE first AND I'll be twisting Deb's arm for a very special subscriber discount!
So watch this space!
Till next week — happy eBaying!
I'm off to start photographing all of those unwanted toys!!
Oh! and don't forget to take a look at those auctions and email me your thoughts, I'll make sure the prize has real value for the lucky winner!
——–


Want 5 easy side hustles?
Get your FREE guide: "5 Easy Etsy Product Lines You Can Do Right Now!"