Today's newsletter explores the vital first step that separates the traders from the 'involuntary collectors'.
This step should be applied regardless of what it is you buy to resell on eBay but I focus on the Prints Make Profits business model in this example.
I have also included the latest news on the Prints Make Profits Workshop and how you can get this first step done for you.
The vital first step you must take if you want to make money selling vintage prints on eBay is to identify a REAL demand for a particular artist's work or a particular print genre.
The next step is to source items that you can sell to these buyers at a sufficiently low cost to allow for a profitable sale but let's go back to that first step;
Here's an example of successful print sales that I came across during my eBay research:

(Click on each screen shot to enlarge in a separate window)
As you can see this seller sold 21 similar prints for a combined price of $417.90 ($19.90 each)
I popped the title of the source publication into Addall.com and was excited to find an incomplete copy with 31 of the color lithographs available for $50 plus shipping!

(Click to enlarge)
This particular book is cheap for 2 reasons:
1 It is incomplete – the seller lists the 9 plates that are missing in his description
2 It is an ex-library copy – this isn't a problem for us provided the plates are not library stamped and the seller confirms this point – "with no marks on the plates"
On the face of it this looks like a winner!
We can buy 31 plates at $1.61 each and we have seen them selling on eBay at $19.90 each!
In fact if you are quick you might be able to snap up that very same copy of the book for yourself, It is still listed for sale as I am writing this newsletter.
HOWEVER, I urge you to read through to the end BEFORE getting your credit card out.
I know this looks very tempting but take a few deep breaths and read on!
Let's just go back to that vital first step and consider whether we have answered the question
"Is there a REAL demand for these items?"
The number of sales is real enough – 21
and so is the price at $19.90 each
BUT if you look a little closer you'll see that every one of those sales was made on the same day – 12th October.
Now this suggests to me that the same buyer bought every one of the 21 plates and because the sales were 'Buy It Now' sales we have no way of knowing how long these plates had been listed before our desperate (and wealthy!) buyer came along.
Based on this information ONLY, my credit card is staying in my wallet. I want to see evidence of a much wider demand before I invest any of my hard earned cash.
What I really want to see when I am researching demand is successful auctions and the more the better.
Because I can see how many bidders are interested and because I know the duration of the auction I can judge the REAL demand with much more certainty.

You can focus your eBay completed listings research exclusively on auctions simply by choosing the "Auctions only" tab at the top of your search results.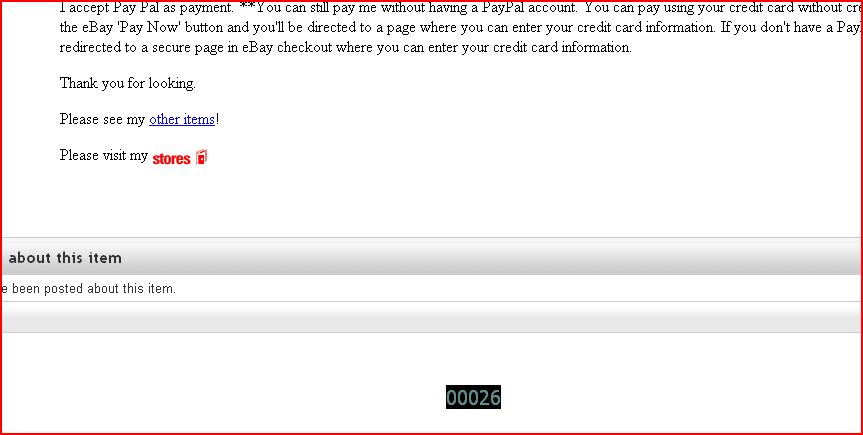 Another thing to look out for during your research is counters that record the number of visitors to an auction.
You see them at the bottom of the item description – not all sellers use them, but when they do they provide valuable information about the item's popularity.
---
Remember, this vital first step is what separates the sellers from the collectors,
get it wrong and you will simply end up accumulating loads of stuff that you can't resell.
---
Confused? Need a leg up? Want a helping hand?
Then you need the Prints Make Profits Workshop!
You believe in this business model, you love the way it allows you to express your creativity and actually make good money at the same time but there is something that is stopping you from taking that first step.
Self doubt?
Lack of confidence?
Scared you'll make a mistake?
Imagine if you had a book full of popular prints that will sell on eBay in your hands right now
Imagine if you had mat kits custom cut to fit the prints in your book
Imagine if you had a supply of rigid mailers to ship your matted prints to your delighted buyers
Imagine if you had all the tools necessary to extract & mat the prints to a professional standard
Imagine if you had a DVD of tutorial videos that stepped you through each of these processes so you can learn them at your own pace
STOP IMAGINING – THERE IS A REALITY! 
You can read all of my ebooks, blog posts and emails about how to do this business but it isn't the same as actually doing it yourself, it isn't the same as 'getting your hands dirty'.
Reading about my successes won't give you the unique buzz and confidence that only comes from doing it yourself and making your own sales.
I believe that hands-on learning is the best way to learn any new task.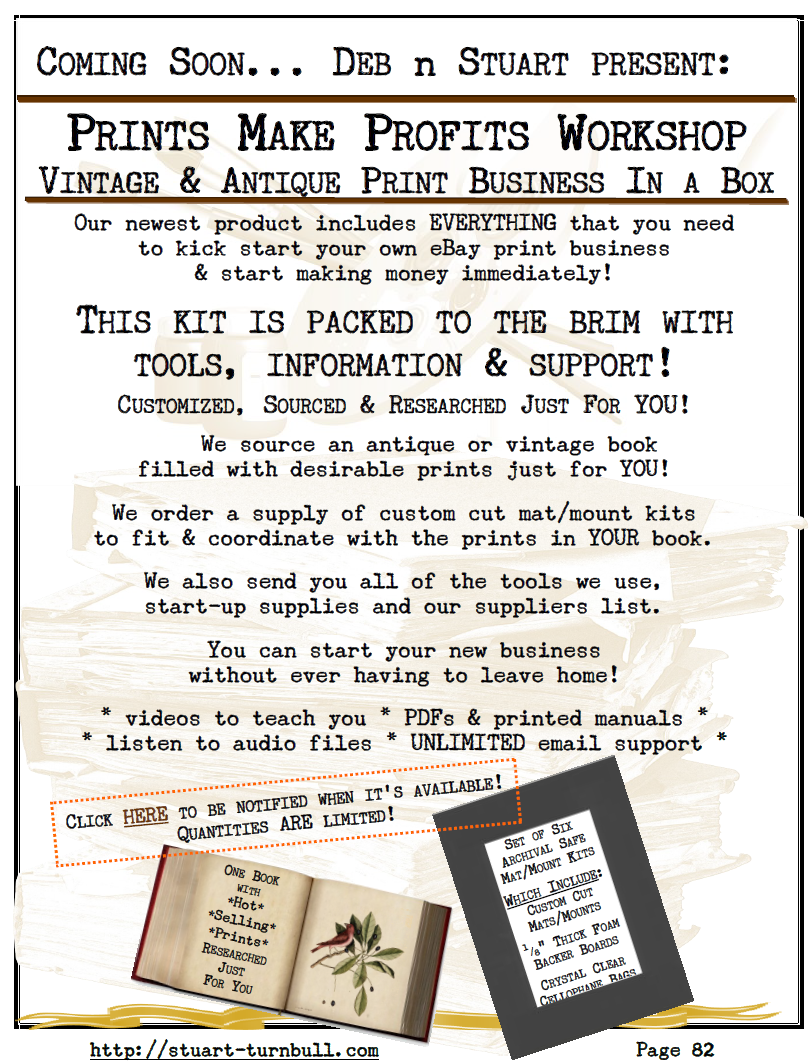 Prints Make Profits Workshop gives you everything you need to do just that….
We are working on the Workshop sales page right now and expect to be ready to accept orders within a matter of days.
Due to the custom nature of the Workshop kit and our commitment to fully support all of our students for as long as they need, it is necessary for us to impose a strict limit on numbers.
We will invite applications from the pre-launch notification list first so if you want our personal help to kick start your eBay print business, you NEED to be on the list.
Talk Soon!
This offer is now closed, to be kept in the loop with more great money making ideas sign up to my blog using the opt-in form below!


Want 5 easy side hustles?
Get your FREE guide: "5 Easy Etsy Product Lines You Can Do Right Now!"