I have been busy working on a new idea to help you make more money on eBay!
Before I tell you more about that here are several screenshots from completed eBay sales that I noticed during one of my regular research sessions this morning.
NOTE: Click on ALL images to enlarge!


If you invested in my Cecil Aldin Instant Expert Course you'll recognize the images as being from one of the source books that I analyzed in micro detail during the course.
You'll also notice that the seller used my keyword recommendations to construct his titles and started his auctions at my recommended start price of $27.
Assuming he didn't overpay for the book (I provided a maximum recommended price to pay in my guide) he is well on his way to doubling his investment! (AFTER all costs)
If you have had success on eBay following my methods please share by adding your comment to this post!
OK, back to my 'new idea'!
I won't beat around the bush here with a rambling sales pitch (if you've followed me for any length of time you'll know that's not my style.)
My brand new Prints Make Profits Mini Guide is designed to give you all of the information you need to QUICKLY and EASILY exploit a lucrative vintage print niche on eBay (this is brand new material – I have NEVER written about this niche before).
My first Prints Make Profits Mini Guide is focused on Cicely Mary Barker's Flower Fairies!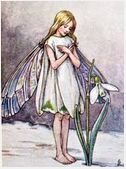 I have chosen this niche for my first mini guide because demand is outstripping supply which results in an extremely high sell through rate (a couple of sellers are selling 100% of everything they list in this niche!!)
I demonstrate the popularity of the niche with examples of completed listings and I show you the best place to cheaply find the source publications (NOT where you'd expect.)
I have analyzed the niche using Terapeak and my research is included which shows the best listing format (auction or buy it now), how to price your items and the most effective keywords to use in your titles.
I provide an illustrated step by step guide to matting/mounting your prints for professional quality results. (matting is certainly NOT essential in this niche.)
I  provide links to my recommended mat/mount kit suppliers (these are my personal suppliers).
I  provide packing/shipping advice and links to my personal packing suppliers.
I have set up a dedicated email address where I will be available for free support and advice.
Making money on eBay doesn't get any simpler than this!
ALL of my detailed research and analysis is available today for LESS than $10!
If you have bought my products and guides before you will know the quality of the information and support that I provide so you can rest assured that the value of the information in my brand new Mini Guide is worth many times what I am asking for it.
I am so convinced that you will be blown away and itching to dive in and start selling in this lucrative niche after reading my new guide that I am prepared to take all of the risk out of your purchase and offer you a 100% money back guarantee if you aren't delighted for ANY reason!
Simply drop me an email and I'll refund your money immediately, no questions asked (AND you get to keep the package)

You will make your investment back with your first sale and remember sell through rates are as high as 100% in this amazing niche!
This offer is now closed, to be kept in the loop with more great money making ideas sign up to my blog using the opt-in form below!
Talk soon!



Want 5 easy side hustles?
Get your FREE guide: "5 Easy Etsy Product Lines You Can Do Right Now!"