On the face of it, making money on eBay is simple, all you need to do is find out what sells well, negotiate a deal with a wholesaler to obtain inventory, list it and collect your money!
Of course it isn't quite this simple, if it was we'd all be selling high end electronic goods and be making tens of thousands of dollars profit!
The reason why it isn't this simple can be summed up in one word ………..'competition'.
Competition drives down the prices of these consumer goods meaning that unless you can negotiate the very best deals with the manufacturers it is impossible to make a profit.
Most of the top selling niches on eBay are dominated by a few big players who make a profit despite selling at rock bottom prices because they leverage their huge buying power to negotiate the best deals directly with the manufacturers.
It is impossible for the little guy to break into this business because even if he could obtain a supply of inventory (which often he cannot) he can't hope to beat or even match the prices paid by the big players.
So do you join the masses trying to eek out a meager living as your profit margins are squeezed ever thinner or do you go against the herd and focus your efforts where you won't be wiped out by the competition?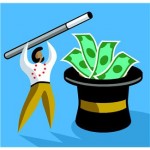 The answer for me is to focus on vintage collectible items, their rarity means that you don't have the mass competition problem. Although there are hundreds of successful sellers on eBay selling vintage collectibles, it is extremely unlikely that the exact same item is being sold by more than one seller at any one time.
Since there is no mass competition, profit margins are a lot healthier –
I'm talking 200%, 300%, 400% and more!
But where to find an ongoing source of inventory?
You could spend all of your spare time visiting charity shops, thrift stores and boot sales but this strategy will waste many hours of your valuable time and is only likely to turn up the occasional profitable item.
No, to make a living on eBay your time needs to be focused on listing and selling not scavenging through piles of worthless rubbish.
I have created a short video to demonstrate how I obtain my eBay inventory:
How and why does this work?
Imagine you are a talented but hungry artist in the late nineteenth century, you need to sell as much of your work as possible to keep a roof over your head and put food on your table and one of the best ways to gain exposure for your artwork is to allow it to be reproduced and published in books.
Now fast forward to today and a century or so later those very same books are available to a whole new audience thanks to the magic of the internet.
Today's book collector can search the inventory lists of thousands of individual booksellers from all over the world to find books to add to their collections.
Book collectors are very particular when it comes to the condition of the books they purchase and because of this the values of vintage books can vary widely. Books with broken, stained or damaged covers and bindings can often be obtained for a fraction of the prices commanded by copies in fine condition.
More often than not the contents of these damaged bindings are in good, clean condition which means that if we know where to look we can buy these broken old books containing many beautiful and sought after prints very cheaply.
All we have to do then is remove the prints from the old books, list them for sale on eBay and watch the profits roll in!
Talk soon!



Want 5 easy side hustles?
Get your FREE guide: "5 Easy Etsy Product Lines You Can Do Right Now!"