Last week I ran ten vintage print auctions on eBay.
As you can see I sold nine of the ten prints listed for a total of $604.38! (click on the image to enlarge it)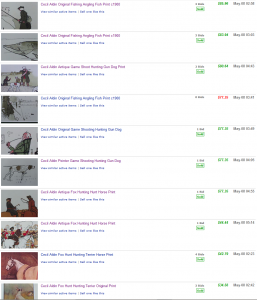 After allowing for all eBay and PayPal fees and the cost of the prints and mats I banked a very cool profit of just over $400! (not bad for a few hours "work"!)
Now, if you are anything like I was when I first discovered this business on eBay your head will be in a bit of a whirl at the moment!
You are excited at the thought of selling pieces of tattered paper for hundreds of dollars but the questions keep coming:
"WHAT makes this business work?"
"WHY are these pieces of paper so valuable?"
"WHERE can I find them?"
"HOW do I know which ones to buy?"
"HOW do I list them to maximize my return?"
Well, RELAX! this post is all about sharing my knowledge and experience to help you use eBay to supplement your day job or pension or even to grow your own full time business if that is what you want.
First things first, why do I sell vintage prints on eBay and why should you consider doing the same?
On the face of it, making money on eBay is simple, all you need to do is find out what sells well, negotiate a deal with a wholesaler to obtain inventory, list it and collect your money!
Of course it isn't quite this simple, if it was we'd all be selling high end electronic goods and be making tens of thousands of dollars profit.
The reason why is simple ~ it is because of competition.
Competition drives down the prices of these consumer goods meaning that unless you can negotiate the very best deals with the manufacturers it is impossible to make a profit.
Most of the top selling niches on eBay are dominated by a few big players who make a profit despite selling at rock bottom prices because they leverage their huge buying power to negotiate the best deals directly with the manufacturers.
It is impossible for the little guy to break into this business because even if he could obtain a supply of inventory (which often he cannot) he can't hope to beat or even match the prices paid by the big players.
So do you join the masses trying to eek out a meager living as your profit margins are squeezed ever thinner or do you go against the herd and focus your efforts where you won't be wiped out by the competition?
My advice is to focus on vintage collectibles.
Their rarity means that you don't have the mass competition problem. Although there are hundreds of successful sellers on eBay selling vintage prints, it is extremely unlikely that the exact same print is being sold by more than one seller at any one time.
Since there is no mass competition, profit margins are a lot healthier (I'm talking 200%, 300%, 400% and more!)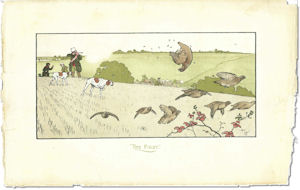 Vintage prints are easy to source. You don't even need to leave home! So no more scavenging amongst piles of worthless rubbish at boot sales and thrift stores.
Once purchased they are easy to store as they take up very little space.
They are simple and cheap to package and ship. No need for bubble wrap and peanuts – all you need is an envelope!
This business is fascinating to do – every print is unique and there are a million different subjects just waiting to be discovered!
This business model is based on arbitrage, which is all about exploiting the price differences of identical items in different markets.
I unearthed a searchable online resource at addall.com where anyone can find and buy the printed work of almost any artist you care to name. There are literally hundreds of thousands of printed works—many long since out of print. You can buy these for a few dollars, get them delivered to your door and have them quickly listed on eBay and selling for ten, twenty, even thirty times your purchase price in a matter of days!
Why does this work?
There are two main factors at work here:
1  eBay's massive traffic
2  the ability to include high-quality images of the prints in your auction descriptions.
Obviously, eBay has massive traffic and addall.com only receives a tiny fraction of the traffic that eBay receives. Consequently, it is possible to buy an old book full of vintage prints and flip the exact same book on eBay for a profit, although much higher profit margins can be achieved by selling the prints individually.
It is important to include high-quality images in auction descriptions. This is another 'eBay factor' that works in the seller's favor; the ability to include high quality images of their prints in their eBay auction descriptions. It is said that 'a picture is worth a thousand words,' and this is certainly true when selling art on eBay.
eBay is THE place online where millions of collectors gather, hoping to find rare and unusual items to add to their collections.
How can YOU cash in on this method?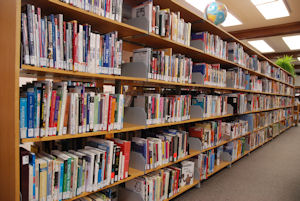 To research the value of any find, simply run an "advanced search" on eBay and select the "completed listings" option.
This will bring up all recently-closed auctions and fixed price listings.
Search the category "art from dealers and resellers>prints."
As you peruse this list, you will see many old prints changing hands for incredible prices.
You can further refine your search to zero in on the prints most likely to be taken from old books and most likely to yield a healthy profit.
Having built a list of sought-after print niches in this way, the next step is to find out of print books containing similar items available cheaply online, and this is where addall.com comes in.
It is vital that you do your research BEFORE sourcing prints.
You must establish that a healthy market exists before buying any items for resale (this rule applies to ANY item you buy to resell on eBay).
To help you out with YOUR research, I am putting the finishing touches on a video series that will teach you to successfully research, buy and ultimately sell your own prints at incredible profits!
In my new video series, you can watch over my shoulder and learn the precise techniques I use when researching prints AND successfully sourcing the books they originally came from.
Additionally, I will reveal several very successful eBay sellers who have been selling in this niche successfully for years.
The videos are jammed packed with tips, tricks and techniques that I incorporate daily in my own vintage & antique print selling business!
Keep an eye out for a video preview next week!


Want 5 easy side hustles?
Get your FREE guide: "5 Easy Etsy Product Lines You Can Do Right Now!"