I'm delighted to announce that the updated 2014 Prints Make Profits is now LIVE!
Prints Make Profits started life in 2008 as a 40 page ebook, over the last few years the way in which people interact with the
internet has evolved. The rapid increase in the use of mobile devices means it is time for Prints Make Profits to evolve too!
The result is a video based member site containing 13 easy to follow, mobile friendly videos plus a member only forum to provide
support and advice.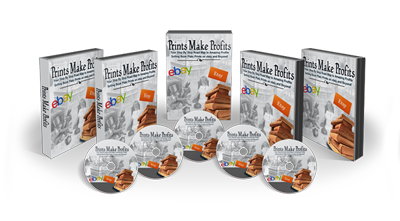 All past buyers of Prints Make Profits get FREE lifetime access to the new member site and I have sent an email containing the registration link to everybody on my buyer's list – if you are a past buyer of Prints Make Profits and haven't received your link please drop me a line at support@printsmakeprofits.com and I will be in touch.
Because the new member site contains all of my latest research and listing methods I have decided to withdraw my Print Sorcery product from the market and give all of my past Print Sorcery buyers FREE lifetime access to the new membership site too!
If you are a past buyer of Print Sorcery and you haven't received your registration link please email me.
If you haven't yet invested in either Prints Make Profits or Print Sorcery this is your final opportunity to do so at the old price and receive access to the brand new content.
Clicking the link below will take you to the previous sales page which is still priced at just $5!
Please be aware that the price will increase to $19.97 on Tuesday 27th May.
Talk soon!

.


Want 5 easy side hustles?
Get your FREE guide: "5 Easy Etsy Product Lines You Can Do Right Now!"