Congratulations to John – the winner of my complete "Done For You" ebay auction package!
I'd also like to say a huge "THANK YOU!" to everyone who took part by bidding and helping to make my auction a big success!
As I mentioned in my email on the 18th I used a WordPress plugin to run my auction (thanks to Deb Henry for the heads up about this cool plugin!) unfortunately after the auction ends the plugin doesn't display the winning bid for all to see (like ebay does) so in the interests of transparency here is a screenshot from my blog's dashboard showing the bidding history and the winner's high bid.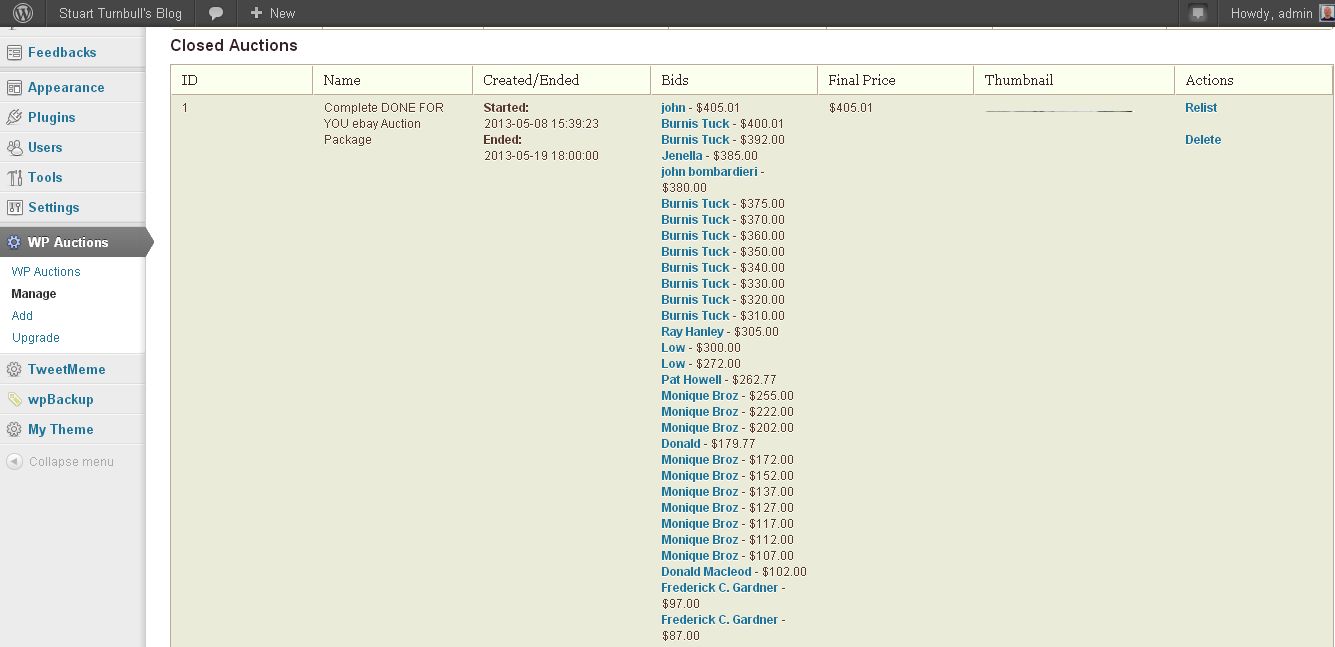 Click on the image to enlarge it in a separate window
John's complete "done for you" auction package comprising of a rare antique book containing 16 scarce and sought after plates plus custom cut mat kits, rigid mailers, auction images and descriptions PLUS the Prints Make Profits Workshop LITE DVD and all the support needed to sell the plates profitably will be winging its way to him very soon!
Prints Make Profits for a FIVER!
I really enjoyed the excitement of watching the auction bids coming in, so excited in fact that I have slashed the price of my Prints Make Profits ebook to a FIVER!

click on the graphic for your copy for a FIVER!
This is the lowest price I have ever sold my flagship product for so if you want to learn how to uncover the most profitable book plates and how to turn them into sought after works of art to make great ebay profits I urge you to grab it now before my excitement wears off and the price goes back up!
Talk soon!

.


Want 5 easy side hustles?
Get your FREE guide: "5 Easy Etsy Product Lines You Can Do Right Now!"