UPCYCLE
verb – reuse (discarded objects or material) in such a way as to create a product of higher quality or value than the original.
A great example of upcycling:-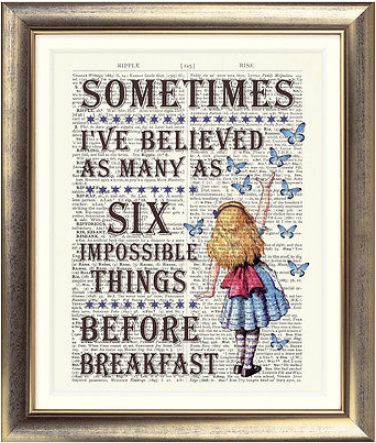 The item that is being upcycled here is a page of text taken from an antique book. The seller has overprinted the page with an Alice in Wonderland image and quotation to create a desirable wall hanging that is proving extremely popular on ebay!

click on the images to enlarge them
As you can see, this item has sold 329 times! (7 times in the last month) That is total revenue of $3888.78
Of course, this resourceful seller didn't stop at creating one design – here is a screenshot from Terapeak that shows their sales activity during the last month:-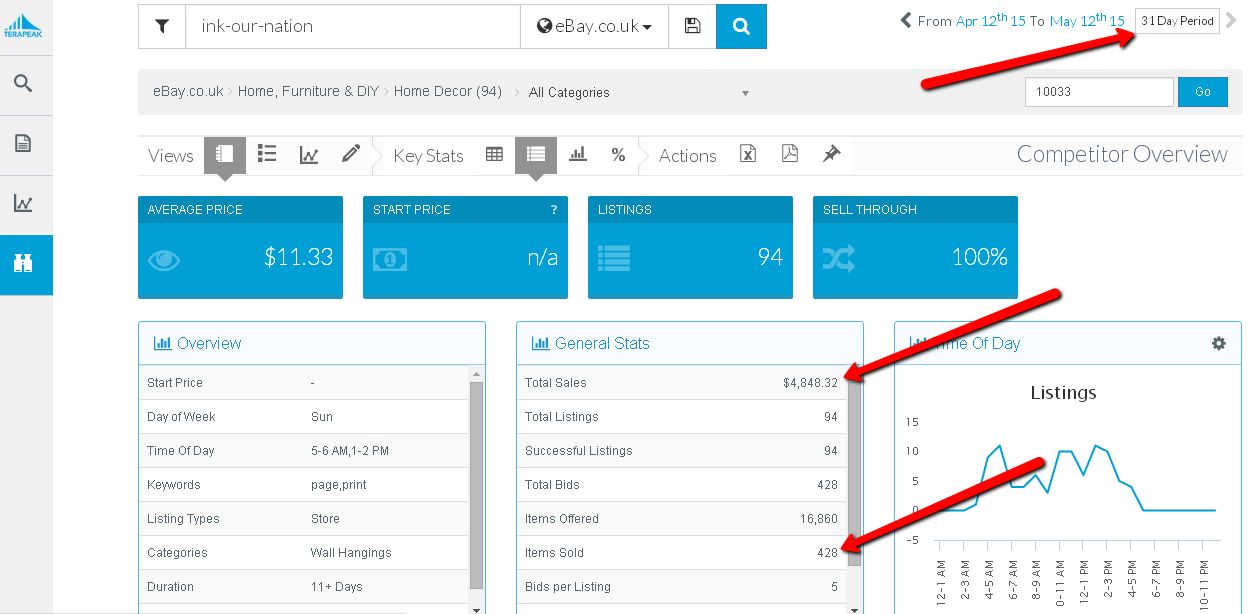 The most important numbers are indicated with a red arrow:-
The time period is 31 days
Total sales = $4848.32
Items sold = 428
Not all of the seller's designs are based on Alice in Wonderland although this is their most popular line but every item they sell is printed onto a page taken from an antique book. (Please note that the frame in the image is included for display only and is not included in the sale)
Impressive?
Very! but the most impressive thing for me is that the designs used to build this multi thousand dollar monthly revenue business are all based on freely available public domain images!
The seller has used copyright free images just like this one:-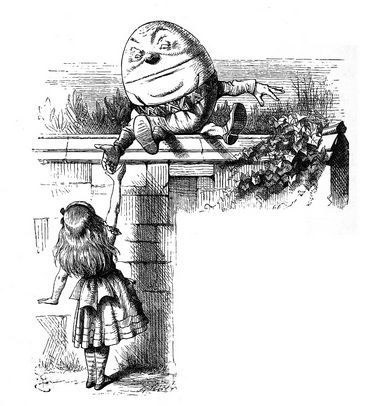 This is one of John Tenniel's original illustrations created for Through the Looking-Glass, and What Alice Found There published in 1871 (sequel to Alice's Adventures in Wonderland 1865)
If you look back to the image at the top of this post you'll see that they have cropped the image of Alice, added a dash of color, a handful of butterflies and a quotation (taken from chapter 5 of the same book) and voila, they now have a unique design that only they can reproduce!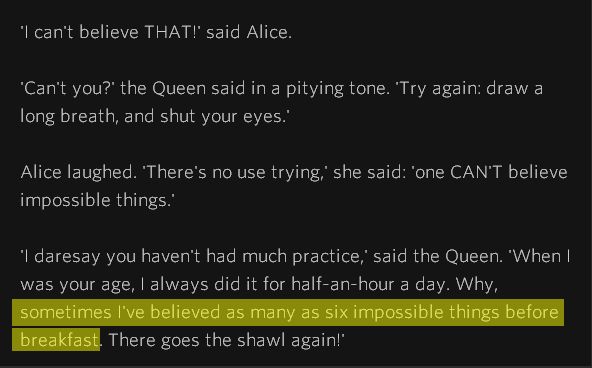 Copyright protection has expired on both the book and Tenniel's illustrations so anybody is free to use this material to create their own products for whatever purpose (including commercial) without paying a penny to do so!
As I said earlier the designs aren't confined to Alice in Wonderland in fact, there are thousands of different niches that this idea can be applied to – if you run an ebay search for the keywords "prints on antique pages" you'll see what I mean.
And EACH design, once created, can be sold over and over and over again.
In this business, there's also no need to carry any inventory as you can just print off orders as they come in!
Profitability
The profit margin on this business model is extremely high!
After the initial design work is done all you need is an ink jet printer, antique book and rigid envelopes.
I buy rigid envelopes (cardboard backed) in boxes of 125 for £18.85 including shipping which is $29.57 (at today's exchange rate) which equals 23c per envelope.
You can easily source suitable antique books containing several hundred pages for $20 – say – 4c per page!
The cost of your printer ink is nominal – maybe 5c per page.
Your biggest cost is your selling fees which amount to approximately 15% on ebay and around half of this on Etsy.
Your total costs on a $10 ebay sale equal $1.82 and on a similar Etsy sale $1.07 (estimated) which leaves you with a net profit margin of well over 80%!!
This is such a profitable and exciting business model that I just had to share it with you!
I have been researching this idea for months and have decided to use what I have learned to put together a step by step guide so that you can grab a slice of this very lucrative pie for yourself!
My New Course!
My brand new course is going to teach you……..
* How to identify HOT niches to see what's profitable and what's in high demand. This research will pay for itself many times over because just ONE niche can provide the basis for the creation of DOZENS of products that we can create virtually for FREE and then print and sell for high profits over and over and over again!
* Where to find popular public domain art images to satisfy the demand in your hot niche(s) – These images can be modified in various ways to create some spectacularly popular products.
* Where to get and how to use FREE software to import, size and crop your images. You will also learn how to add additional images, how to add color and text – you'll even learn advanced techniques like adding text along a path and adding a color gradient to your text – all simple to do!
* Where the best places are to source your antique books – what features to look for, what keywords to search for and the maximum price points.
* Finally, the pièce de résistance… we will print our designs onto antique book pages to create unique, one off art works that cannot be copied by anyone else.
YOU will automatically have exclusive copyrights to everything you create!
You'll learn all this and LOTS MORE!
Competition to win my new course for FREE!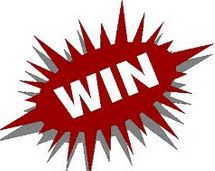 I'd like to hear your thoughts on this business model – what do you like/dislike about it, what challenges do you think it will present to you, what niches excite and interest you and all of the feedback received will be used to inform the content of the course.
To encourage your questions and comments I am going to give away free access to the course to 3 lucky readers chosen at random from everybody who leaves a comment on this post with their thoughts and/or question(s)
Your questions will be answered and your name will be added to the draw which will take place on the 28th of May with the lucky winners being announced on my blog shortly after!
So do get involved and help shape this great new course!
Talk soon!

.


Want 5 easy side hustles?
Get your FREE guide: "5 Easy Etsy Product Lines You Can Do Right Now!"