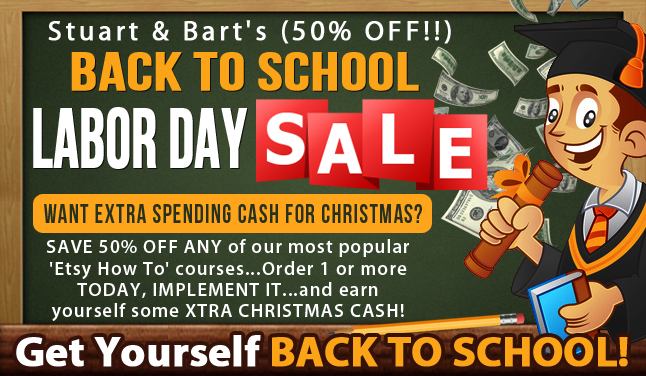 Below you will find a brief synopsis of each of the courses included in the sale.
Simply copy the HALF PRICE coupon code, click on your chosen product graphic which links to the offer page and enter the coupon code at checkout to claim your discount. You can buy as many of the courses as you like and each comes with a 100% satisfaction guarantee!
PLEASE NOTE THAT THE COUPON CODES EXPIRE MIDNIGHT EST MONDAY SEPT 3rd
Upcycle Print Profits
A unique method for turning scrap pages into cash that will really get your creative juices flowing!
If the idea of creating your own designs with the help of free images from the public domain archives that you create once and sell over and over on ebay, Etsy and Amazon excites you then this course is for you!
Your HALF OFF coupon code – backtoschool1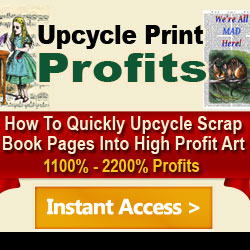 Your Printable Profits Empire
If you are looking for an Etsy business model where you create your product once and sell it over and over and never need to ship anything this course is for you!
Click on the graphic to discover a rabidly hot niche of printables that you can use to build your hands free empire today!
Your HALF OFF coupon code – backtoschool2
Vintage Blueprints Cash Bonanza
Over 6 million "patents" have been issued in the US since the first was issued in 1790.
In 1871 the current system of including a black and white drawing of the invention was introduced.
The great news is – by definition these patent drawings are in the public domain so you can get them FREE (we show you where to find them) and sell them for big bucks!!
Your HALF OFF coupon code – backtoschool3
Your Etsy List Builder
As you know, the Holy Grail of marketing (online or offline) is a list of past buyers that you can sell to over and over – this is the nearest thing to having money on tap! You simply send an email to your list whenever you have a new line of products or you are running a sale and VOILA! you are guaranteed instant sales!!
In Your Etsy List Builder you'll learn our secret method for building lists of Etsy shoppers that is 100% compliant with Etsy's terms of service – it is also ridiculously simple to implement, completely free to do and once set up it runs on autopilot!
This is a MUST HAVE course for ALL ETSY SELLERS
Your HALF OFF coupon code – backtoschool5
PLEASE NOTE THAT THE COUPON CODES EXPIRE MIDNIGHT EST MONDAY SEPT 3rd
Don't hesitate to drop me a line if you have any Q's
stuart@stuart-turnbull.com
Sincerely,



Want 5 easy side hustles?
Get your FREE guide: "5 Easy Etsy Product Lines You Can Do Right Now!"