Don't forget to use your coupon
EASY10
at checkout to get $10 off the already low price!
Amy Harrop's brand new course Easy Party Printables features a niche that we haven't come across before.
According to ONEPOLL (onepoll.com) the average American will host seven parties a year, and spend over $1400!
We spent some time researching the niche to confirm its popularity as we always do when we review new courses and the more we looked the more it dawned on us how huge and hot this niche actually is!! And it turns out, these printables are very simple to create…Amy shows you how (see below).
There are so many amazing sub-niches  – Plus we feature an additional, related hot niche in our exclusive bonus course (read on for full details!)
Easy Party Printables reveals how to create ready-to-sell printables for celebrations, special occasions, parties, and get-togethers…with little to no writing needed!
Amy reveals the top selling party printables niches—for the types of parties everyone will be at.
These products fly off the virtual shelves, especially with social gatherings making a comeback!
These are easy to create and require little-to-no writing and people buy them over and over again!
This is a massive niche, and people need printables for:
*Weddings
*Baby and Bridal Showers
*Graduations
*Anniversaries
*Holiday and event parties like Halloween, Christmas, Super Bowl
*And much more!
Now that you have an idea just how lucrative and how popular the party printables niche is let's take a closer look at Amy's course.
A very comprehensive 90+ page ebook – as always with Amy's courses, this is well written and fluff free.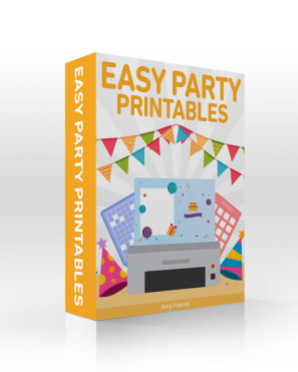 Amy spends the first few pages explaining the benefits of making and selling printable products;
create once sell over and over
no inventory to store
no packing/shipping hassles
zero cost inventory
she then moves onto the party printables niche and features several successful Etsy shops so you get a feel for the kind of products sold and how simple it is to enter this market!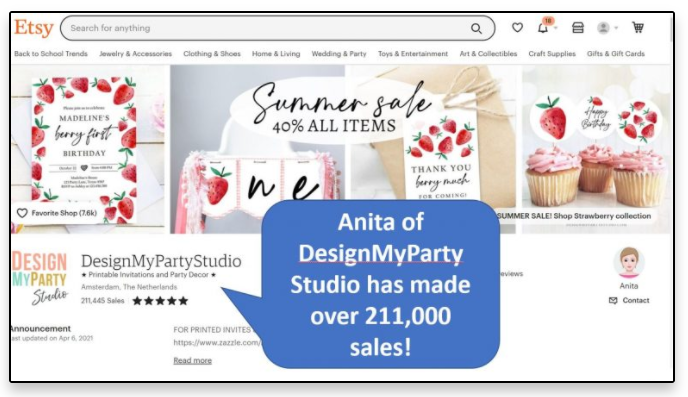 Next is a section about finding the most popular party/occasion niches with recommended tools to help you find them.
Having decided on your party niches Amy goes on to teach you how to create your printable party products – this isn't complicated and Amy share all of the tools she uses and steps you through the whole process with plenty of easy to follow screenshots.
Now that you have created some products it is time to start selling them and the next part of the course is dedicated to selling your party printables on Etsy – again, Amy covers the subject without leaving any gaps – she steps you through;
opening your shop
creating compelling product listings
adding personalization (including 'personalization partners' – these are companies that make it possible for your customers to add personalized details to your printable templates which opens your items up to a much bigger audience!)
selecting keywords
how to use tags
how to use hashtags to promote your products (this is a new one on me!)
Easy 'quick-start' checklists – as the name suggests, these are checklists of all of the steps you learned in the course ebook distilled down into easy to follow aide memoires – simply open the appropriate checklist (depending on which party printable you want to create), follow the steps and you'll have your products created and listed without having to refer back to the course ebook!
Over the shoulder video tutorials – good quality, short and to the point 'watch and copy' videos step you through all of the product creation steps. This is my preferred method for learning new processes – with the ability to stop the video while I do each step before moving on to the next step.

A mini guide to the best online tools for researching your own printables niches – when you are ready to branch out and uncover your own new products and trends this fully illustrated guide will show you how.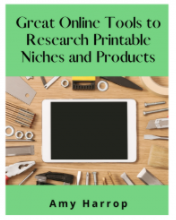 31 Done For You templates! – Amy has put together 31 templates with full commercial rights covering the most popular party printable niches that you can open up in Powerpoint or any free slide program like Google or Open Office and quickly edit to make them unique – she even includes tutorial videos that show you how!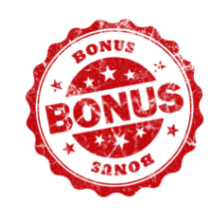 Bonuses! Amy includes 2 bonus ebooks – these are well written (not PLR material)
Bonus #1 A guide to free graphics resources – this is a list of websites where you can source free designs and images for use in your products.
Bonus #2 A 24 page ebook of additional Etsy selling tips and secrets.
All in all this is a very impressive package – Amy has left no stone unturned when compiling her course – absolutely everything you need to get up and running in this exciting niche is included!
Plus when you act today, you get our amazing high value exclusive bonus!!
We really outdid ourselves this time! This bonus is a full 50+ pages of pure gold!… It's so good, we really shouldn't be giving it away… We should have kept it and sold it as our own separate course!… Here it is…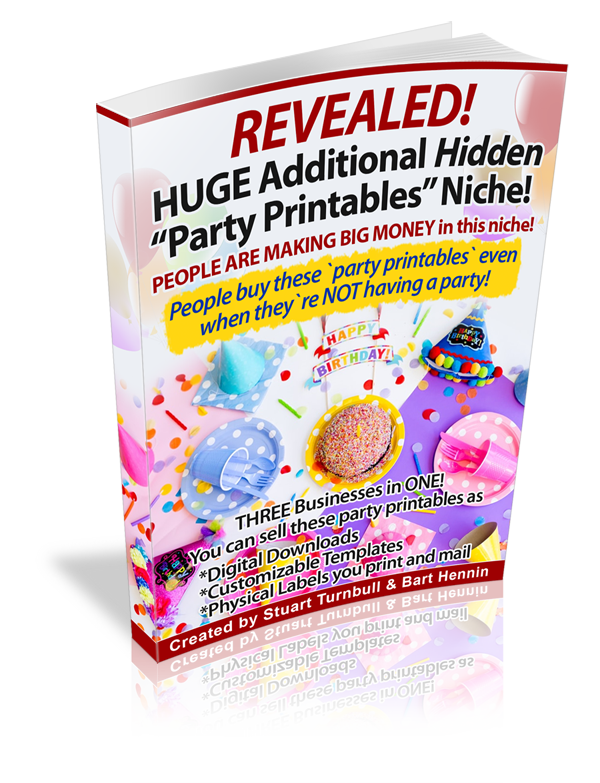 This bonus alone is worth more than double the price of Easy Party Printables and it's yours free! (Actually, it's worth more than triple the price but 'modesty' prevents us from saying that!)
We were so excited when we came across this niche and saw its many possibilities! We couldn't wait to share this with you! The type of party printables we reveal in this guide are absolutely adorable! People love them! It's a terrific opportunity for anyone with a little entrepreneurial spirit to prosper!
And best of all, people buy these 'party printables' even when they're not having a party! The demand is huge!
When we first stumbled across this niche, we did a double take… wow! Then we started to research this niche in depth. Double wow!
It ticked off all the boxes!…
 Lucrative
 Simple to do!
 Evergreen
 Under-served market filled with endless sub-niches!
People are selling dozens or even hundreds of these items per single order!
So, what is this awesome niche?
This niche is so vast, we really can't explain it here… but here's a hint…
What if, by using your printables, your customers could turn this;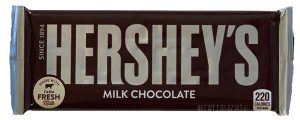 into this?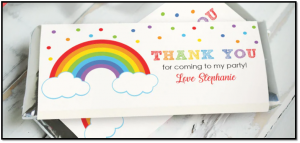 Or this;
Into this?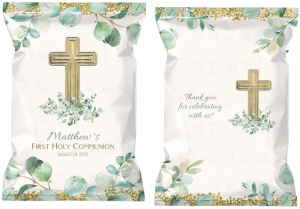 Where your customers do the customization, not you!
These simple to create printables are in demand for virtually any special occasion or any holiday even with no party! For example,
Any holiday (Christmas, Halloween, Valentines' Day, Easter, Thanks Giving, Fourth of July…), people will buy these printables.
Any occasion (anniversary, birthday, graduation, first communion, new baby, house warming, secretary's day, employee appreciation, back to school, baptism, engagement, thank you gift, teacher appreciation, sporting events…) people will buy these printables!
Businesses will even buy these printables as promo pieces!
Charities will buy these printables as thank you items!
The possibilities and sub-niches are truly endless!…
It gets better!… We include three different business models you can use to make money! One seller we feature in our bonus course has two shops selling the "exact same printables" as digital downloads in one shop and as physical prints in the other shop! They are making money two ways for every design they create!
Our bonus course includes:
What this niche is and why it's so lucrative
How to drill down to the endless sub-niches
How to easily create these special printables people love!
Where to get templates, images, clipart and more!
How to create templates your customers can "customize" themselves (3 ways)
And more!
We also detail a whole list of successful Etsy shops (that you can emulate) and show you what they are doing to succeed!
THIS BONUS SHOULD HAVE BEEN A WHOLE SEPARATE COURSE!
But when you get Amy's course Easy Party Printables through our link, this 50+ page bonus course (exclusively from us) is yours free!
=========================================================
Easy Party Printables Optional course upgrades (sometimes known as OTO's)
Amy offers 3 optional upgrades (by 'optional' I mean that they are not required to make the main course work).
Upgrade #1
This upgrade is jam packed with value!
You get an additional 16 customizable templates in the most popular party printable categories PLUS
Easy Zazzle Guide – shows you how to use Zazzle to turn your designs into physical printed products which you can then sell on the Zazzle marketplace.
"Quick Customizer Worksheet" With this worksheet, you can answer a few yes or no questions and receive a list of easy ways to customize designs and templates to make them your own.
Public Domain Resource List Tons of different sources for visually stunning designs to include in all types of party printables.
Plus 15 shop templates to make listing your products quicker and easier!
This package is priced at $27 and represents solid value in my opinion – worth grabbing if your budget allows.
Upgrade #2
In this upgrade you get a bundle of 4 of Amy's best selling courses at half the regular price! The included courses are;
1. Easy Implementation – Etsy Success – a series of step by step Etsy video tutorials focused on selling POD (print on demand) products.
2. Publishing Path Profits – Amy's secrets to generating ongoing passive income with easy to create content.
3. Easy PD Profits – How to use free public domain resources to create hot selling products.
4. Beyond Printables – Reveals 5 profitable, low content niches including DFY product templates, checklists etc.
This upgrade is priced at $77 and again represents solid value if your budget allows.
Upgrade #3
Easy Implementation – POD Graphics Success! A to Z, step by step training about creating and selling your own POD products. The course consists of 5 modules;
1. Why you need to get into POD now
2. How to discover top trending topics and subjects and use this information to develop your own products
3. Finding free and low cost designs to use in your POD products
4. Organizing and modifying designs using free online software
5. Selling your POD products How to work with Amy's chosen POD provider to get your shop up and running!
Plus videos, checklists and free support from Amy's team!
If the POD model interests you this is a great starter course, competitively priced at $37!

Everything listed above is backed by Amy's 7 day, no risk, 100% money back guarantee!
Don't forget to use your coupon
EASY10
at checkout to get $10 off the already low price!
Any questions, simply email; stuart@stuart-turnbull.com
Sincerely yours,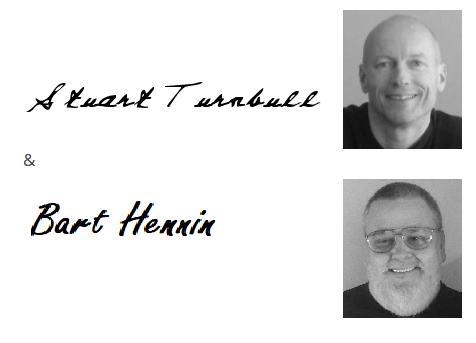 Want 5 easy side hustles?
Get your FREE guide: "5 Easy Etsy Product Lines You Can Do Right Now!"