Welcome to my new look blog!
I started stuart-turnbull.com back in Jan 2008 when I enrolled in John Thornhill's coaching course, the precursor to John's current Internet Marketing Masterclass program.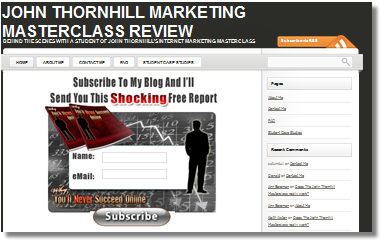 You can take a sneaky peek behind the scenes at: johnthornhillmasterclassreview.com
Back then I was a very green, IM wannabee. I had never even purchased a domain let alone put up a website and initially I used my blog to share my journey as I progressed through John's course.
34 months later ~
I am a full time marketer!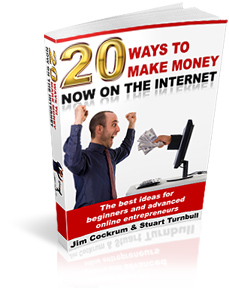 I have written several eBooks, built a multi-thousand strong list of loyal subscribers and partnered with one of the biggest names in the business to bring you "20 ways to make money now on the internet". (you can get a special subscriber discount by clicking the link in the right hand sidebar or the image to the left).
The most rewarding part of my success is being able to share my experience and knowledge with other aspiring marketers.
You will recall the recent launch of Deb Henry's "Fishing for Niches".  I started working with Deb just 12 weeks ago when all she had was an idea for an eBook. Today her eBook is ranked #2 in ClickBank's E-business/Auctions category (ranked by popularity and gravity) and she is well on the way to her first 1,000 subscribers!
As you can see from my own story, this business isn't about over night success, making money online is just like any other business it takes hard work and dedication to succeed.
Where internet marketing does score heavily when compared to off-line businesses is its ease of entry. All of the traditional barriers to business have been swept away by the internet, you don't need start up capital or business premises, you don't need staff, you don't need any special skills you don't even need a product of your own.
With determination and the right guidance ANYBODY on this planet (and that includes you!) can build a successful online business!
If you would like to talk to me about how I can help you achieve your online income ambitions click on "Coaching with Stuart" at the top of this page to find out more.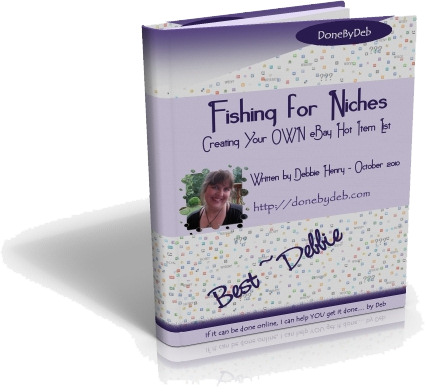 By the way, Deb has agreed to make a few more copies of her eBook available at the launch discount price as a special thank you to my subscribers (this price isn't available anywhere else). If you want a step by step guide to finding and sourcing HOT eBay niches then click this link now to find out more; Fishing for Niches

Two heads are better than one!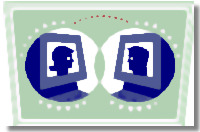 Internet marketing can be a lonely business at times, for most of us it involves long hours sat in a quiet room tapping away at a keyboard (regular readers of this newsletter know it isn't about buying the latest 'plug and play get rich quick on autopilot' product!)
When I look back on my last 'proper' job the only thing I miss is the buzz of being part of a team working together to achieve common goals.
Working together with Deb Henry made me realize that partnering with other marketers isn't reserved exclusively for the millionaire gurus who can afford to buy office space.
No, using email and Skype it is possible for anybody to enjoy the considerable benefits of partnering regardless of where in the world they happen to live!
When you share common goals you each benefit from the others individual skills (a common pairing in the IM world is that of marketer and techie)
You can bounce ideas off each other, share the workload, generate enthusiasm, motivate each other and generally make more good things happen than you could individually!
Partnering is also FUN!
It can be a hard slog making a living in the current economic climate so anything that introduces a bit more fun into the equation has to be a good thing!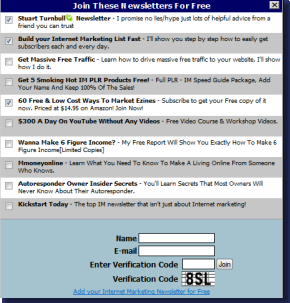 List-crew.com is a co-operative of internet marketing themed blogs and websites. Each member pastes a snippet of code into their site which displays a pop up window.
Whenever a pop up window is displayed on my site I earn 4 credits and for each credit I have my newsletter is promoted on a pop up window on somebody else's site within the co-operative.
I love list-crew.com because it is one of those wonderfully simple ideas that just works!
It takes 10 minutes to set up and costs nothing but it is working away behind the scenes adding an average of 3 brand new, confirmed, double opt-in subscribers to my list everyday!
If you have an internet marketing blog or website that gets traffic (even if just a handful of visitors per day)  list-crew.com is an excellent way to leverage that traffic to build your list.
I created a short video a few weeks back to demonstrate how simple it is to set up; if you didn't watch it at the time you can do so above.

Your feedback please!
I'm really proud of my new look site but it is your opinion that matters so please take a few minutes to check out all of the pages on my site and hit the comments link at the bottom of this post to let me know what you think.


Want 5 easy side hustles?
Get your FREE guide: "5 Easy Etsy Product Lines You Can Do Right Now!"