Hello & welcome to my 1st newsletter of 2011!
I love the opportunities and the motivation that the New Year brings, the opportunity to take stock of where we are going in our lives and the motivation to take a new direction if necessary.
Now is the time to make those New Year resolutions to change and improve our lives and this year I have two resolutions that I hope will inspire you as you make your own plans for 2011!
Firstly I want to give more of my time and energy to my eBay vintage prints business. I have been spending just a few hours per week and getting results like this – (click on the images to enlarge them)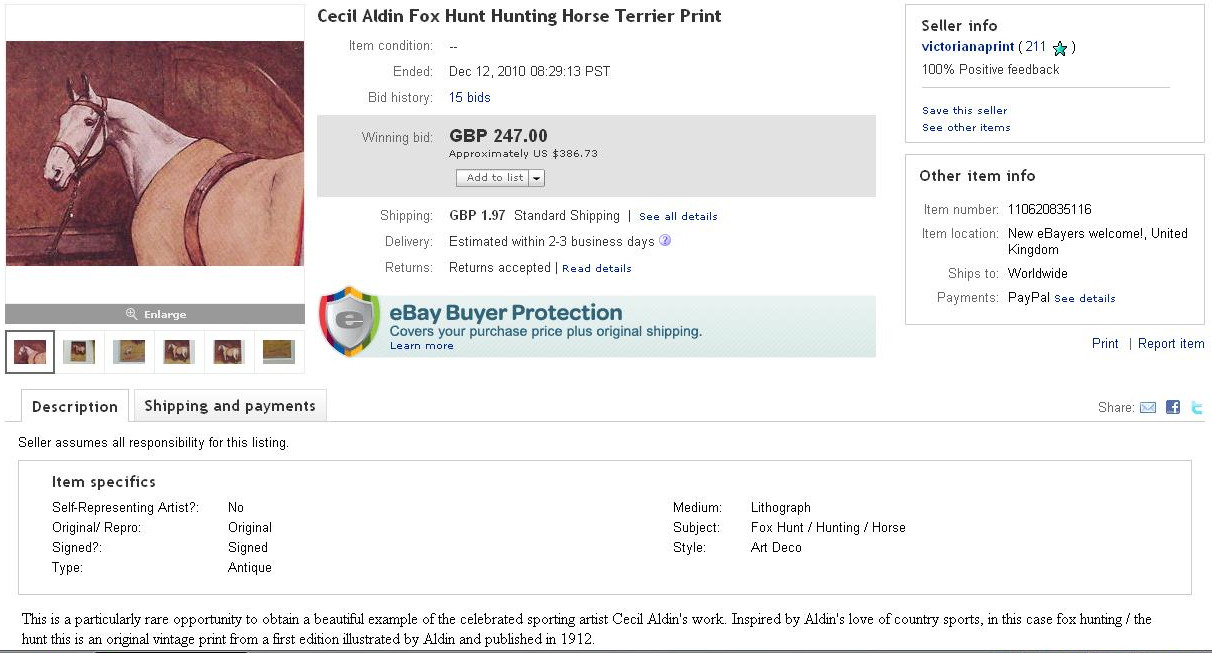 This particular print is one of 16 similar prints contained in a book that was published in 1912.  I know that if I spend just a few more hours of my time the possibilities to make huge profits in this business are endless, for example I could have another copy of this very same book delivered to my address within the next few days.
There is a website that is currently listing this exact book (same 1912 edition) for sale at $77.62 plus postage.

That's right, 16 similarly sought after book plates for $77.62 plus postage! (that's around $5 per plate!)  But that's not the whole story, there is also a modern edition of this book containing the same illustrations available at the same website for $17.77 plus postage.
If I can sell one book plate from the 1912 edition for $386.73 I'm sure I could  sell the modern reprints for $20 or $30 a piece to collectors who can't afford the first editions and I can obtain an unlimited supply of the modern edition!
Another twist is that the 1912 first edition is in the public domain so I am free to make as many copies of these popular illustrations as I want and sell them any way I choose and keep 100% of the proceeds (this way I only ever need to buy one copy of the book)
I could mount/mat the images from the new book or print and mount/mat the scanned images from the 1912 book and sell them as a limited edition collection of 16.
I could include more images from other public domain books in the same niche, compile a compilation CD and list it on eBay and automate the whole production and fulfillment process using kunaki.com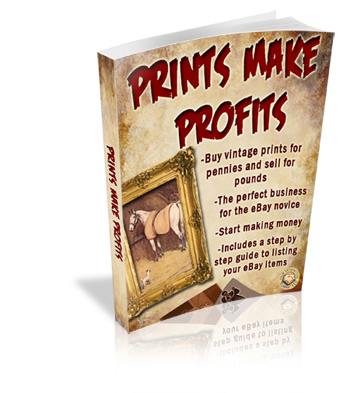 Why restrict my market to eBay? Why not sell on Amazon as well?
As I said, the possibilities are endless, I just need to spend a few more hours a week!
By the way, if you'd like to find out which website I use to source my prints and get a fully illustrated step by step guide to setting up your own vintage print biz check out my eBook "Prints Make Profits"
Click the book cover (to the left) NOW! for your exclusive subscriber only discount.
My second resolution for 2011 is to dedicate more of my time to creating new information products.
Why information products?
I didn't work over the Christmas holiday period, I took a week off to spend with my family but during those 7 days I still made money.
A quick check of my ClickBank and PayPal accounts reveals that I made 17 sales totaling $384.08
Not a huge sum I agree but the key point is that this is passive income from the sale of my products (and commission from the affiliate links within those products).
I didn't sell anything on eBay, I didn't promote anything to my list.
Selling information is the perfect business for 2011 because once created your digital product becomes a completely automated income generator.
My products are delivered instantly to my buyers 365 days per year regardless of where in the world they live and every 2 weeks my bank account is credited with the proceeds and all this happens without me having to lift a finger!
But the very best thing about the info product business is……….. anyone can do it!
That's right, you can do this to!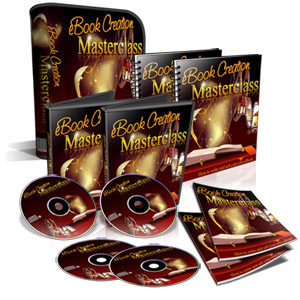 "Hold on, Stuart this sounds great but what do I actually write about and how do I put it online? and why would anyone be interested enough to actually buy it and what about traffic and I've no idea how to write a sales page or attract affiliates or………………………….."
Don't worry, I have all of this and much more covered.
Over the last few weeks I have been working on my latest product and I have recorded every step of the process on video. I have included written instructions and links to the tools I use in my own business and the result is my "eBook Creation Masterclass" which comprises over 3 hours of easy to follow video tutorials broken down into bite sized chunks.
The product is topped off by my Skype ID, my cell phone number and a dedicated email address with my undertaking to provide unlimited and ongoing one to one support, advice and guidance.
This product isn't available to buy just yet but if the prospect of working with me to build your own info product biz excites you, then read on for details of how you can win a place in my eBook Creation Masterclass.
My "kick off 2011 in style" Competition!
To be in with a chance of working personally with me to create and market your very own eBook all you have to do is hit the comment button at the top or bottom of this post

and tell me about your own online ambitions for 2011, let me know what you want to achieve and how you plan to achieve it.
I will choose one comment and the author will win a place in my eBook Creation Masterclass!
So if you have an idea that would make a great eBook but you just don't know where to start to make it happen, submit your comment and in a few short weeks you too can be watching the sales flooding in!!
Best of luck with the competition and your online ventures in 2011!


Want 5 easy side hustles?
Get your FREE guide: "5 Easy Etsy Product Lines You Can Do Right Now!"