Why Run Test Auctions?
It is time for an update on the Edward Weston photo plates that I researched and purchased in my Print Sorcery preview videos.
As you know we did a test listing on the 5th of June with 10 unmatted plates listed as 7 day auctions with a start price of $49.99 each.
When you are researching eBay for popular print niches you will notice that some sellers use the auction format to sell their prints while others use fixed price "buy it now" listings.
But how do you establish the best selling format and the start price/buy it now price that is going to yield the highest profit?
My strategy is to 'test the water' with a 7 day auction listing beginning with a relatively high starting price (you remember the Edward Weston plates only cost me $4 each).
The idea is to start high and if the plates don't sell to move the starting price down and run a second 7 day auction. At the moment we are in the middle of our second test auction with a start price of $37 as no plates sold at the $49.99 start price in the first auction.
This process is repeated until we get down to the price that is sufficiently low to encourage bidders.
Once we get a couple of bidders involved eBay does the rest by emailing each bidder as they are outbid to encourage higher bids and this ensures we get the best possible final value.
Using this technique avoids the situation were you list your prints at a low start price and get just one bidder leaving you to ponder whether your one bidder would have happily paid a higher price.
When you have successfully sold several prints from the same book you can take an average of the final values and test this as a 'buy it now' price.
To Mat or Not To Mat – That Is the Question….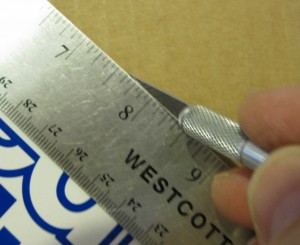 The first point I want to stress on the subject of matting/mounting your prints is that it is possible to make very healthy profits by selling your prints 'as is' ie. completely unmatted.
The majority of serious print sellers that I have researched on eBay do exactly this and I recommend you do likewise particularly if you are just starting out.
The key thing is to jump in, gain confidence, build your reputation (feedback) and make some money.
Buy a low priced book remove the plates & list them 'as is'.
Once you have mastered the research and listing basics and you have regular money coming in you can begin to develop your business by buying a small supply of mats and testing whether the final values achieved justify the additional money and time invested.
Mounting Concerns… I'm Here To Help!
My UK mat supplier is Kadinsky.co.uk I have used them for over 5 years and have always found their quality, prices and service to be top notch.
When ordering your mats you need a 'mat kit' consisting of mat, backing board and self seal cellophane bag. Kadinsky are happy to custom cut mats to your specification and their current price for 12 x 16 inch mat kits with custom cut apertures is £1.35 plus VAT and carriage (this works out at around £2 per kit inclusive which is approx  $3.23)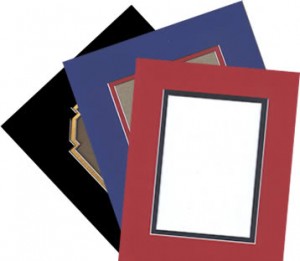 Mats measuring 12 x 16 inches are large mats and I obtained quotes for this size because you are unlikely to need anything bigger so this gives you an idea of the maximum cost.
I have done some research to find a US supplier and the company I recommend is bux1picturematting.com
They also operate an eBay store (bux1matting) with a 100% feedback score of 12,899. They provide a custom mat cutting service and a comparative quote for 12 x 16 inch mat kits comes out at $4.43 per kit (inclusive of postage).
All of my email enquiries were answered promptly and helpfully and a purchase of custom cut mat kits was dispatched and received within 3 days (by Deb in the US).
Successful Packaging: Where To Buy Yours?
You will require rigid backed envelopes (also known as 'board backed envelopes') to protect your prints in transit.

There are a lot of cheap foreign imports on the market which use flimsy cardboard backs so take care to order heavy duty envelopes using 950 micron board.
My UK supplier is Defendapack, they sell a range of sizes and the price for the 18 x 12.75 inch envelopes (this size will take the 12 x 16 inch mats mentioned above) is 91p each inclusive of VAT and UK mainland postage (this is based on a small order of 10, ordering 50 brings the price down to 38p each).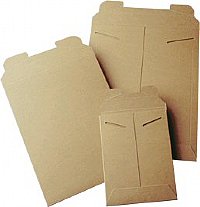 In the US, rigid, "no-bend" mailers seem to be the only way to go.  Deb has been unable to find the exact same type of mailer that I use.
The US supplier that she found sells no-bend, "stay-flat" kraft mailers.
They operate an eBay store (Bubblefast!) and have a 99.9% feedback score over 52,525.  They also have a separate website bubblefast.com.
All their prices include free US shipping and insurance.
Bubblefast! sells a box of 100 rigid 13 x 18 inch mailers for $92.95… working out to $0.93 each.  It would appear that when using this type of mailer, no additional interior cardboard would be necessary as it may be with the board backed envelopes (depending on whether your print is matted or not).
ALL of the recommendations in this post are based on my personal buying experience and research and I will NOT earn any commission should you buy from these suppliers.
Looking To Learn It From Scratch?
Check out my eBook Prints Make Profits which includes a step by step guide to matting and packaging plus my eBay listing best practices (and all my up to date research techniques).  
You get a $10 subscriber discount through this link!
This offer is now closed, to be kept in the loop with more great money making ideas sign up to my blog using the opt-in form below!
Talk soon!



Want 5 easy side hustles?
Get your FREE guide: "5 Easy Etsy Product Lines You Can Do Right Now!"