I run an ongoing survey that is delivered to all new subscribers by email to help me to deliver the kind of content that you really want.
The survey includes this question:
"What information would you like me to include in my newsletter?"
and recently I received this response:
"Inspiration on getting started, examples of those who have followed your advice & got started"
David DeWitt's experience in his own words: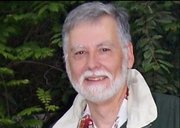 I have used Stuart Turnbull's methods outlined in "Prints Make Profits" and "Print Sorcery" for well over a month and have had instant success selling my vintage prints on eBay using his detailed guides and "How to" videos.
It has been not just profitable for me,
it has been enjoyable!
What? Enjoying my work? Who does that?
I do, and so does Stuart Turnbull!
No wonder he is smiling in his blog photo!
Once you discover how selling vintage prints is done on eBay, (or any other auction site) you become not just interested in selling – the details of discovering what to sell, when to sell it, how to offer it, package it, and deliver it for the highest returns on your efforts – you become a sort of Vintage Print Detective! And you always discover what you are looking for… the fun begins!
Stuart has laid out very clear methods and techniques that bring you exactly what you are looking for when you go hunting for vintage prints that will sell – because they are already proven to be popular and have already sold for huge profits! The key thing is that if you see a sold item has had many bidders, and knowing only one of those bidders actually won the item – all the losing bidders still want the print they lost to someone else. This means they are hungry buyers. What if you could supply them with another chance to own the print they wanted so badly? 
Using Stuart Turnbull's methods, you can!
Why was I so attracted to selling vintage prints?
I have been interested in selling online for years. I had an eBay account and for a time sold digital products with an instant download before the ban on such items went into effect and basically took the wind out of my sales, so-to-speak… I left eBay to pursue another form of digital selling, in fact, but came back when I realized how many people had left and were no longer my competitors! 
But there is more to it than that… I lost my job on the first day of January 2011 at a daily newspaper, was not quite at full retirement age and was ill. Facing a doubtful future, I was staring a serious loss of income in the face and an inability to work a full-time job even if I could find one. The idea of returning to eBay to make extra money was not just an attractive idea. It was a necessity. My interest in making money online became something that was suddenly more than a hobby…
The idea of working from home fascinates a lot of people… but just how to do that without an employer sounds dicey, at best, doesn't it? So many work-from-home plans are scams, or impractical, cost more money than you have on hand or can borrow to get started and have no guarantee of real success. How do you wade through all of that and find something that really works?
How do you find a home-based business that makes money for you, instead of takes money from you?
I looked around on eBay, and noticed people selling vintage advertisements. This looked very interesting to me. The drawback? Hundreds of sellers all hawking the same kinds of ads out of vintage magazines. If I did that, I would be lost in the crowds of similar sellers! And besides, how would I know what vintage ads would sell? Where would I get them? I did not want to open an eBay store, or do a great deal of activity every day. I was just not capable of it…
Then I began to look around eBay for other kinds of vintage items being sold… and discovered art vintage prints! Sure, there are a lot of vintage print sellers but they are not all selling flimsy magazine page ads! Each seller seemed to be selling unique, even rare, prints at great prices. I looked around and discovered a variety of sellers and began to watch what they were doing. Some of these sellers sold prints for huge sums, some for small but consistent sums. Still, where did these prints come from and did I have to become an art expert to find them?
It turned out, all I had to do was find Stuart Turnbull!
I Googled "Make Money from Vintage Prints". If you do this right now, you will find "printsmakeprofits.com" on the first page of Google!
I read "Prints Make Profits" in one sitting, and then I read it again. 
The next day, I was in Seattle with my daughter Erin and we stopped into a small print and frame shop on the "Ave" as college students call it in the University District. I was attracted by all the colorful and old prints being offered in the window and we entered the shop to look around. Erin was busy buying postcards and I happened to notice a set of beautifully framed very small 3×4 inch prints of early Boston by an illustrator named John Albert Seaford circa 1915 and these were selling for $79.00 each. It hit me that these vintage prints might be bookplates! I hung around the shop owner who was wrapping up two of the framed prints for her customer and realized I was right. I thought of what Stuart Turnbull taught me in "Prints Makes Profits" and smiled to myself…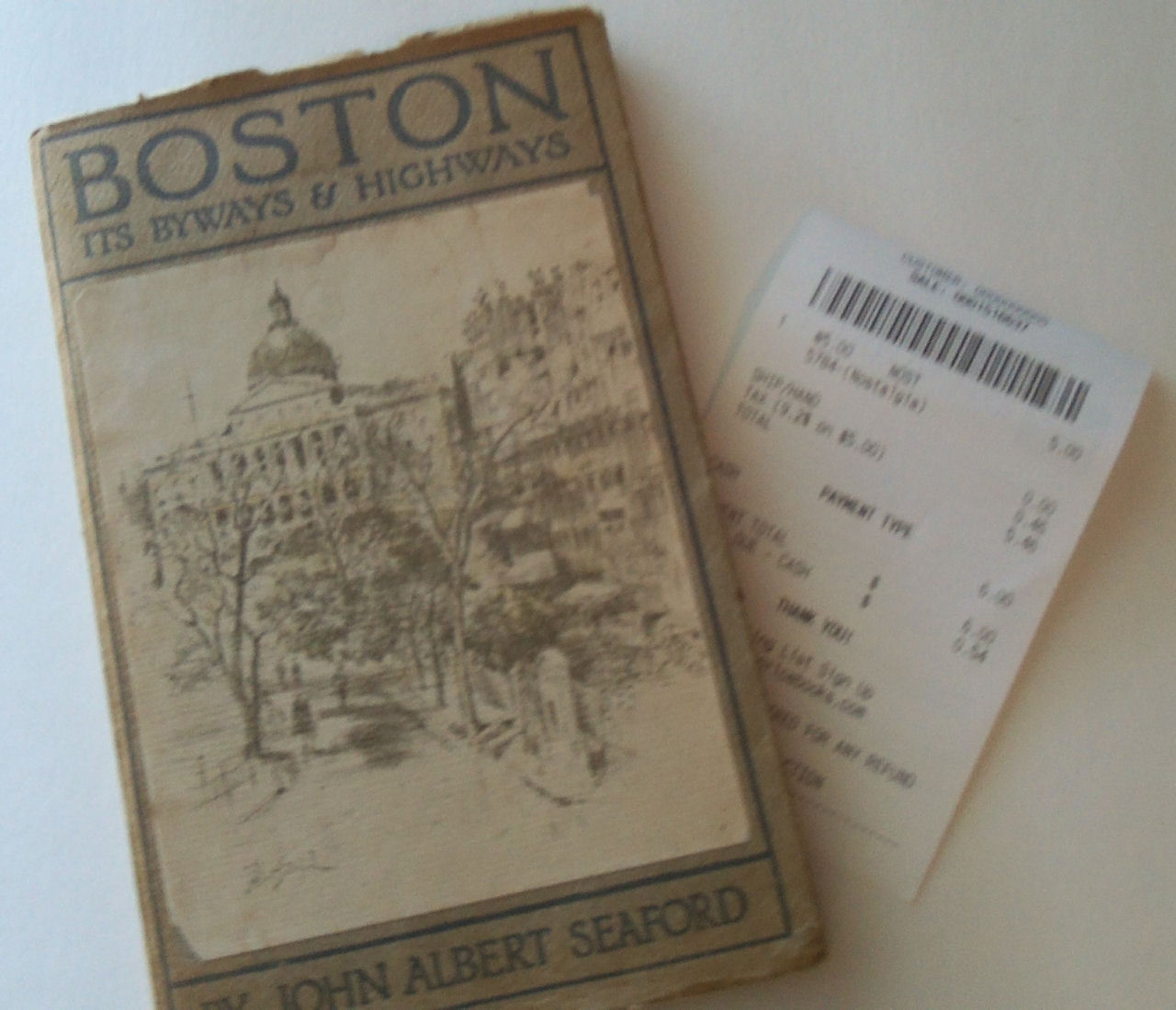 Two days later, I was in an old bookstore with a mission. I was not following Stuart's guide to the letter just yet but I was curious. I browsed the old books offered for sale and most were out of my price range locked behind a glass door. However, I found a shelf of other old looking books and thumbed through them. Did any have old prints in them, Too? I rummaged around not finding anything I liked when my eye caught a thin volume almost out of sight between two thick books. I pulled it out with a finger and my eyes opened wide as if I found gold… in a real way, I did!
On the cover of the book Titled "Boston – Its Byways & Highways" with twenty-five tipped-in drawings produced in photogravure by John Albert Seaford! The slim volume was published in Edinburgh by Pillans and Wilson, Printers, in 1915 on maved art deckled paper 96 years old… the same set of prints I'd seen selling for $79.00 each framed in Seattle at that small print shop! My hand trembled a bit as I looked inside the cover for the price of the book… $5.00 USD!
The cover was faded, worn and shoddy looking, loose feeling, but the valuable prints inside were in pristine condition! If you think I was just incredibly, lucky, I was – but if you follow Stuart's guide, you can find this book for sale online and even on eBay itself, I did, searching out of curiosity!
Stuart explains how to do this on his blog and in his "Prints Make Profits" ebook in detail. I must point out that the book I found is not one that you particularly go looking for according to Stuart's teaching of this business model. I have yet to fully use the correct method he teaches to find the most valuable, lowest price sources for the prints he sells because I am still a student, not a master and am experimenting.
Part of the fun of this whole thing for me is not just finding valuable prints from the comfort of my home via the computer but finding them at old bookstores, or even having them given to me by friends who know I am selling prints from old books! This way of finding prints to sell is just pure fun for me and gets me out of the house. It is like treasure hunting for me. And I have discovered that these found prints can also be profitable if priced to sell and targeted to buyers interested in the subject matter of the prints.
The prime way is the way Stuart does it.
Not the way I have been doing it, up to now.
Yet, even doing it this way, I've made incredible profits immediately.
Do you realize that if you divide 25 prints by five dollars the cost of each print is: $0.20 cents! By experimenting with prices I discovered these prints would sell fast on eBay for $7.99 in an auction or $9.00 BIN (Buy It Now). I did not want to go to the expense of framing the prints, toyed briefly with matting them, and discovered I don't have to offer them framed or matted (think of the cost of shipping!) and I have sold consistently at a bargain price! 
It's not a bad way to learn the ropes before you get serious about it and do things the way Stuart teaches in his "Prints Make Profits" and "Print Sorcery" guides. If I had had more confidence, I would have started out exactly as Stuart shows us to sell vintage prints for profits. You learn the value of doing this kind of home business by simply taking some action using the methods he teaches. 
Was I just lucky? Did I make a few fluke sales? No.
I made a lot of sales!  Too many for me to think I was just lucky.
I have discovered: 
One buyer will buy more than one print from you.
Combine shipping in that case for the benefit of the customer. They appreciate it. One buyer bought seven prints from the Boston series. The cost of combining shipping for me due to the small size and weight of the prints cost me the same postage as if I had sent the buyer just ONE PRINT! 
I ship in sturdy document mailers. Two cardboard inserts keep the print safe inside another paper container I slip the prints into. The mailers are professional looking and I make my own shipping labels. You can buy the mailers in bulk on eBay…
I use Turbo Lister. One auction template is all I need. I just change the photo, add the description details and upload all the auctions I care to offer at one time.
I created a blog for people to visit. Is that necessary? No, I did it for fun!
I created a Facebook fanpage for my auctions and linked it to my vintage prints blog.
I Tweet about my auctions.
I put up free online ads at classifiedads.com in the area that is depicted in my vintage prints and these ads can run for two weeks, a month or more…
Did this bring me my Boston area buyer or did he just find it on eBay himself?
I don't know but I started getting ad views DURING the time I was placing and revising my free ad copy! 
Many of your buyers will not leave feedback, or leave it weeks or moths after the transaction. I have many more sales that do not show up on my feedback at eBay for this reason. I console myself with growing size of my Paypal account…
I always thank my buyers with a page-sized note included with their items but separate from the prints. It's a nice way to give them a personal receipt for the purchase, encourage feedback, and to mention my vintage print blog and Vintage Print Facebook fanpage!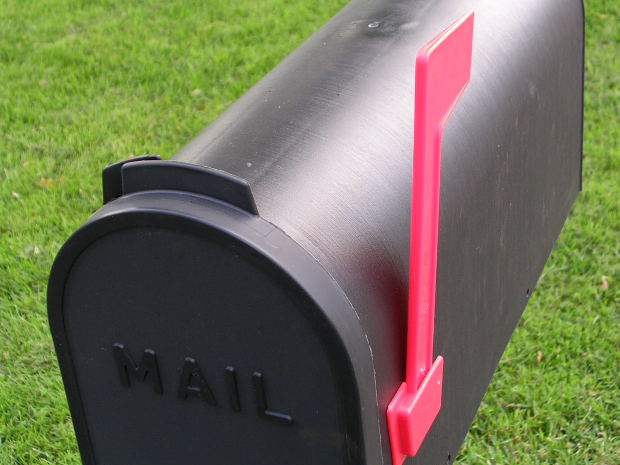 If I was a complete shut-in, I could conduct this business from my laptop computer and never leave home, not even to mail my items.
There is a mailbox a few steps from my front porch, I have a twenty dollar postal weight machine & can lay in plenty of stamps! 
The same mailbox that would take my shipped items to my buyers would also deliver the books that I rescue my vintage prints from when I find them using Addall.com and have them shipped to me!
Stuart Turnbull's "Prints Make Profits" is truly a business in a box – I have all my prints tucked safely in one small box waiting for new homes!
eBay.com (US) currently allows you 50 auctions per month without insertion fees!
Does this business just get better all the time?
Talk soon!



Want 5 easy side hustles?
Get your FREE guide: "5 Easy Etsy Product Lines You Can Do Right Now!"