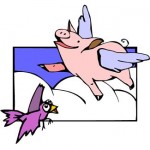 Hello and welcome to this weeks newsletter post which has been guest written by our resident eBay expert –  Deb Henry!  www.donebydeb.com
"When can I link to my non-eBay store through an eBay auction?"
A very good question indeed….
And according to general consensus — never….
And eBay would be very, very happy if that is what you continue to believe and go along on your merry way.
But what if I told you that you CAN. And it is perfectly within the approved eBay policies. And you can do it on each and every auction and listing that you put up. And that when using this technique, you will also have bunches of pictures that you are adding to your listing – without paying eBay any extra fees!
Sounds like malarkey? Too good to be true?
Well, I'm here to tell you it IS true and how you can take advantage of a tiny loophole that I discovered when researching off-eBay linking policies.
Go to the eBay.com (US site) help pages where you can read through eBay's policies and procedures documentation.   Once there, you can do a search for "Linking Policies" or you can just click on the following link: Linking Policies.
It is common knowledge that you can put your email address as a mailto: or contact form link in BOTH your listing and "About Me" pages.  And after you have established email contact outside of eBay,  you can then (without eBay's permission of course) solicit that contact to sign up for an "off-eBay store newsletter", but if that contact complains to eBay you could get a whack on the hand or worse…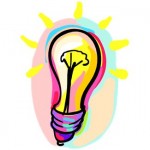 However, if you do add an email address (which I highly recommend you DO), I would definitely make it the same domain name as your off-eBay store.  Most buyers are savvy enough to "get what you are hinting at."
BUT it is a tiny sentence fragment under the" links to photos" that I'm personally all charged up about!
From the screen shot below, notice the blue highlighted text:
"While the photo page can contain discrete links to other pages that sell items outside of eBay, that can't be the primary purpose of the page."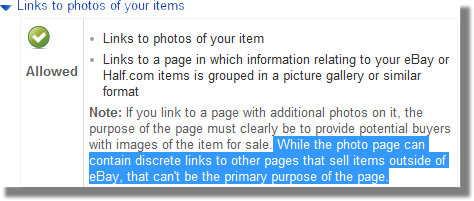 Wha, wha, what??? Yeah, that's right, you CAN link to YOUR online, off-eBay store and it is PERFECTLY ACCEPTABLE.
WHY is this okay?
Most likely it is because places like Auctiva and Vendio and Ink Frog DO have links at the bottom of their photo gallery pages selling THEIR services.  That said, eBay had to add that clause in order to allow eBay sellers to use these third party solutions.  AND eBay can't only allow certain providers the ability to link off the photo gallery pages and not others.  So as long as YOUR page on YOUR site has a format similar to a picture gallery, you're good.
I have set up this auction as a little demo for you – first let me explain my initial preparations….
I just created a new site to sell vintage baseball memorabilia.  I have also created a companion store on Zazzle.com.  I then created a brand new selling account on eBay, with an ID that is the same as my Zazzle Store ID.
I designed around 100 things to sell on Zazzle, which cost me nothing to create or put up, and I get commission every time something sells, but I never touch a piece of merchandise, don't handle any of the money transactions nor do I have to worry about fulfillment as all of these details are handled by Zazzle.
The only thing I am lacking is traffic… and, well… eBay has traffic!!!
So my dilemma was how to get eBay traffic from there to my Zazzle store?
This little loophole solved my traffic problem.
I first created a page on my off-eBay sales site that is just for the one and only eBay listing that I am going to start with.  I am going to list on eBay one of the custom calendars I created on Zazzle.  Since this calendar is an 18-month calendar, I have 20 pictures I want to display.

Of course, this is FAR too many to put in a listing 🙂 — so naturally, I needed a page that had all these pictures grouped in a "picture gallery" format.

But since this page is part of my off-eBay sales site, it will share the common header and footer links that I have on all my other pages… which includes links to my Zazzle store and pages within my site detailing some of the different gift and merchandise lines that I created.
These links are "discrete" as they are just text links found well above and well below the actual pictures.
Of course, buyers aren't dumb, I'm sure that if they actually DO click the link within my eBay listing and land on this page they will quickly figure out that there are LOTS of other items to look at and purchase….
My first test auction is live… we'll see what happens over the next 7 days… Happy eBaying!!!
Best ~Deb


Want 5 easy side hustles?
Get your FREE guide: "5 Easy Etsy Product Lines You Can Do Right Now!"