Support my blog – I get commissions for purchases made through the links in this post
Your discount coupon ends tonight March 15th 2023! 
Amy Harrop has uncovered a super hot sub-niche within the educational printables niche – classroom decor printables. These printables are in high demand and it turns out they are super simple to create. Amy has put together a brand new course that steps you through everything you need to know to create and market your own range of these hot selling printables!
Read on for details of our exclusive and valuable bonus ebook PLUS your discount coupon!
Classrooms can be quite stark and practical so teachers often create or buy items to decorate them and make them more appealing to their students.
These classroom decor items can be used to teach, they can be used to make the environment more welcoming or to impart important information to the students.
Amy's course focuses on the 2 main classroom decor categories;
Classroom signs and posters
Bulletin board kits
Here is an example of a classroom poster, it's beautiful and believe it or not actually simple to make ;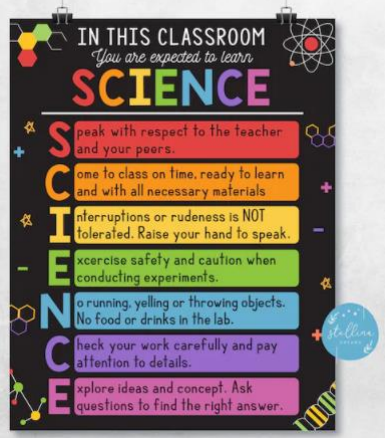 It is colorful and decorative and it helps to reinforce the class behaviour requirements plus it includes 2 helpful tips for science students (the last 2 points).
Bulletin board kits include headers/banners, printable letters and decorative borders that are themed and again provide color and decoration to otherwise dull classrooms. As with posters they can also teach and remind as well.
What's nice about these is you don't need to make the entire board if you don't want to. You can do just the letters, or just images (clipart) or just the bulletin board borders… Amy shows all.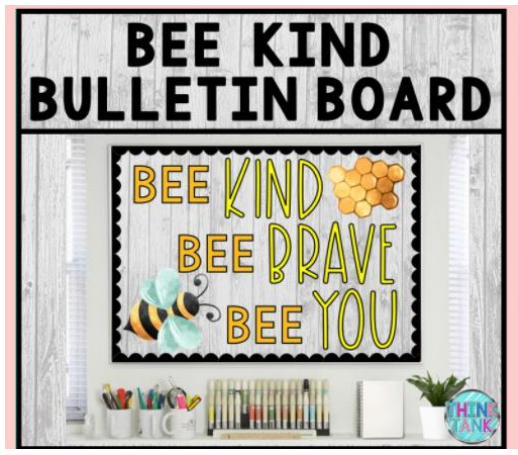 Amy's new course EDU Printable Decor Made Easy steps you through how to create these 2 types of classroom printables (you'll be amazed at how simple this is!)
The course is split into 3 modules.
Module 1 consists of a 97 page ebook in which Amy discusses the benefits of selling printables online;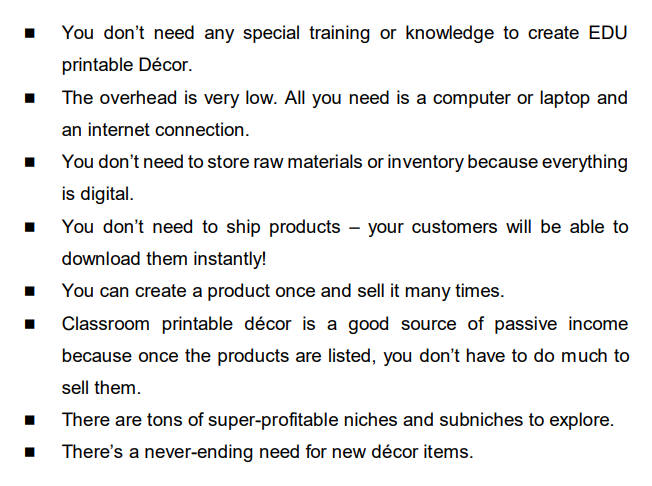 She then describes the 2 categories of classroom printables with lots of examples from successful sellers on sites like Etsy, Teachers Pay Teachers, Made by Teachers and Amazon Ignite! Yes, you can sell these special printables on multiple sites besides just Etsy if you wish! The growth potential is huge!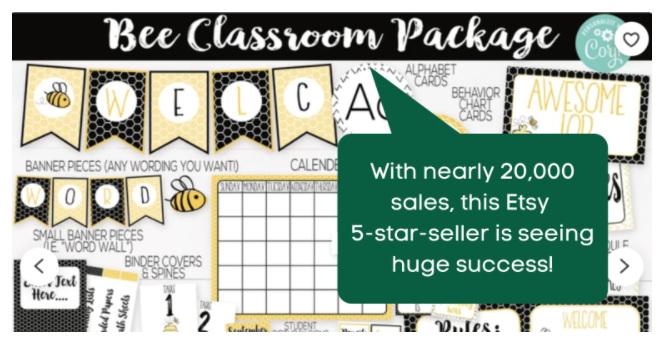 The next section deals with product research and how to use keyword tools to uncover profitable sub-niches (high demand/low competition). Amy hasn't gone into the level of detail that we like to see with this subject but don't worry, our free bonus (full details follow) most certainly does!
Then we get into the "meat" of the course with 2 sections that cover each classroom printable category in detail. Firstly bulletin board kits – what they are, what is included in them, search statistics, how to increase sales by creating bundles and step by step instructions on how to create bulletin board letters and borders using free tools.
Next, Amy covers the same areas with classroom posters.
The final sections deal with where and how to sell your newly created printables. She covers selling on Etsy, Teachers Pay Teachers, Made by Teachers and Amazon Ignite. Selling tips include creating your listing mockups and using social media to promote your products.
All in all, a well written and comprehensive ebook benefiting from Amy's insight as an ex-teacher into this market.
(Amy stresses that you do not have to be a teacher to sell on any of the market places covered in the course).
Module 1 is completed by 3 easy reference checklists which are 1 and 2 page PDF's covering;
Locating resources; links to graphics, fonts and tools
Publishing your printables; bullet points so you don't miss important steps
Promoting your printables; promotion tips
Finally, Amy provides a 7 page PDF that explains how to set up your Teachers Pay Teachers store with screenshots!
Module 2
This is the video tutorials section containing 5 videos (the first 4 demonstrate using the free editing software Canva);
Creating motivational posters demonstration 7 mins 48 seconds
Creating a math poster 7.24
Creating a bulletin board border 11.06
Creating bulletin board letters 8.40
Creating products in Powerpoint 15.0
Amy also includes a PDF transcription of each video with screenshots from the video for those who prefer to learn this way – an unusual and very helpful addition to a course of this nature!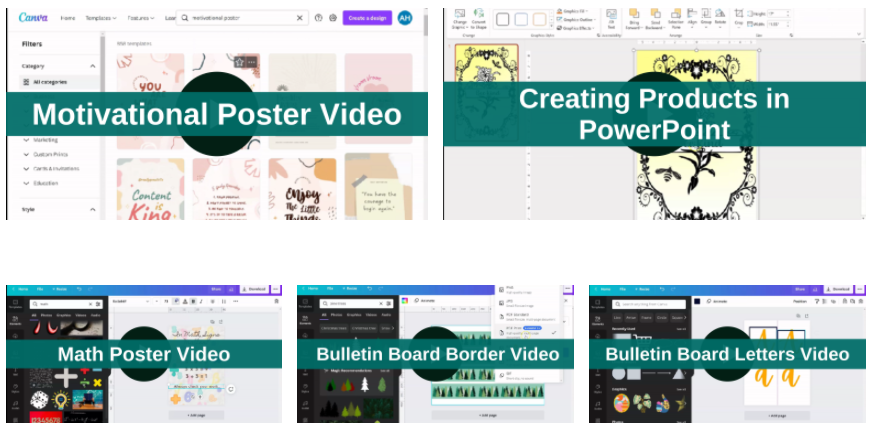 Module 3
24 templates with full resale rights that you can edit to make your own unique range of printable products – this is so much easier and quicker than starting with a blank screen!
Amy even includes additional videos demonstrating how to edit the templates using Canva!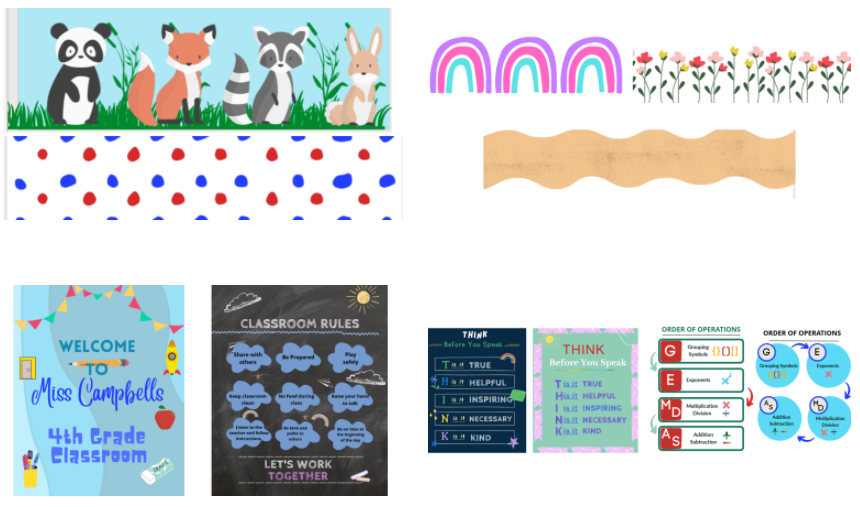 Bonuses!
This impressive package is nicely rounded off with a couple of useful bonuses;
100 success quotes (5 page PDF) that you can use in your classroom printables
Pinterest templates and tools – 7 PDF's that step you through setting up and using Pinterest to drive traffic
Plus our exclusive bonus!
Stuart and I were so impressed with this new course that we created an incredible exclusive bonus for you! (when you go through our link).
This guide reveals our secret method for finding tons of hidden low competition sub-niches (and keywords) in the Educational Decor Printables niche!…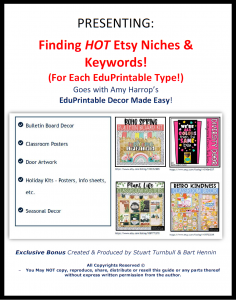 These are sub-niches most people miss where hungry buyers are shopping for specific printables as we speak!
Quite honestly, our exclusive bonus alone is worth picking up Amy's course!
Inside this free bonus, we don't just "give you" lists of excellent sub-niches and keywords (we do) but we also show you exactly how we find them! You can use our revealed method to find tons more hungry sub-niches for yourself in the educational décor niche (or in any niche!).
Conclusion
All in all a very impressive package that is jam packed with top quality training – it amazes me how Amy puts this much content together for such a low price!
We recommend this as a "must buy" if you are interested in building a passive income business selling low content printables online or if you are looking to add a new and lucrative product range to an already established online business!
Literally everything is included to get you up and running making sales as quickly and as easily as possible!
You also have the added peace of mind of Amy's 7 day no risk guarantee – simply drop her an email for a full refund if you are disappointed with the course (you won't be!)
Please note that your discount coupon

DECOR10

ends at midnight EST March 15th 2023
Optional upgrades!
We always get asked about OTO's/upsells – don't worry, we review them as well!
Amy has included 3 optional upgrades (they are not required to get full value from the course).
Upgrade #1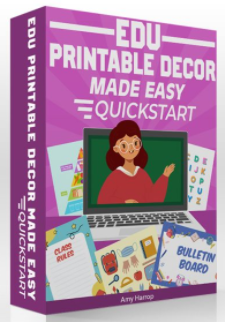 This quick start package includes 13 additional templates covering sub-niches that aren't included in the main course.
Plus 6 easy to edit product mock up templates plus a video showing you how to edit them using a free mock up generator, – as you know, your product listing mock ups make the difference between items that sell and items that don't – they have to look the part and grab shoppers attention.
There are also a few added bonus items included in this upgrade;
Brainstorming keywords
Product listing tips
6,000 royalty free clipart images!
This is a worthwhile add on at $27 if you have the budget.
Upgrade #2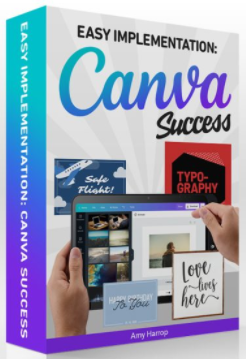 This is a video course which includes 6 modules of training videos plus transcriptions covering every aspect of using and profiting from Canva the free graphics editor!
Canva has become the "go to" tool for creating printables and Amy leaves no stone unturned with this extensive video course that will take you from novice to expert in double quick time!
This is too good to miss at $37 – you can use this training to help you create all types of printables not just classroom decor.
Upgrade #3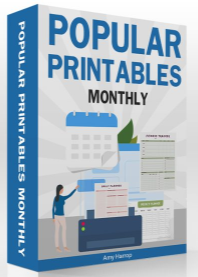 This is a monthly membership that delivers a new and hot printables niche every month including;
a niche strategy report
Done for you templates – simply open, personalize and upload!
Listing description template – open, edit and upload to start making sales!
At $19.99 per month this is another great value add on as it enables you to continually add hot selling product ranges to your online stores with minimal work as Amy has done all of the research and 99% of the work for you!
>CLICK HERE NOW BEFORE YOUR COUPON ENDS!<
Please note that your discount coupon

DECOR10

ends at midnight EST March 15th 2023
Sincerely yours,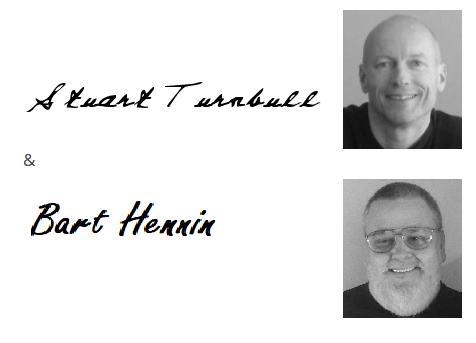 Want 5 easy side hustles?
Get your FREE guide: "5 Easy Etsy Product Lines You Can Do Right Now!"