Support my blog – I get commissions for purchases made through the links in this post
Please note that although our discount coupon has now expired our EXCLUSIVE FREE BONUS remains available if you buy through this post until further notice.
Recently I discovered a brand new software… And I couldn't wait to let you know about it!
It's called SIMPLY MAZE CRAZY and it's software that generates high quality mazes for puzzle books! (or INDIVIDUAL PAGES if you sell on Etsy!).
If you've been dreaming of having a SUCCESSFUL BOOK PUBLISHING BUSINESS but HATE WRITING, the SIMPLY MAZE CRAZY software is your solution!
NOTE: SEE OUR EXCLUSIVE BONUS WE INCLUDE FREE WHEN YOU GO THROUGH THIS BLOG!!! PLUS THE HUGE EXCLUSIVE DISCOUNT WE GOT FOR YOU!… See below!!
SMC20VIP <=== Use this EXCLUSIVE coupon code for a HUGE DISCOUNT!! Coupon Expires this Sunday July 28th 2019 MIDNIGHT EST!
NOTE: This vendor doesn't accept PayPal but they DO accept Credit Cards!
Some vendors (myself included) are concerned with new PayPal automated algorithms that erroneously shut down sellers of digital products (without warning), unjustly losing course creators thousands or tens of thousands of dollars in the process. PayPal says it is addressing and fixing the issues but some sellers have become (understandably) gun shy of using them (at least for now).
It's a FACT…
Mazes are fun and puzzle books are hot!
I personally put this software through its paces and was blown away by how simple it is to use (and versatile!).
This amazing software features the following:
Super Popular Niche! (SEE SCREENSHOTS BELOW!)
YOU RETAIN full ownership and exclusive copyright on every/all puzzle pages you create using the software!
ALL puzzles generated are UNIQUE!!
Create ONCE, sell FOREVER again and again and again!
The software is online so no downloading/installing
Very simple to use! (and FAST!)
You can set the complexity of mazes from very simple (for kids puzzles) up to extremely challenging (for adults)
Mazes are exported as transparent PNGs which can be inserted into any word document with any background!!
You can select the color of your mazes
Solutions to each maze are also generated so you can create a solutions section in your book (or PDF if you sell on Etsy)
TUTORIAL VIDEOS INCLUDED! But the software is so intuitive that you won't necessarily need them
TUTORIAL VIDEOS are short and simple (just takes minutes to go through them)
As I said, If you've been dreaming of having a SUCCESSFUL BOOK PUBLISHING BUSINESS but HATE WRITING, this SIMPLY MAZE CRAZY software is your solution! I ran it through its paces and was VERY IMPRESSED!!
If you can insert images into a word processor, THE WORLD IS YOUR OYSTER!!
Look at what people are searching for on Amazon!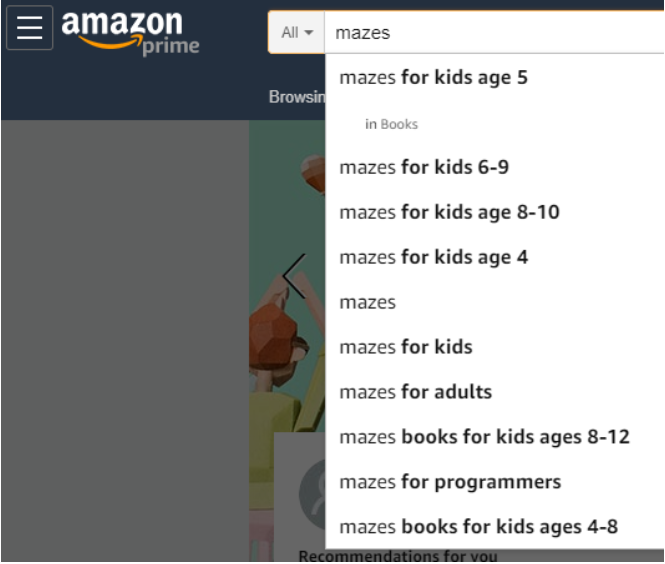 Look at these examples of sales per MONTH! (books selected randomly)

Look at what comes up on Etsy! (searching "mazes printable")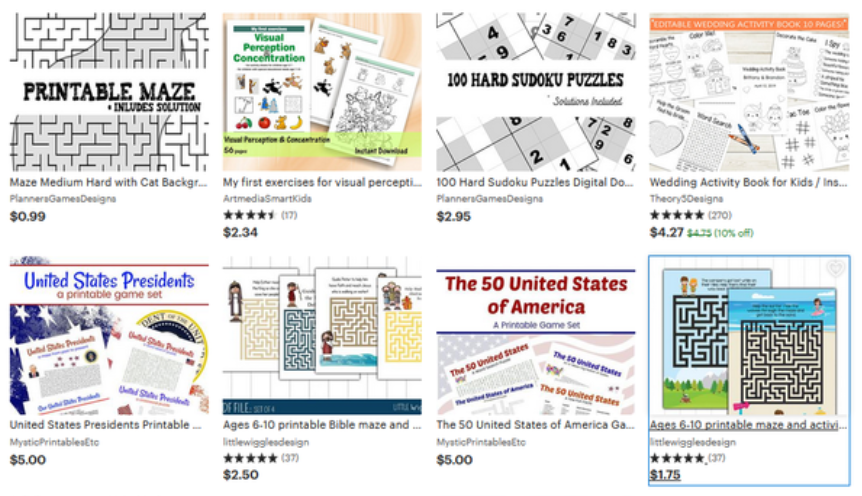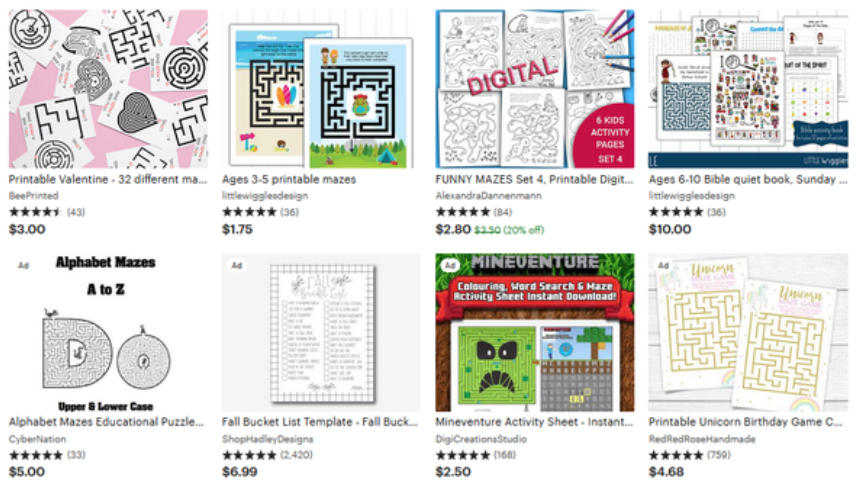 And you can get started FAST!! This NEW software is so super easy to use that you can be generating money earning puzzle pages and books in just minutes!!
If you are unfamiliar with Amazon KDP we've got you covered with our EXCLUSIVE FREE BONUS – see below for all the details.
The regular price for the
SIMPLY MAZE CRAZY
software is $47 for lifetime access + Videos + Exclusive Facebook support group membership
BUT WE ARRANGED AN EXCLUSIVE DISCOUNT FOR YOU!
$20 OFF when you use coupon code SMC20VIP
Reg $47 YOURS For Just $27!!
HOW TO USE YOUR COUPON CODE:
Using your coupon code is easy!…
Just go to the SIMPLY MAZE CRAZY software offer page & click the "Get Instant Access" button (or buy button)…
You'll then see this…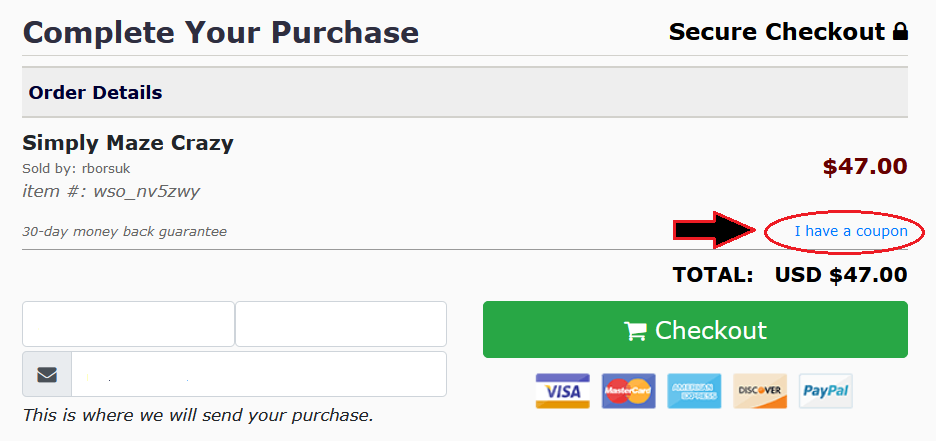 Click the "I have a coupon" link…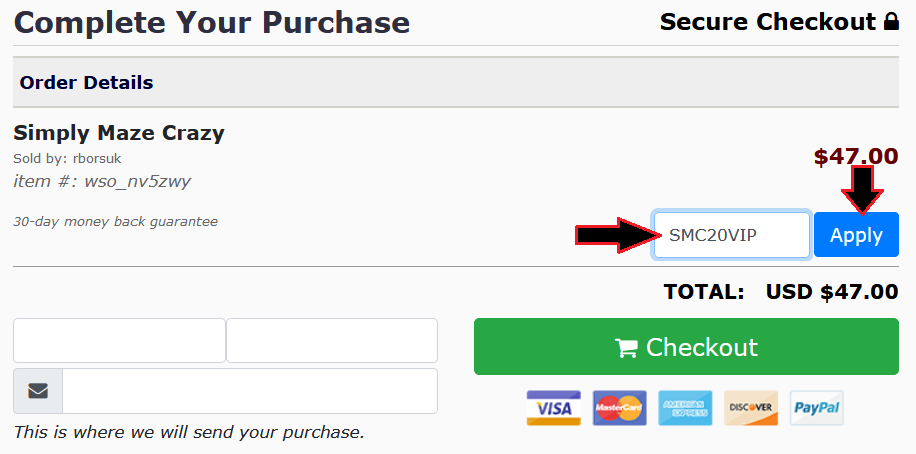 Enter (paste in) your exclusive coupon code: SMC20VIP
…Then click "Apply"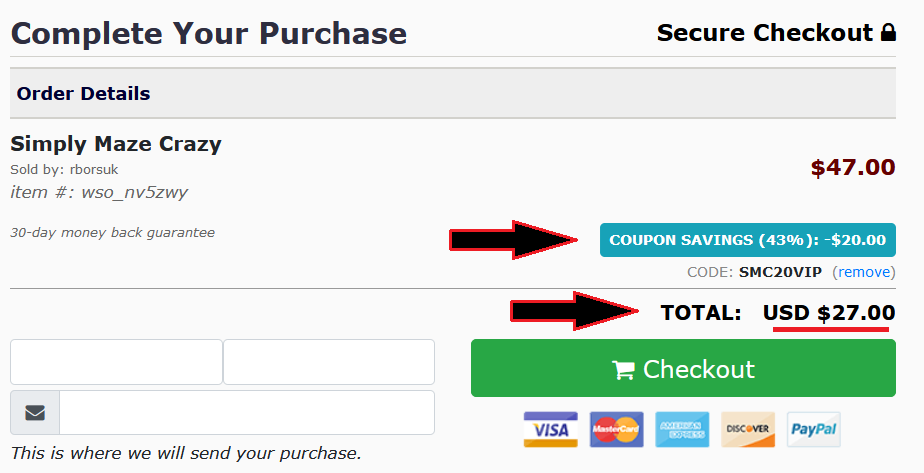 Your EXCLUSIVE DISCOUNTED PRICE appears!
PLUS get our AMAZING EXCLUSIVE BONUS!! BRAND NEW!! When you go through the link in this blog post!!
This bonus ALONE is worth more than the price of the Easy Maze Software and it's yours FREE!
It's titled:
How to Use Amazon KDP to  Create PHYSICAL Puzzle Books!
This is a ZERO Inventory Print On Demand FREE Amazon service! And we show you how to use this step by step to get DOZENS of puzzle books on Amazon WORLDWIDE for sale!
Amazon KDP stands for "Kindle Direct Publishing" and it's  a terrific way to get your books to market FAST
NOTE: We're not talking "Kindle ebooks" here. We are talking about PHYSICAL "Print On Demand" books.
In our step by step guide (complete with screenshots!) We show you…
How to prepare your book! (Much easier than you think!)
How to create your book cover! (3 ways actually!)
How to do KW research using FREE software so you know there is DEMAND for your book(s) BEFORE you even create them!!
How to PUBLISH your book!
How to ALSO create PDF VERSIONS of your books to sell on Etsy!
How to cross promote your books!
How to use Amazon's 'Look Inside' feature to BUILD AN EMAIL LIST of HUNGRY BUYERS! (zero cost, no website needed!)
What 'special' pages to add to your book to increase sales! (and how to create them easy peasy!)
 AND MORE!!
Advantages of Amazon KDP
1 – It's ZERO upfront cost!
2 – It's PRINT ON DEMAND so you
– Never need carry inventory!
– Never need a website!
– Never lose sales because you've "run out" of books (especially handy when book sales suddenly take off!)
3 – It get's your books IMMEDIATELY onto Amazon WORLDWIDE!
Our step by step 25 page BONUS guide includes links to easy tutorial videos & FREE Amazon resources too!
If you haven't yet taken advantage of Amazon's KDP, you're leaving money on the table…
This is book publishing SIMPLIFIED…Stop the struggling, stop the headaches and STOP LEAVING MONEY ON THE TABLE!! Get our new guide TODAY (by getting your Easy Maze Software here!)
And don't forget the $20 Exclusive Discount We personally arranged for you!
Use coupon code: SMC20VIP
Coupon Expires this Sunday July 28th 2019 MIDNIGHT EST
If you invested in the
PUZZLE BOOK MASTERY
software, the
SIMPLY MAZE CRAZY
software is a terrific add on!! And a
PERFECT WAY
to diversify in the
HOT
puzzle books niche!



Want 5 easy side hustles?
Get your FREE guide: "5 Easy Etsy Product Lines You Can Do Right Now!"