Support my blog – I get commissions for purchases made through the links in this post
I first partnered with Bart Hennin on "Your Etsy Profit Machine"  way back in 2014, since then we have created and marketed several very successful online courses and during this time working together I have not only learned to appreciate Bart's professional marketing and product creation skills but I have also learned to appreciate Bart as a human being.
At the risk of sounding like a sentimental old fool I have to say that Bart is one of the most honest and genuine people I have ever known. Nothing is too much trouble for this man and he never hesitates to go the extra mile for me or his subscribers. I consider myself very fortunate indeed to have such an exceptional partner and friend.
Bart is relaunching his flagship course "Discover The Insider Secrets To Creating Magnetic Offers For Anything!"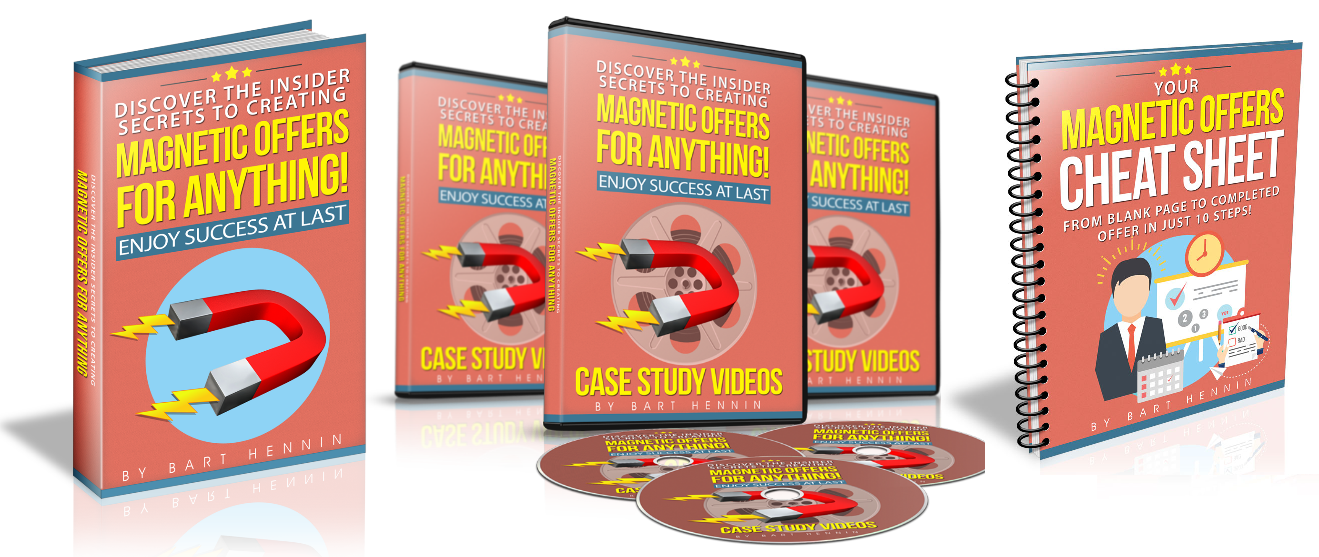 Originally launched at the end of 2016 the main course ebook has been expanded with the addition of 5 newly written chapters. Bart has also included a newly written "Quick Promo Cheat Sheet" which helps to get you over the dreaded 'writer's block' and walks you from blank page to completed offer in just 10 steps!
In addition Bart has also written 3 additional bonus ebooks which are included free with this updated package!
And to top off this new for 2020 package Bart has created 3 brand new, additional "case study" videos that walk you through the whole process of creating magnetic offers – great for those of us who prefer to learn by watching and listening.
(If you bought the original course when I first promoted it in 2016 you have free access to the updated package through your Warrior Plus account.)
Why Do I Need Bart's New Course, Stuart?
Regardless of what online business you are in, you ultimately have to persuade people to buy your product, service, Etsy listing, affiliate product, Shopify items OR sign up for your email list and to do this successfully, you have to convince your customers that your stuff has incredible value!
Whether 'written' or 'spoken', you need to be able to strongly persuade people with just your words! (and images)
Bart has an intimate knowledge of buyer psychology based on over 20 years experience in direct face to face selling and he shares this with you in "Discover The Insider Secrets To Creating Magnetic Offers For Anything!" – that's right, Bart shows you with the aid of real life examples and case studies how to get inside your reader's heads and virtually force them to buy.
This is extremely powerful stuff and its importance should not be underestimated. It is tempting to believe that you have the greatest products and that all you have to do is list them online and they will sell but in today's ultra competitive market places (be it Etsy, ebay, Amazon or dozens of others) you need an edge over your competitors to be successful and Bart's newly updated course gives you that edge.
The course consists of a 100+ page ebook which is divided into two parts – part one teaches you how to trigger your prospect's buying emotions – this is all about building that all important relationship with your reader.
Part two focuses on the 'nuts and bolts' of your sales copy – the images and graphics, the headlines and titles, how to use guarantees, how to write for skim readers etc. etc.
The newly written for 2020 chapters are;
How to Get People to TELL YOU What You Need to TELL THEM to Get Them to BUY!
The Easiest Person to Get A Sale From
The Proper Mindset – Stop Being Your Own Worst Enemy
How to QUADRUPLE Your Sales with ZERO Extra Work! Repeat Exposure
How to Get Your Offers in Front of MORE PEOPLE!… FREE!
The ebook then concludes with 3 bonus sections:-
1 The Psychology of buyers and how to more powerfully tap into people's emotional buying triggers.
2 How to adapt your copy for email, social media posts, product review pages and self published books.
3 How to easily create exclusive bonuses to add to your offers and promotions.
In addition to the ebook, Bart also includes 6 in depth case study videos which take you step by step through 5 real life sales promotions that show you how to apply the theory taught in the ebook.
Oh, I nearly forgot – this new package also includes 2 optional upgrades which add tremendous extra value – upgrade #1 in particular got me really excited – you won't believe how effective these 'cutting edge' techniques can be – trust me, I've tested them and they work like a charm!
Bart has a real talent for delivering his content in a very light and engaging way – this is a surprisingly easy read and I award it my highest recommendation!
The whole package is available now at a ridiculously low "no brainer" price, click the link below to find out more;
"Discover The Insider Secrets To Creating Magnetic Offers For Anything!"
Sincerely yours



Want 5 easy side hustles?
Get your FREE guide: "5 Easy Etsy Product Lines You Can Do Right Now!"