Etsy has introduced "Attributes" which enable you to add additional characteristics to your item listings.
Attributes are important because they allow you to better describe your items and consequently they can be more easily found by searching buyers.
Etsy also say that similar to keywords in titles and item tags attributes are taken into account when deciding where your items rank in search results so it is vitally important that you use them.
You can find out more about using attributes here; https://www.etsy.com/ie/help/article/95284237119
How Do Attributes Work?
The available attributes are dictated by which category and sub-categories you list your item in.
In the following screenshot image taken from inside my shop Listings Manager you can see that the attributes available to me for my Erte vintage print listing are;
Primary color
Secondary color
Holiday
Occasion
Height
Width
(The latter two attributes aren't visible in the screenshot)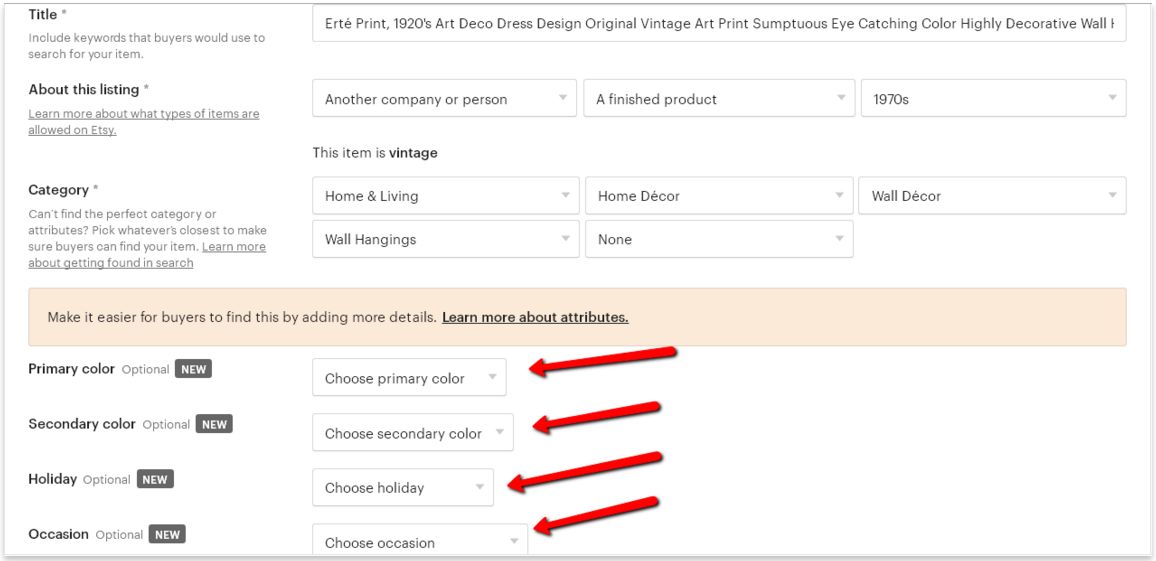 There is a dropdown menu for each attribute and Etsy's advice is to choose the most relevant attribute from the list.
You may find that there isn't an exact match in the dropdowns in which case Etsy recommend using a combination of attribute and listing tag to help potential buyers find your items in search.
How to Quickly Add Attributes to Your Existing Listings
You can use this link to be taken to the 'quick add tool' – this tool allows you to edit categories, sub-categories and add attributes for each of your existing listings.
As stated above the available attributes will change depending on which category/sub-category you choose so you may want to experiment with different categories/sub-categories to see which offer the most relevant attributes for the items you sell.
That is all there is to attributes – simple but important for search so add/update yours today!



Want 5 easy side hustles?
Get your FREE guide: "5 Easy Etsy Product Lines You Can Do Right Now!"