Support my blog – I get commissions for purchases made through the links in this post.
Many of you have been pleading with us to find a course about how to use Pinterest to drive shoppers to your Etsy listings. You see so many other successful Etsy sellers out there using Pinterest to great success but are lost on how to do it yourself.
Well, we searched high and low for the longest time… And nothing we found met our high standards… Until today!
Stay with me here!… Even if you "hate" social media…Pinterest is different, and easier and so powerful!
You can use it to:
Drive buyers to your Etsy listings!
Drive buyers to your KDP books!
Drive buyers to your affiliate marketing products
Build an email list (or lists) –> See our exclusive bonus package below!
Once you know how to use Pinterest, the world is your oyster! You see, Pinterest isn't so much a "media platform" as it is a "search engine"… in fact, Pinterest has fast become the "must have" traffic source for Etsy sellers, self publishers and internet marketers.
But here's the best thing about Pinterest (and what makes it different than every other platform out there)… Buyers shop there!
Think about it… When people are on Facebook or Twitter or Instagram, they are not looking to "buy" anything but…. On Pinterest, people are actually shopping!!
And contrary to popular belief, it takes little time to build a major presence on Pinterest!
So, we searched high and low… But none of the Pinterest "How To" courses we saw "wowed" us… until now!
Marketing Expert Erica Stone has just released her best course yet! It's called Pinning For Profit and it's more than just a Pinterest course… It's a whole coaching program!
Now for those of you who "know" Erica, you're probably already saying,
"I've heard enough, I'm in!"
Because you know Erica always over delivers in spades!
But hold up there … Let us tell you everything Erica gives you! What follows is our unbiased and honest review of Erica's latest…
Let's start with what exactly Pinning For Profit is… As said, it's more than just a Pinterest course…
Essentially, Erica's package consists of…
1. 12 weeks of Pinterest coaching
2. 24 lessons – each lesson is a 20+ page PDF with step-by-step info and action steps – Your lessons are delivered two per week over 12 weeks (24 lessons in total!)
3. Direct Email Access to Erica for 1 on 1 help with any questions you may have – She answers fast! (within 24 hours, often sooner!)
4. Access to her private Facebook coaching group – Yet another way you can get 1 on 1 help from Erica (and also interact and get ideas from other people doing the course!)
5. 50 DFY Image and Video Templates! – Simply pick a product to promote (affiliate or Etsy or whatever), and plug it into one of these 'done for you' templates!
We've reviewed the first 8 of Erica's lessons (more coming!)… all of her lessons are very clear, very well organized, and done in a way that does not overwhelm.
It's very obvious that Erica is fully up to date on the latest and newest features of Pinterest and how you can use these features to advantage.
In fact, you can;
1) Drive traffic to your Etsy shop(s)/listings and/or KDP books
2) Build an email list (or lists!)
3) drive traffic to affiliate offers or your own courses or products or all of the above…
Side note: Erica also points out that "anything can be changed later" so you don't need to worry about or overthink your initial set up… Just have fun with it!
Erica also shows you how you can have multiple Pinterest accounts for targeting multiple niches! (but stick with 1 niche to start).
The point is, you have lifetime access to Erica's 24 lessons so you can go back and add a new niche anytime! (i.e. add new income streams whenever you want!).
In Erica's own words, "Each lesson intentionally and thoughtfully leads you through the knowledge you need for success on Pinterest and builds on the previous lesson so that by the end you're a confident and successful Pinterest master.
Whether you want to drive traffic to your own website, your own offer, your own shop, or promote affiliate links on Pinterest."
We have found this to be true! Erica is a pro at teaching!
Forget Etsy SEO
Forget Amazon SEO
Forget SEO for affiliate products
Pinterest can drive buyers to all of the above for you, and Erica shows you exactly how! (she reveals all of her secrets!)
The truth is… Erica walks the walk… She uses the very same strategies she teaches on her own Pinterest accounts to huge success!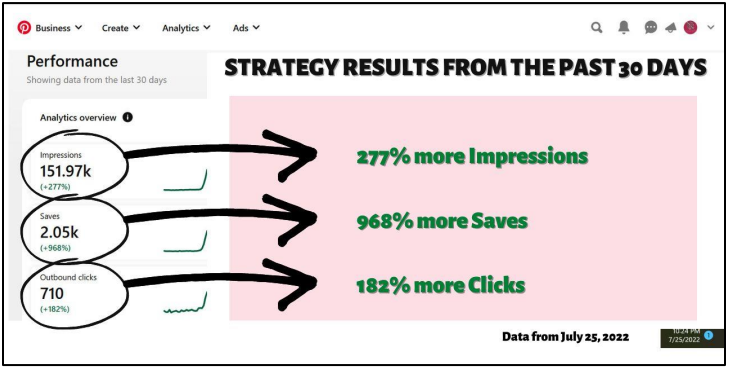 There's more!
This is a premium course – But at only $24.75/week (for a short time), Erica's coaching package is well worth enrolling in…
However… We wanted to really sweeten the deal too! So… We got you an exclusive 15% discount!… (applied automatically on the checkout page for you! – no coupon code needed!)
We asked Erica, then begged Erica, then pleaded with Erica, and finally, twisted her arm a bit (figuratively speaking)… and finally we got her to give in and do an exclusive discount for you (when you go through our link)… The regular price will show on the offer page but when you click to the checkout page, you'll see a 15% discount automatically applied!
There's still more!
We were so impressed with Erica's Pinning For Profit coaching course (how detailed it is, how easy it is to follow and implement, how fast Erica responds to questions…) that we put together our own exclusive Bonus package for you!
Included free with Erica's Pinning For Profit coaching course! (when you go through our link).
It started out as 1 bonus… then it became 2 bonuses… then we kept going!
We kept expanding our bonus package until we had four dynamite exclusive bonuses for you! See below!
Here's everything you get in our exclusive bonus package!…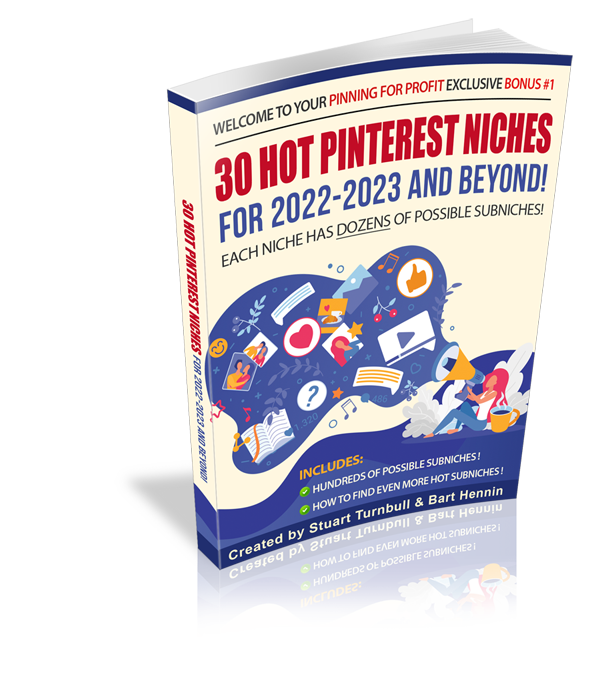 Our Exclusive Bonus 1: "30 Hot Pinterest Niches for 2022- 2023 and Beyond!"
Includes:
* Hundreds of possible sub-niches!
* How to find even more hot sub-niches!!
* And lots more!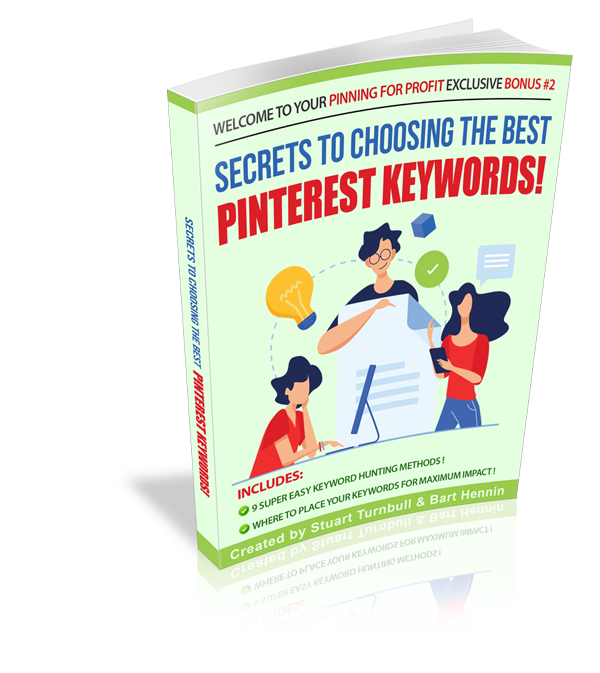 Our Exclusive Bonus 2: "Secrets to Choosing the Best Pinterest Keywords!"Includes:
* 9 Super easy Keyword Hunting Methods! (including secret places most don't know about!)
* Where to place your keywords for maximum impact!
* And lots more!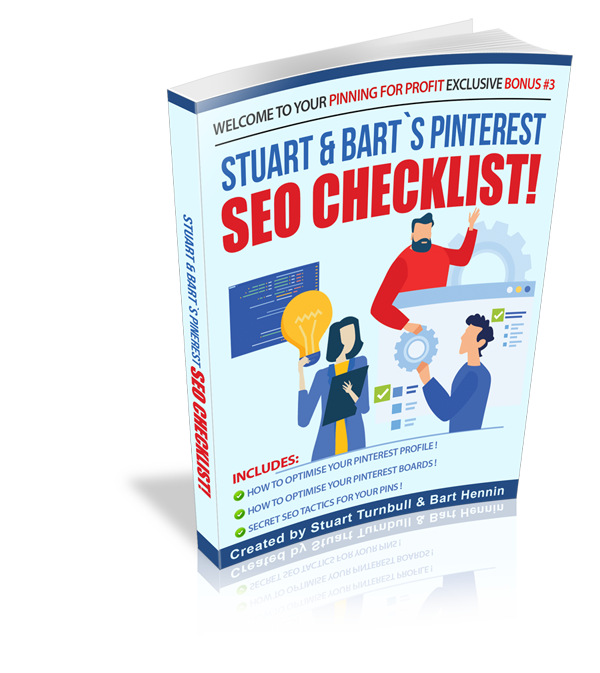 Our Exclusive Bonus 3: "Stuart & Bart's Pinterest SEO Checklist!"
This is the same checklist we use ourselves!
Includes:
* How to optimize your Pinterest profile! (easy stuff)
* How to optimize your Pinterest "boards"! (very simple)
* Secret SEO tactics for all your pins!! (this is pure gold!)
* And lots more!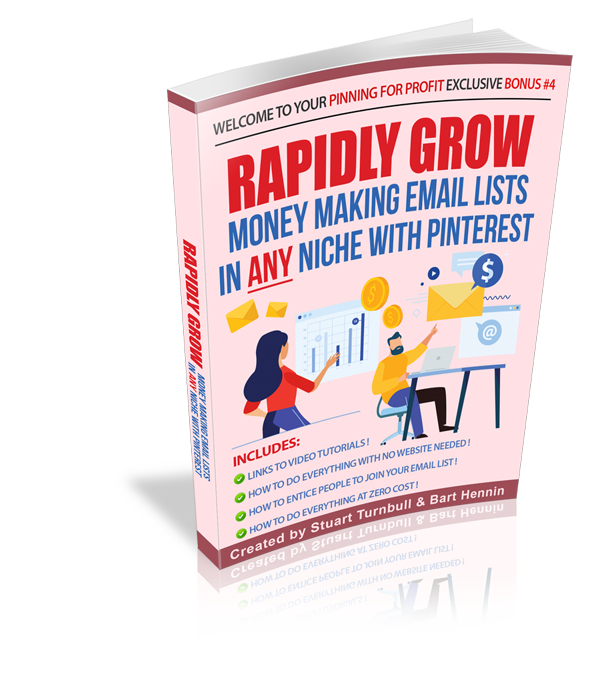 Our Exclusive Bonus 4: "(How To) Rapidly Grow Money Making Email Lists in ANY Niche with Pinterest!"Includes:
* Links to video Tutorials!
* How to do everything with no website needed!
* How to entice people to join your email list!
* How to do everything at zero cost
* Lots of insider tips!
You get all those exclusive bonuses from us free when you enroll in Erica's amazing Pinterest coaching program today! (through our link)
Sincerely yours,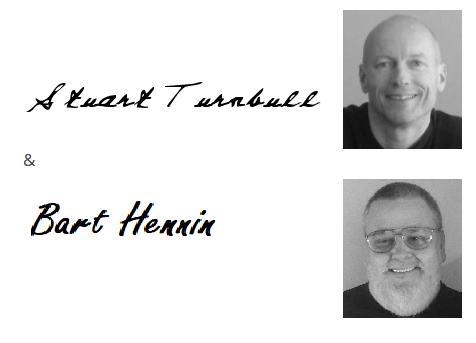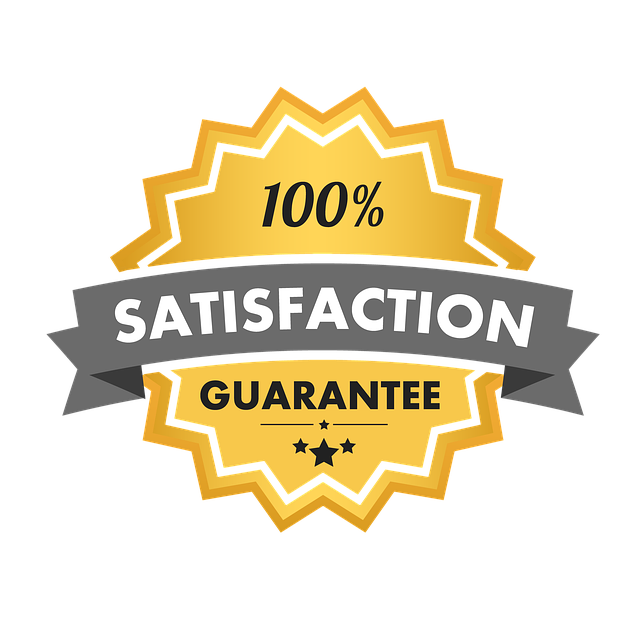 PS – Try Erica's course for 14 days at no risk! Erica gives a 100% Money Back Customer Satisfaction Guarantee! If you're not pleased with the content, contact her within 14 days for a full refund – no questions asked! She's that confident you will succeed!
PPS –Cash in for Christmas! – By enrolling now, you also have time to grow your Pinterest presence before the Christmas holiday shopping season!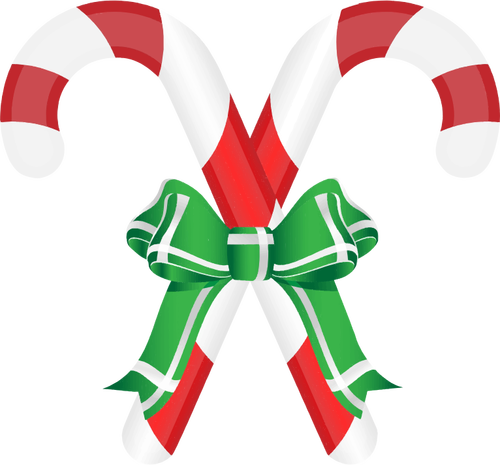 >Click here now to see everything Erica has for you!


Want 5 easy side hustles?
Get your FREE guide: "5 Easy Etsy Product Lines You Can Do Right Now!"