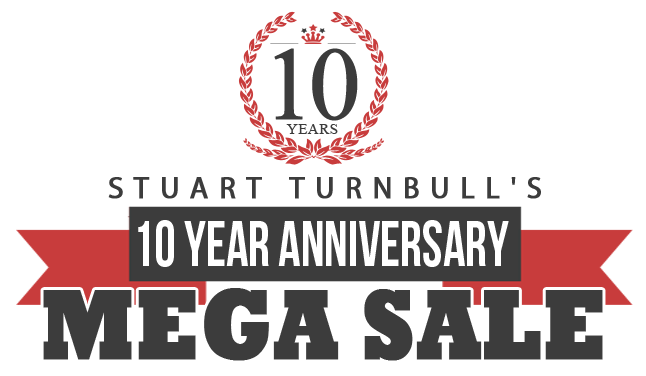 2018 represents an amazing milestone for me – back in 2008 I was out of work and desperately searching for an online business model that I could grow to support my family. I blogged about my story last year so I won't waste your time repeating it (you can check it out here if you missed it – https://stuart-turnbull.com/thoughts-impressions/building-an-online-business-my-story/)
The last 10 years have been an incredible journey for me, I have worked with some wonderful people from John Thornhill who showed me the ropes back in 2008 and whose expert support and generosity continue to help me along the way today to Bart Hennin my product creation partner whose exceptional talents have contributed to some of the most successful Etsy business courses available anywhere!
To commemorate this milestone I thought about rewarding some of my longest standing subscribers – there are many who signed up in 2008 and are still actively following my work and buying my courses 10 years later! But I want to do something that benefits all of my readers so I have decided to offer a selection of my most popular courses at HALF PRICE! (PLUS a very special giveaway so keep reading if you already own the full set of courses!)
Below you will find a brief synopsis of each of the courses selected.
Simply copy the HALF PRICE coupon code, click the link to the sales page and enter the coupon code at checkout to claim your discount. You can buy as many of the courses as you like and each comes with a 100% satisfaction guarantee!
Prints Make Profits – my very first product – 10 years and numerous updates later it is still as powerful in 2018 as it was in 2008!
When it comes to making money online it doesn't get any simpler than this – research ebay/Etsy for hot selling art prints, find old books (easy to do online) containing similar printed illustrations, remove and list them on ebay/Etsy  VOILA! your own online business without leaving your armchair! I started making money with this in 2004 – I'm still doing it today! (I shipped 2 print orders out this morning – 1 to the US, 1 to Australia)
Your HALF OFF coupon code – anniversary1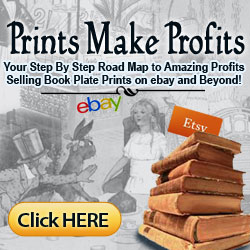 Upcycle Print Profits
A unique method for turning scrap pages into cash that will really get your creative juices flowing!
If the idea of creating your own designs with the help of free images from the public domain archives that you create once and sell over and over on ebay, Etsy and Amazon excites you then this course is for you!
Your HALF OFF coupon code – anniversary2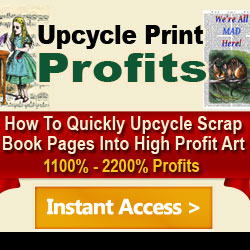 Your Printable Profits Empire
If you are looking for an Etsy business model where you create your product once and sell it over and over and never need to ship anything this course is for you!
Click on the graphic to discover a rabidly hot niche of printables that you can use to build your hands free empire today!
Your HALF OFF coupon code – anniversary3
Vintage Blueprints Cash Bonanza
Over 6 million "patents" have been issued in the US since the first was issued in 1790.
In 1871 the current system of including a black and white drawing of the invention was introduced.
The great news is – by definition these patent drawings are in the public domain so you can get them FREE (we show you where to find them) and sell them for big bucks!!
Your HALF OFF coupon code – anniversary4
PLUS – A FREE DRAW FOR A
VALUABLE

PRIZE!

If you already own all of the above courses (THANK YOU!) leave a comment on this post to let me know how you feel about my 10 years and I'll enter you into a draw for this valuable prize!*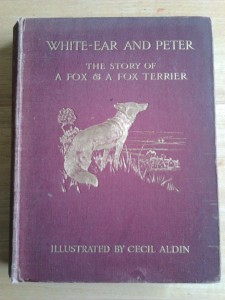 White Ear And Peter published by Macmillan London in 1912 illustrated with 16 full color plates by the renowned and hugely popular sporting artist Cecil Aldin 1870-1935.
This is a rare, first edition, antique book (currently priced in excess of $200 per copy on addall.com).

You can make great profits selling the original plates on ebay, Etsy and Amazon (potential profit c. $300!)

You can also scan and reproduce the plates which you are free to sell over and over as the book is in the public domain! (potential profit – UNLIMITED!)
The half off sale and antique book giveaway are now closed – Monique Broz, Brunswick GA is the lucky winner of the book! Sign up to my blog updates below to get priority notification about all future offers and giveaways!
(I will choose the winner of the antique book on the 17th which will be shipped at my expense)
Thank you for helping me make this 10 year milestone possible!
Sincerely,

* The free prize draw is only open to readers who have purchased all 4 of the above courses (either now or at any time in the past) I will be checking my sales records to keep it fair for everyone.


Want 5 easy side hustles?
Get your FREE guide: "5 Easy Etsy Product Lines You Can Do Right Now!"