I'd like to use this post to share an unusual and potentially lucrative eBay niche that I stumbled upon recently.
I run a regular completed listings search on eBay in the art>prints category to identify popular print genres (I demonstrate the full search criteria that I use in my ebook Prints Make Profits)
Over the years I have identified many profitable print niches this way but none quite so unusual and weird as this one!
.
This was the completed sale that caught my eye: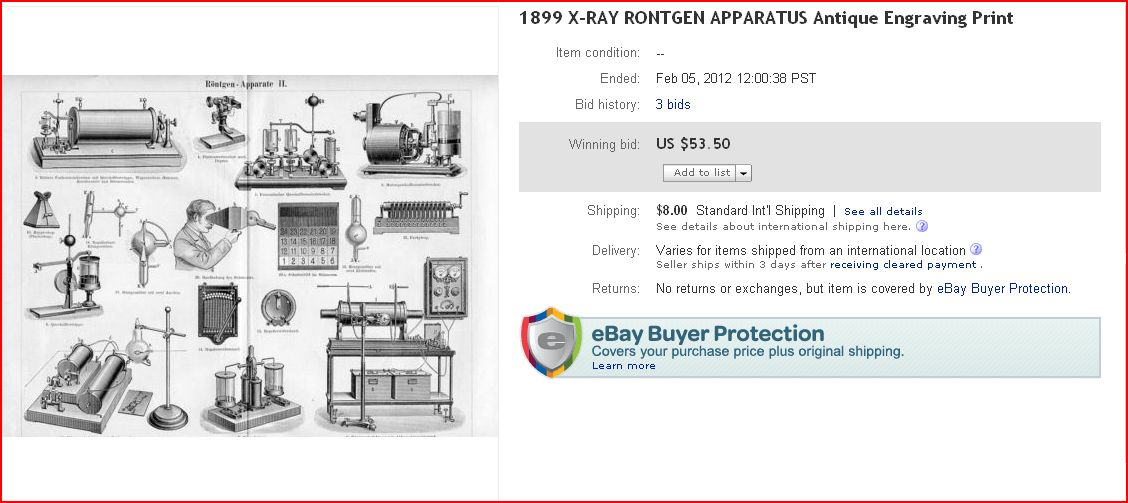 NOTE: Click on ALL images to enlarge!
.
This print is actually a book plate taken from an old encyclopedia that reached a stunning price of $53.50!
.
The next search I did was for the key word "x ray" which delivered 5,856 results ranging from medical text books to horror DVD's!
I then refined the search by adding the word "human"….
.
Returning a much more manageable 79 search results: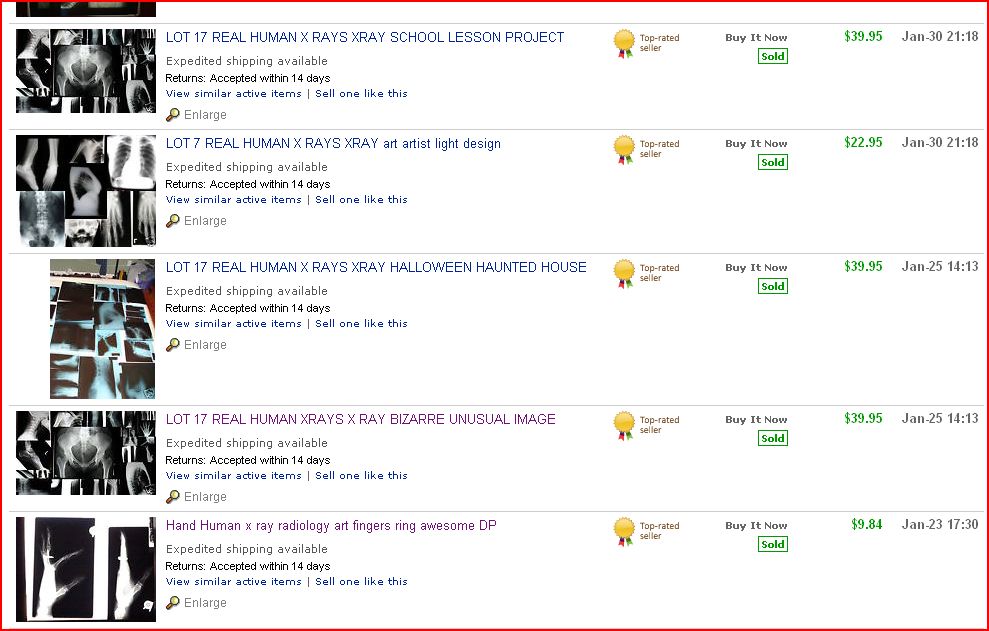 .
These human x-rays were all sold by the same seller and a little further research showed that this seller sells nothing other than human x-rays either individually or in lots.
.
In fact he has averaged $1000* worth of sales per month for the last 3 months!

(*Terapeak competitor research)
.
Some of his x-rays are sold as mixed lots: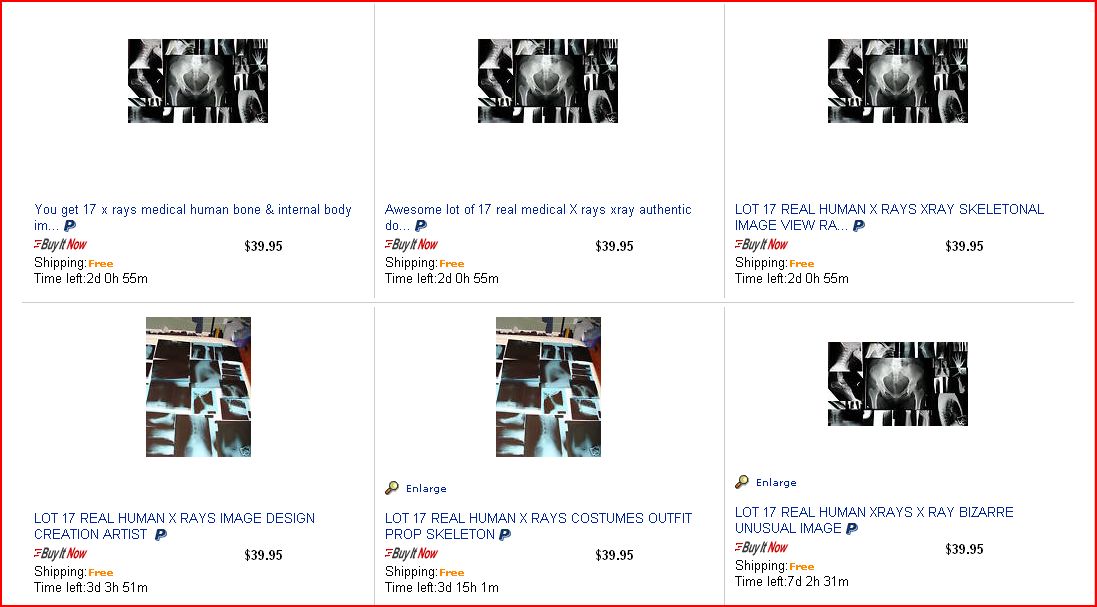 .
and some are sold individually: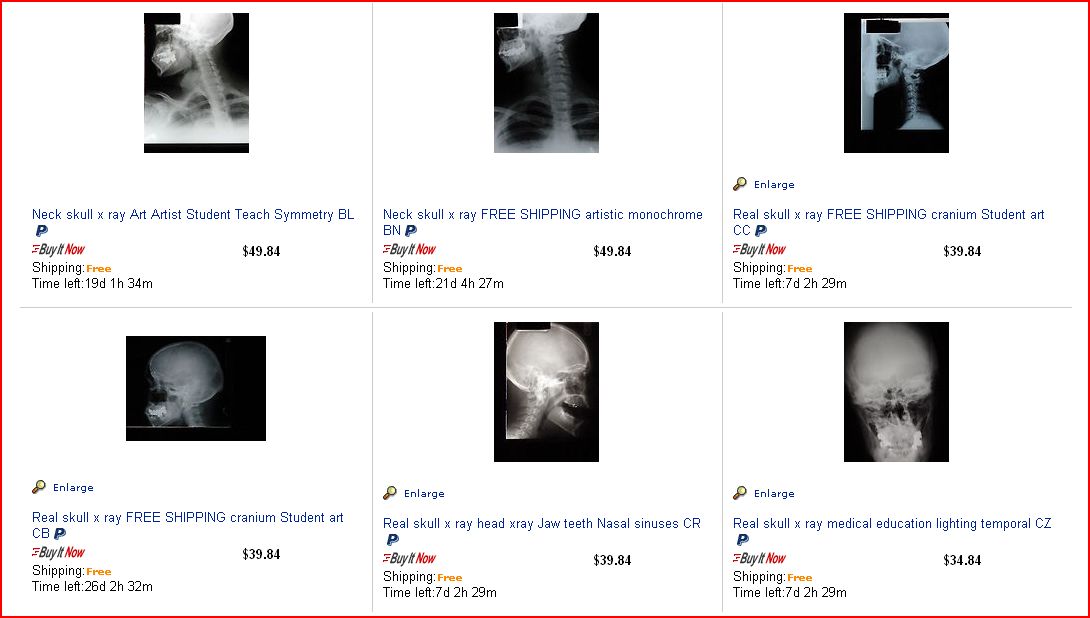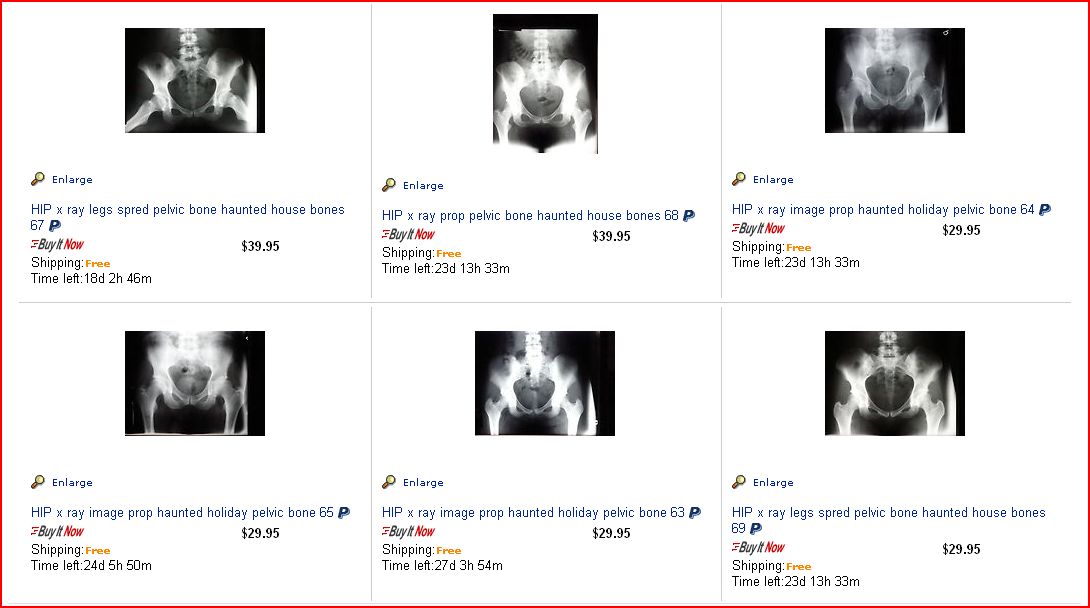 Note how the seller cleverly pitches his x-rays to lots of different buyers by using keywords in his titles like "halloween", "haunted" and "zombie". This brings his auctions considerably more traffic than if he just targeted the medical fraternity
It is also clear from my research that this particular seller is the only seller worldwide selling human x-rays.
.
None of this information is any use at all unless you can find a source of human x-rays!  My first thought was to search addall.com for medical text books containing images of human x-rays.
I tried various key word permutations without success.
.
Then I ran this search: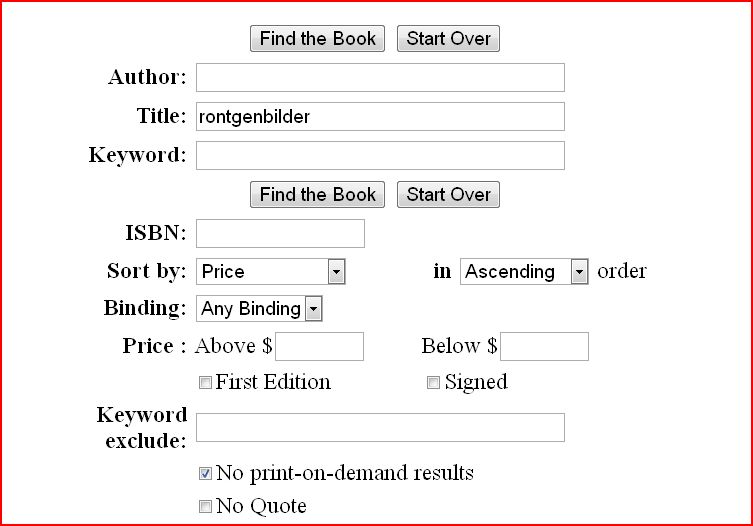 The word "rontgenbilder" translates from German to English as "x-ray images"
.

I purchased this book with photographs of x-ray images.
.
The book contains hundreds of x-ray images.
However, many are printed back to back and often several to one page.
.
Below is the result of my first test eBay auction:

.
Not a huge final selling amount I agree, but the auction did attract 4 different bidders so there is clearly a demand for these plates.
Keep in mind, the book only cost me $22 which INCLUDED shipping.
One additional thing to note is that all I literally did to sell this image was to cut it out of my book and scan it.  I then shipped JUST the book page (no matting) as is to the winning bidder.
I had no additional costs other than the mailing envelope and less than 10 total minutes invested in removing the page and later shipping it to the winning bidder!
I will run some further test auctions to try out different pricing strategies including 'Buy It Now' and I will keep you posted with my progress.
This turned out to be an interesting little experiment!
.
However, what I really wanted to get my hands on
were actual human x-rays.
.
I turned to Google and ran a search for "human x rays" and sure enough there is a seller on Amazon selling x-rays!
.
Below shows the listing for a set of 18 individual x-rays
(actual x-rays on film as opposed to printed images)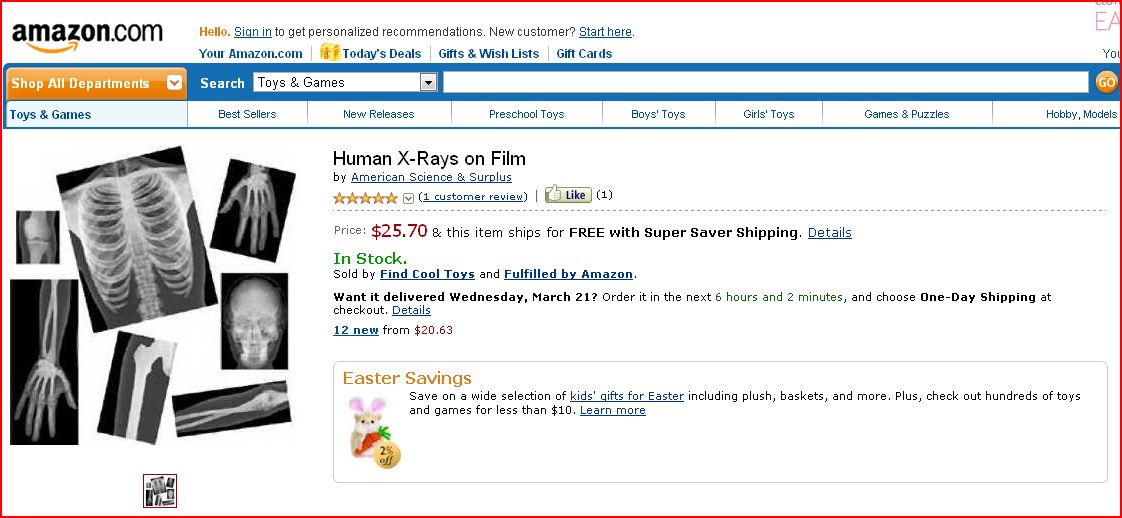 This entire set together makes up a full skeleton.
.
Now, I must stress that I haven't bought a set of these x-rays to test and I don't know if these items are comparable to those sold by our eBay seller.
Obviously, there is clearly a demand for human x-rays on eBay so there is the possibility of a very profitable arbitrage opportunity by buying the full set on Amazon and selling the skull, pelvis, chest, etc. individually on eBay.
This technique of buying several items together in one lot and breaking it into individual items for resale is a very lucrative model that can be applied in many different niches and is explained in detail in our brand new ebook Pieces Make Profits
.
All it takes is a little creative detective work to unearth the goodies hiding on Addall, eBay and even Amazon!
.
I would LOVE to hear about any experiences you've had with weird or unusual niches on eBay,
Leave me a comment below with your thoughts!
.
One lucky commenter will be chosen at random to receive a FREE copy of our brand new ebook:
Pieces Make Profits!
THIS OFFER IS NOW CLOSED, TO BE KEPT IN THE LOOP WITH MORE GREAT MONEY MAKING IDEAS SIGN UP TO MY BLOG USING THE OPT-IN FORM BELOW!
Talk soon!



Want 5 easy side hustles?
Get your FREE guide: "5 Easy Etsy Product Lines You Can Do Right Now!"