I'd like to say a huge "thank you" for your support, we have been absolutely overwhelmed by the number and quality of the entries to our eBay spot the differences competition!
Your feedback has been very encouraging and it is clear that you have found this to be an enjoyable and fun way to brush up on your eBay listing skills.
For me, selling successfully on eBay is about combining two things:
Firstly, you must cover all of the hard, factual bases.
This means using the right keywords in your title, clear images, the right category, fast dispatch, no quibble returns policy etc. etc.
But to really outsell your competition you also need to master the subtle art of psychology when you are selling.
This is all about using the right emotional triggers in your description and images and convincing your visitor that your item satisfies their needs and desires, if you do a good job of this the price becomes a secondary factor to your buyer.
This is the major difference between the two example auctions. I connected with my five bidders on an emotional level and the competing seller did not connect with anybody.
Here is my list of the major differences that I believe contributed to the success of my auction (in no particular order):
1 Use of keywords in the title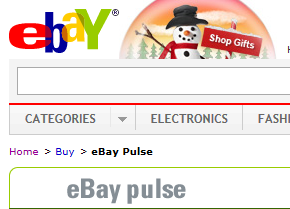 I use a combination of research and empathy to decide on the keywords that I include in my auction titles.
For research I use *eBay Pulse (you can find this by clicking on 'site map' at the bottom right of any eBay page and looking under "more ways to find items"). eBay Pulse gives you a current snapshot of the most searched words in each of the categories.
* ebay Pulse was removed in Sept 2012, check out this post for an alternative: https://stuart-turnbull.com/thoughts-impressions/a-new-free-to-use-ebay-tool/
By "empathy" I mean putting myself in the shoes of my target audience and imagining what words they would put into eBay search to find my item.
I use my main keywords first in my title because the newly increased title field isn't displayed in full when the search results list is shown.
I try to use all of the available space and I don't waste space on words that aren't searched by my audience.
2 Images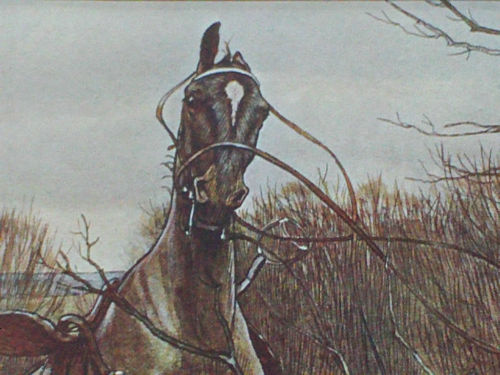 I use a selection of images to highlight areas of interest within my prints. In this example I provide a close up view of the horse because I know that horses are very popular on eBay (my eBay Pulse research tells me that "horse" is the second most searched keyword in the collectables>animals category)
I also provide a close up view of the artist's signature and a view of the print including the mount/mat.
This gives me three possible images to choose as my gallery image (the one that appears in search results) this is the most important image because it must draw the searcher in or the other images and description won't be seen.
Using one of the close up images like this for my gallery image is very effective because nobody will have seen this image before.
Even regular browsers who will have seen this particular print listed before will not recognize my close up and this enables me to draw visitors in that otherwise might ignore an image they'd seen previously and continue on down the search results.
3 Postage
I always price up the postage of my prints before listing (easy to do with a weighing scale and the post office website) and I always charge it at cost.
Another important factor is to exclude nobody. I quote three rates: domestic, European and rest of world.
4 Delivery
Everybody wants their purchase quickly so that is what I deliver.
5 Returns
Experience teaches me that a strongly worded guarantee of satisfaction increases sales and does not lead to more returns.
Offering a no quibble guarantee removes the risk for your buyer and is a great way to differentiate yourself from the competition.
6 Item Specifics
I use words that echo and reinforce the keywords in my title.
This is not the place for general descriptive words like "sporting" but the place to drill down into specific terms like "fox hunting".
7 Description
This is where my competitor completely loses the plot. He is far too concerned by listing facts which merely serves to put barriers in front of any potential purchaser.
I am not selling a page from an old book, I am selling a rare and desirable example of a celebrated Victorian artist's work.
Although the only real difference between my item and their item is a $2 mat kit I draw my reader in by telling a story. The facts (age, dimension, condition) are important and I do include them but I do so in such a way as to excite my reader about the possibilities of actually owning my print for themselves.
I use emotional trigger words like "scarce" "celebrated" "original" & "antique" to increase the perceived value of my print and convince the reader that urgent action will be required to achieve ownership.
8 Feedback
Clearly, my feedback score is a factor but don't let this put you off if you have yet to start your eBay selling career. We all had to start with a zero feedback score at some point and following my listing tips will put you ahead of 95% of the competition from day one!
There are several other minor differences such as the auction end times, the seller ID's, offer to combine postage, use of the number 7 in the price but I feel that these are the factors that most influenced the end result.
Competition Result!
After much deliberation Deb & I have chosen Lorraine Benham as our winner because Lorraine provided the most comprehensive explanation of all of the important differences AND fully grasped the psychology of a good eBay listing.
So congratulations Lorraine you will be receiving our bumper "Prints Make Profits" training package absolutely FREE!
Lorraine's prize package includes our best selling step by step guide to building your own profitable eBay prints business "Prints Make Profits", our multi-media guide to researching and sourcing – "Print Sorcery" PLUS our three "PROOF" guides which each provide a fully researched print niche that you can make money with today.
But that's not all!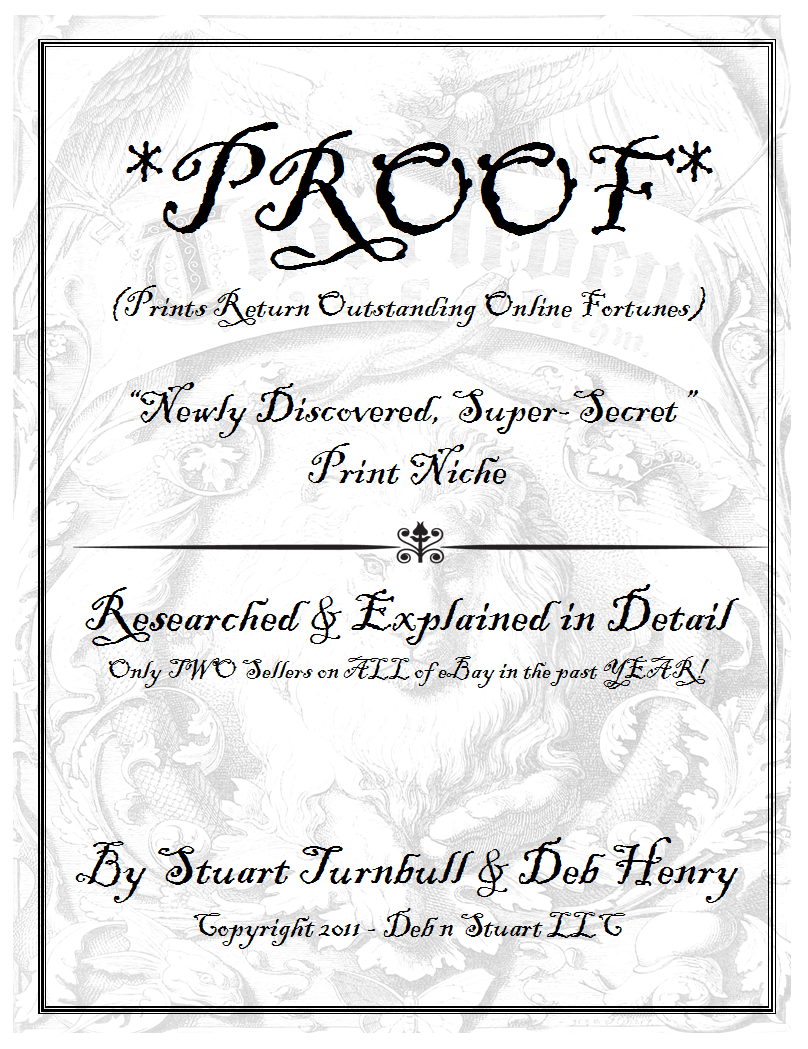 We are also including a Brand New 4th PROOF Guide which features an exciting NEW niche!
This niche is absolutely perfect for our Prints Make Profits methods:
– amazing 99% sell through rate!
(99% of all listings sell)
– easy availability of the source books
– low price of the source books
(you can get started for $20!)
– single prints selling for $20, $30, $40!
– practically zero competition!
We have spent a lot of time researching this niche and can honestly say it is one of the most exciting new niches we have ever found and offers the perfect opportunity to get in on the ground floor before anyone else.
(the information in this PROOF guide is so valuable that it will NOT be made available alongside the other 3 guides)
Lorraine will be receiving all of these great money making products today but don't despair if you entered the competition hoping to win the package for yourself – keep a close eye on your inbox for news of a unique opportunity!
Once again, thanks for taking part and supporting the competition!
Talk soon!



Want 5 easy side hustles?
Get your FREE guide: "5 Easy Etsy Product Lines You Can Do Right Now!"