New Year – New Start!
Welcome to my first post of the new year!
The first month of the year always feels like a fresh start, we all start the month with an extra bounce in our step as we look forward to all of the exciting opportunities that a brand new year brings!
The trick, of course is to carry that positivity and enthusiasm forward and not let it fizzle out by the end of the month.
This year I tried Judy Peebles S.T.O.P exercise which was recommended to me by Deb Henry
SUCCESSES – make a list of all of the good, positive things you achieved in 2012. They don't have to be major business accomplishments – celebrate everything you have done that makes you feel good about yourself.
Personally I found this to be helpful in two ways – firstly it focused my thinking on positive things, it is so easy these days with the gloomy financial climate to get into a negative mindset – worrying about paying the bills, job security etc. and negative thinking will defeat your ambitions. Remember that whether you think you'll succeed or fail – you are right.
A list of business successes also helped me focus on things that worked well in 2012 which gave me some great ideas for new projects in 2013.
THANKS – what are you thankful for? Think of all of the good things in your life – your health, your family your friends, this again helps to focus your mind in a positive direction.
Remember, there are many people happy with less than you have.
OPPORTUNITIES – what are the opportunities you can imagine for 2013, what are your ambitions and goals? This is all about creating a vision of your future.
PLAN – having the vision of your future enables you to start planning how you are going to achieve it. What steps are you going to take to make your goals a reality?
We are now a couple of weeks into the new year and your enthusiasm and positivity may already be starting to wane so get yourself a notebook and a pen and try the S.T.O.P exercise. Think of it as a working document that you revisit and add to as the weeks pass.
What strategies do you use to focus your mind on achieving your goals?
Please leave a comment at the end of this post to share your ideas.
New ebay Tool!
In addition to using Deb Henry's ebay hot niche research & listing best practices methods (taught in her easy to follow, step by step ebook Fishing for Niches) I used to also be a regular user of ebay's Pulse feature.
ebay Pulse for the uninitiated was a free tool that allowed you to search categories for the most popular items – invaluable information to help the ebay seller identify the most searched keywords as well as hot selling items.
Unfortunately, ebay removed Pulse in September 2012 (without announcement or explanation).
I have been on the look out for an alternative to share with you ever since. (I do subscribe to Terapeak which I recommend as an excellent research tool but this is a paid service which may not suit everybody, particularly the novice ebayer who is just starting out.)
Recently I came across watchcount.com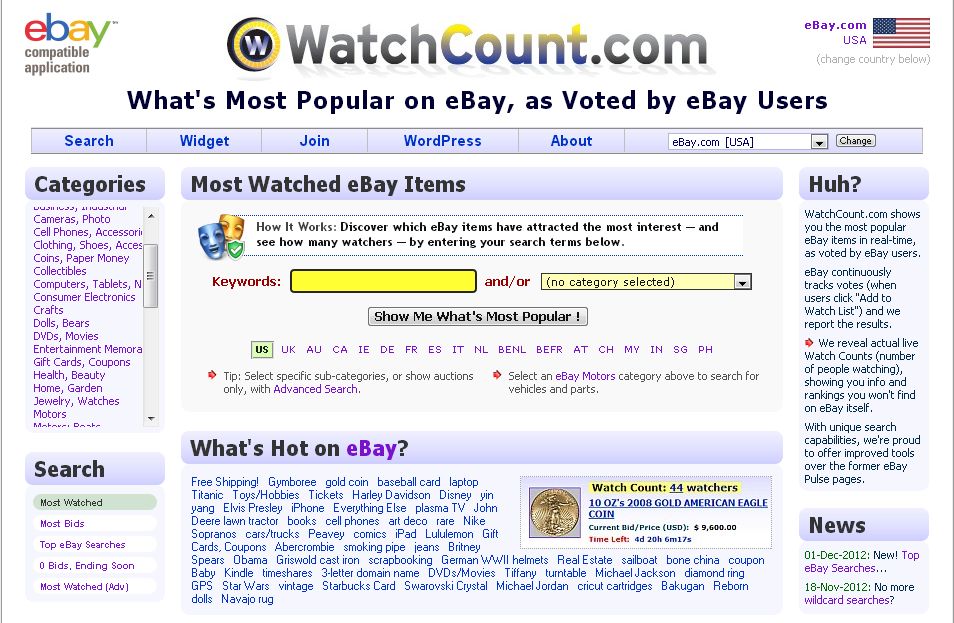 Watchcount.com is FREE to use and has some really useful features including:
Most watched ebay items – simply pop your keywords and/or category into the search box, choose which ebay country site (all of the major sites are covered) you wish to search and hit the "show me what's most popular!" button.
You will be presented with a list of current ebay listings showing the number of watchers, the current price and time left, the number of bidders if an auction listing or the number of past sales if a fixed price listing plus a link to view the item on ebay.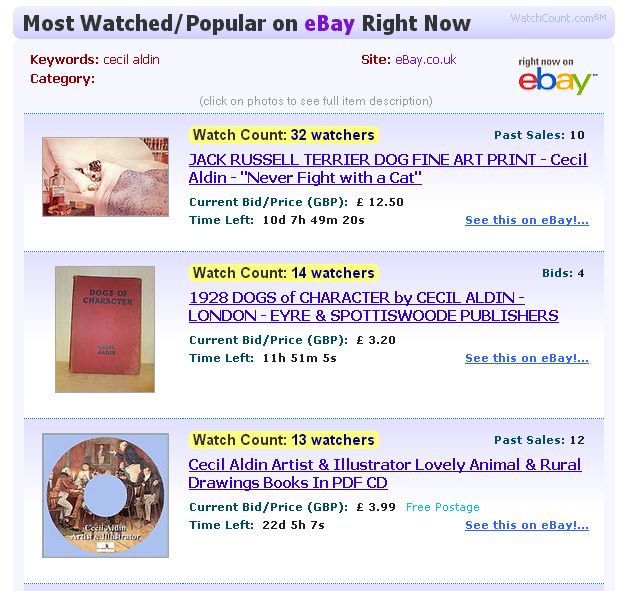 There is an advanced search mode that allows you to search across multiple categories and specific sub-categories. Display more search results, exclude categories, and optionally focus on auction-style listings.
Items with the most bids – allows you to see ebay's most bid-on auctions in real-time and witness hot listings in progress.
Auctions ending soon with no bids – uncover ebay auctions with no bids but ending soon. ebay auctions with zero (or fewest) bids but ending within mere minutes/hours can contain 'hidden' bargains overlooked by most ebay shoppers and thus available at opening-bid prices.
There is a misspelled items search which also allows you to pick up bargains when the seller misspells the title – these listings remain 'invisible' to the ebay search engine so most shoppers won't find them!
One of my favorite features is the watchcount widget which is a nifty little box that you can add to your item description showing the number of ebayers currently watching your item.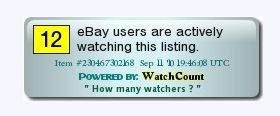 This is a clever way of using buyer psychology to your advantage – people naturally want what other people want and they are more likely to bid on your auction if they see that it is popular with others.
Also included alongside the widget is a dynamic "Watch This Item" link which encourages visitors to add the item to their watch list — and automatically does so when clicked.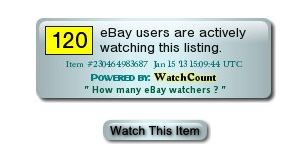 The widget is customizable so, for example you can specify the minimum watch count needed for the widget to be visible in your listing.
You can also choose various colors and background skins.
It is a simple process to add the widget, you simply paste the HTML code provided into your auction description.
Customizing the widget requires changes to the HTML code which are explained in detail but if you feel a little uncomfortable or just don't have the time to absorb the instructions you can email your request and they will adjust the widget HTML code for you!
Conclusion
All in all, this is a really impressive website – it is simple to use and navigate, all of the tools do what they say they do and it is refreshing to see the people behind it offering to help you without asking for anything in return.
There is more functionality than provided by ebay Pulse and you don't have to pay for these additional tools!
(Please note that this review is based on my own research and use of watchcount.com and that I will not earn a commission if you choose to use the site)
What are your favorite ebay tools?
Maybe you have found a free tool that you think will help your fellow ebay sellers – leave a comment and share!
Talk soon!



Want 5 easy side hustles?
Get your FREE guide: "5 Easy Etsy Product Lines You Can Do Right Now!"