I ran several vintage print auctions last week and they provided some useful lessons that I'd like to pass on to you to help with your own auctions (most of these tips can be applied regardless of what you sell on eBay).
.
I was delighted to see a bidding war take place for one of my antique hunting prints!
As you can see from the screenshot below, there were 2 very determined bidders who pushed the price up to a remarkable final value of $273.10 (£172.90)!!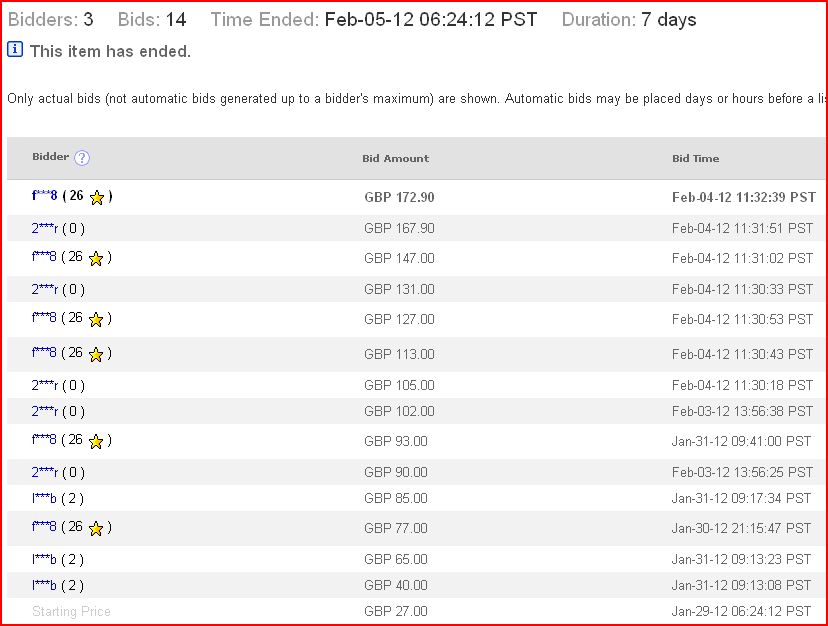 Click on image(s) to enlarge
 .
This past week of sales continues to demonstrate my belief in this eBay selling niche!
.
Selling prints taken from old books is an extremely lucrative & enjoyable business!
.

This particular print cost me just $25 and that includes the mat kit!
.
There are several very valuable lessons here:

.
1. You must sell internationally if you want to maximize your final values.
.
This print is now on its way to Canada and I find that around 30% of my prints are purchased by overseas buyers.
.
2. The second lesson is the value of eBay newbies.
.
You'll notice that one of the determined bidders is actually a newbie with zero feedback and in my experience bidding wars like this often involve new eBayers who get swept up in the excitement of the auction and consequently bid way above the 'true value' for the item.
For this reason I try to encourage newbies by welcoming them to my auctions, I use the "Item Location" field to add a little message:

 .
3. Finally, you should never quit if your item doesn't sell the first time it is listed
(or the second!).
.
As you can see from the next screenshot, this very same print went unsold with zero bids on the 22nd of January.

And this same print had also gone unsold in two other previous auctions.
The strategy I followed in this case was to relist each time with a lower start price – the unsold auction on the 22nd of January had a start price of $58 (£37)
The successful auction started at $42 (£27)
The first time I listed this print I set the start price at $74 (£47)
Each time I listed I knocked £10 off the start price until I reached the level that the bidders found attractive.
.
Here are two other prints that sold last week:
.

These prints are actually title pages from the book as shown in the example below:

Of course, not all title pages will sell so readily, but if they feature art work as my two examples do then they become very attractive in their own right so DON'T discard them!
.
Another useful lesson from my title page auctions again concerns my pricing strategy.
.
I started the auctions initially at $42 (£27) but noticed that by the fourth day of my seven day auctions I had no watchers on either item.
.
I used the edit feature to drop my start prices to $26 (£17).
.
This had the desired effect and both prints achieved a final value above my original start prices!
You can edit any details within your auction listings while the auctions are live as long as you have no bidders.
.
Black Beauty comment competition winner!
.
Wow! what a response to the comment competition I ran in last weeks newsletter!
Thanks to every one who took part by leaving a comment, I'm delighted to announce that the winner is Susan Prevost!
Susan will be receiving a package containing a selection of Black Beauty book plates plus custom cut mat kits and rigid envelopes to match!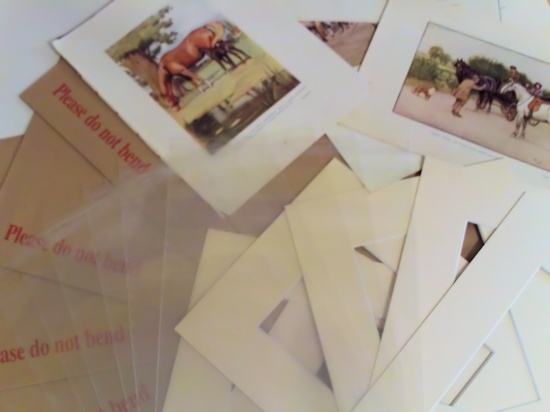 Remember, selling old book plates on eBay is highly lucrative and fun and ANYBODY can do it!
All you need to get started is my easy to follow, step by step guide Prints Make Profits 
Check it out NOW, this might just be the eBay niche you've been searching for!
Talk Soon!



Want 5 easy side hustles?
Get your FREE guide: "5 Easy Etsy Product Lines You Can Do Right Now!"