If you have included the appropriate keywords in your titles, descriptions and tags your items will appear in search results along with all of the other matching items currently listed for sale.
If you want to ensure that your items appear in the most prominent positions in the search results Etsy provides Promoted Listings that enable you to bid against other sellers for advertising spaces that appear in the first and middle rows of search results.
A "bid" is the highest amount that you are willing to pay for an ad click.
In this example screenshot I have searched for the high traffic term "alice in wonderland decor" and you can see that 4506 matching items are currently listed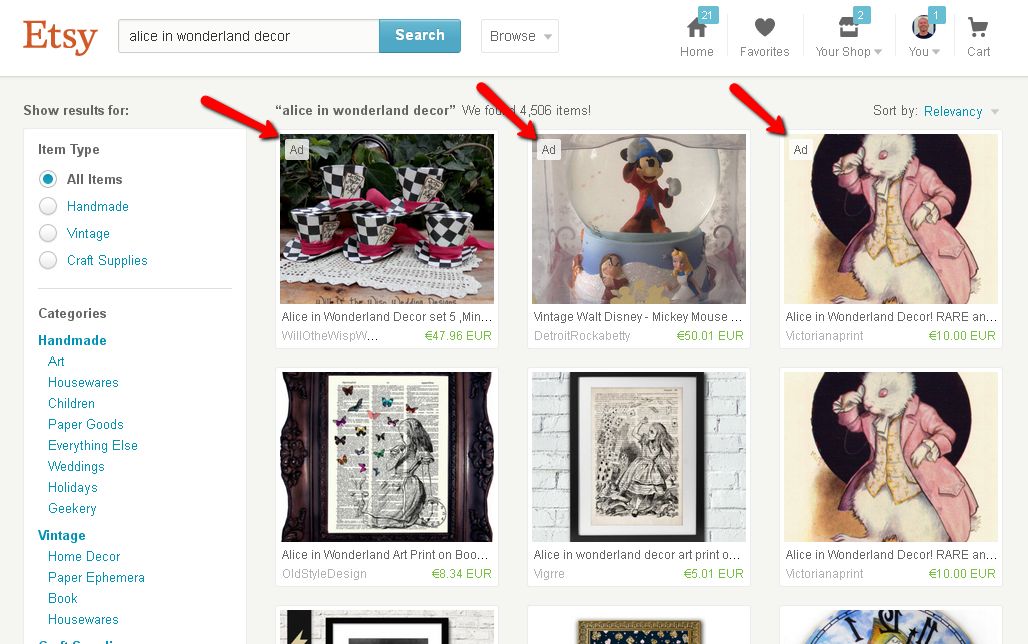 Click on the image to open it in a new window
The 3 items arrowed are ad spots (I sell Alice in Wonderland prints myself and my item is the white rabbit on the right).
The Promoted Listings system was introduced at the start of September 2014 and replaced the previous Search Ads system that I wrote about here; https://stuart-turnbull.com/ebay/2-tips-to-boost-your-etsy-ebay-sales/
With the Promoted Listings system you choose which of your items you'd like placed as ads in the Etsy marketplace, you then select the maximum amount of money you are willing to pay per day for your ads to appear (between $1 and $10)
An auction will then automatically take place where other sellers will also bid for similarly placed ads.
Depending on the outcome of the auction your items will now appear in a row of Promoted Listings either at the top or middle of a search results page.
When a potential buyer clicks on your Promoted Listing, you'll be charged your winning bid amount.
It sounds complicated, I know but you can simply opt for Etsy to automate the bidding process on your behalf and they will determine the best bid for each listing helping you to maximize the number of clicks you receive for your budget.
My Results!
The set up process is a lot simpler than it sounds – I opted for all of my items to be promoted (which includes all new items added to my shop), I chose the minimum daily ad spend of $1 and I opted for Etsy to automate the bidding process.
The result is that after set up, the only time I have spent on the process has been on reviewing my results and 3 months into the process I must say that those results have got me very excited indeed!
This screenshot shows the campaign overview since the system started in September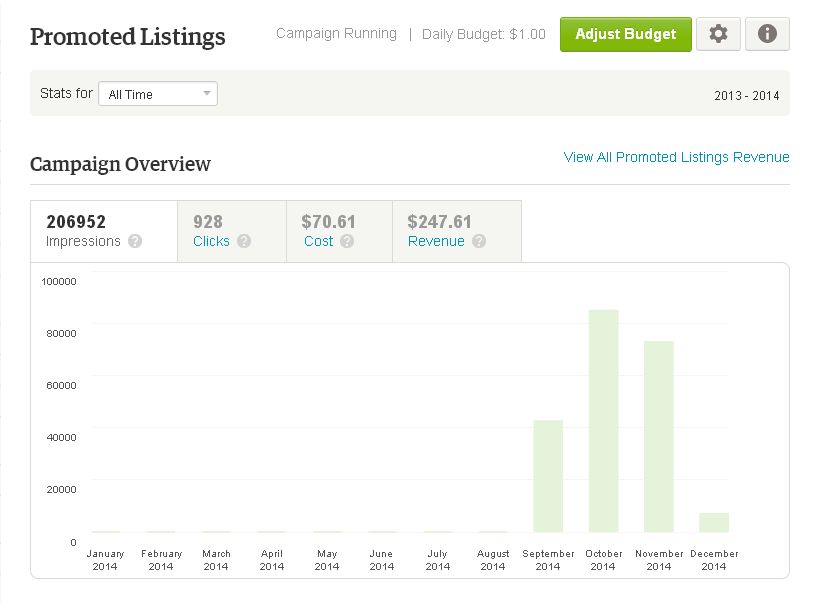 Click on the image to open it in a new window
You can see that there have been 206,952 ad impressions (the number of times my ads have appeared in search results), the ads have been clicked 928 times (remember – you only pay when an ad is clicked)
I have paid $70.61 for the clicks which have resulted in sales totaling $247.61!
OK, this revenue figure isn't all profit but my net profit margin is around 85% which means my $70 ad spend has become $210 in my pocket!
The next screenshot is November's overview and is even more impressive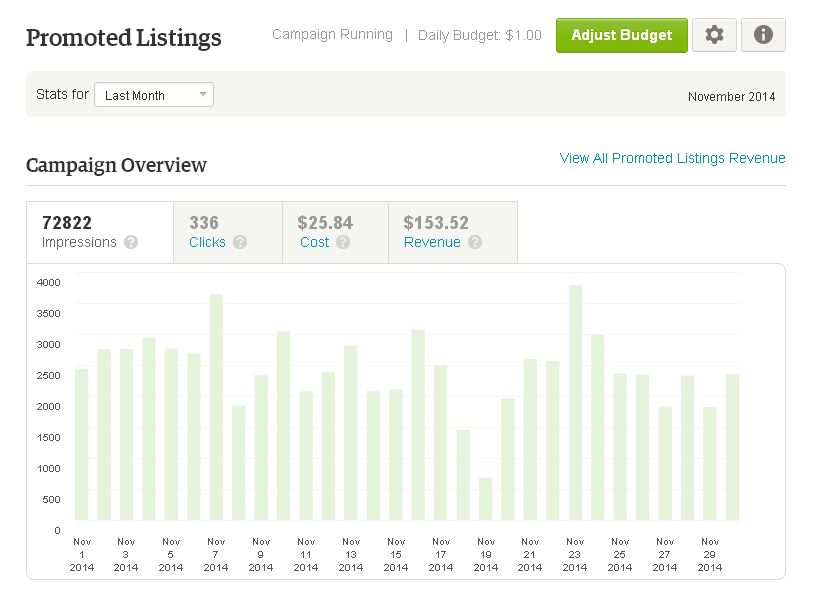 Click on the image to open it in a new window
My $25.84 ad spend has added an extra $130 to my bottom line! ($153 revenue x 85%)
Conclusion
Using Etsy's Promoted Listings is clearly a "NO BRAINER!"
Everyday in November I spent $1 on advertising and every day that ad spend generated $4 in clear profit!
AND this system is 'set and forget' – I don't do anything other than fulfill the extra orders generated!
If you are confused about how best to boost your buyer traffic or you haven't yet opened your Etsy shop because you don't know what you can sell then YOU NEED my brand new step by step guide to Etsy success – Your Etsy Profit Machine! 
This extremely comprehensive yet newbie friendly course will take you by the hand and teach you every aspect of making a great home based income on this exciting sales platform – you'll learn:-
* How to easily get tons of excellent high demand products for just pennies that sell like hotcakes on Etsy for tens or even hundreds of dollars!
That's 300% – 1850% pure profits!
And if you don't have "Pennies" to spend on Etsy products that's OK!
Because I'll even show you how to get unlimited popular Etsy products for free! – that can be sold fast at high prices for quick profits & lets you pocket 100% of the cash!
* I'll also show you how to easily create powerful Etsy listings fast that are irresistible to viewers.
* And I'll show you tons of super simple ways to draw lots of hungry buyers to your Etsy store too!
* I'll also show you how to get repeat sales & multiple sales from the same buyers over and over and over again!
* And I'LL show you how to tap into Etsy's "social scene" (the right way) to quickly ramp up your sales & profits!
* I'll even show you how to easily tap into the power of FaceBook to draw in tons more buyers & create an avalanche of additional profits!
AND much, much more!
CLICK ON THE GRAPHIC BELOW to find out how easy it is for you to start adding Etsy profits to YOUR income:-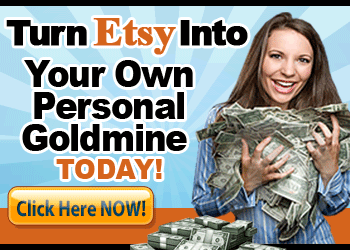 As ever, your comments and questions are very welcome!



Want 5 easy side hustles?
Get your FREE guide: "5 Easy Etsy Product Lines You Can Do Right Now!"