It's been a busy week, I've started working on a new product which I'll tell you more about soon but today I want to share 2 excellent resources that have come to my attention this week.
The first is Tony Shepherd's brand new "Affordable Mentoring Newsletter"
If you aren't familiar with Tony and his work let me just say that there are only a handful of marketers that I choose to listen to. I am very careful about whose list I sign up to, I don't like marketers who promote every big guru product launch, I don't like marketers who use hype and exaggeration/lies to sell products and I detest marketers who ignore my emails because they are too high and mighty to respond when the little guy asks for their help.
I follow the marketers whose ideals reflect my own, people like Jim Cockrum and John Thornhill who have achieved their success by listening to and helping the little guy.
Tony Shepherd is one of those and in his new affordable mentoring newsletter he shares the techniques that he uses in his own successful business.
Now let me be clear, this is not some collection of old ideas tarted up and given a fancy title, no, this is real, bang up to date, insider stuff that you won't find anywhere else.
I love Tony's stuff because he ignores convention and continually pushes the boundaries to the point where some may feel a little uncomfortable. This material is wily and exciting but above all it works.
But don't take my word for it, sign up and try it out for yourself. Tony is asking for the paltry sum of $17 and don't let this ridiculously low price put you off, I have learned so much from his first edition I can't wait for the next one!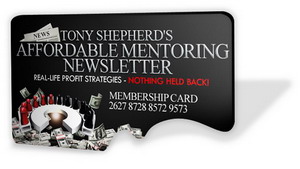 Just click the link to read more about Tony's "Affordable Mentoring Newsletter"
Article Marketing — FREE guide!
Since I began sharing my article marketing experiences and successes I have received lots of emails asking how to write effective articles.
I had planned to write a report but Steve Shaw from submityourarticle.com has beaten me to it!
There is a lot more to writing effective articles than meets the eye, and in Steve's 50 page report he covers the subject in detail.
From an explanation of how article marketing works to how long your articles should be, how often you should submit them, how to write attention grabbing titles, how to craft resource boxes that demand action and lots, lots more.
This really is an excellent and comprehensive report on the subject and you can download your personal copy by clicking the link;
"How to construct highly effective articles"
So if you have considered using  article marketing to drive traffic to your website or blog but weren't sure how and where to start this is for YOU!


Want 5 easy side hustles?
Get your FREE guide: "5 Easy Etsy Product Lines You Can Do Right Now!"