In my last newsletter post I introduced a rather unusual but potentially lucrative niche "are there skeletons in your closet?"
In the course of my eBay completed listings research I discovered that there is a very strong demand for human x-rays and I purchased an old medical textbook containing lots of images of x-rays of different parts of the body ($22 including shipping).
Since then I have run a couple of dozen test auctions with some interesting results:
My initial auction was for an image of a skull x-ray which I started at a price of 99 pence ($1.59)
I list on ebay.co.uk so the prices are in sterling.
this sold for £4.05 ($6.44)

NOTE: Click on ALL images to enlarge!
This auction received 4 bids from 4 different bidders which indicates a reasonable demand so I decided to test a higher start price.
I listed 11 x-ray images each starting at £4.97 ($8.01)
3 of these listings sold:



and the remaining 8 went unsold.
I relisted these unsold prints and reverted to the original start price of 99 pence ($1.59)
6 sold and 2 remained unsold: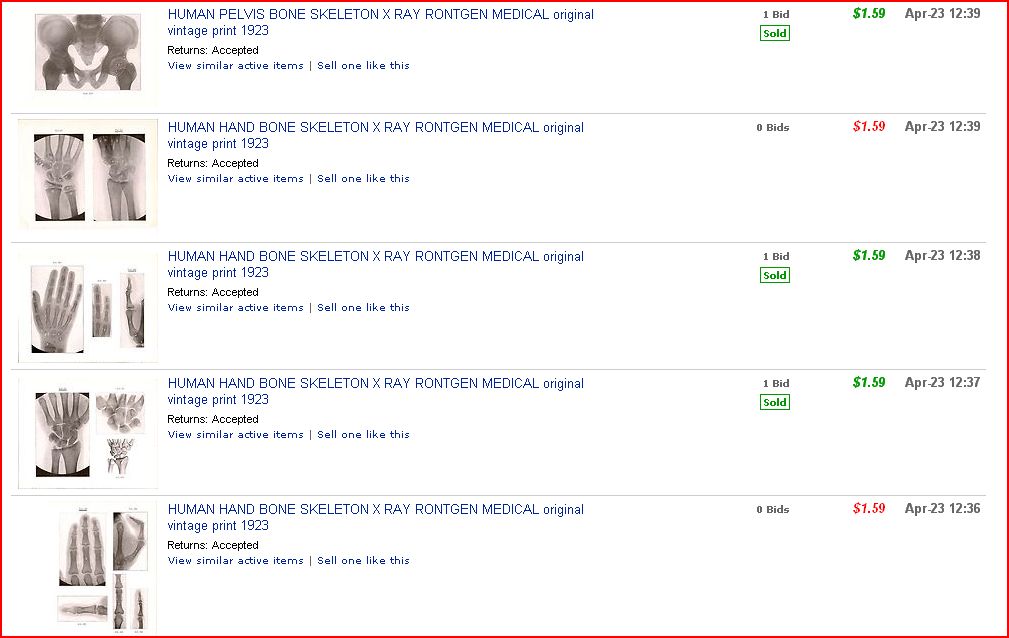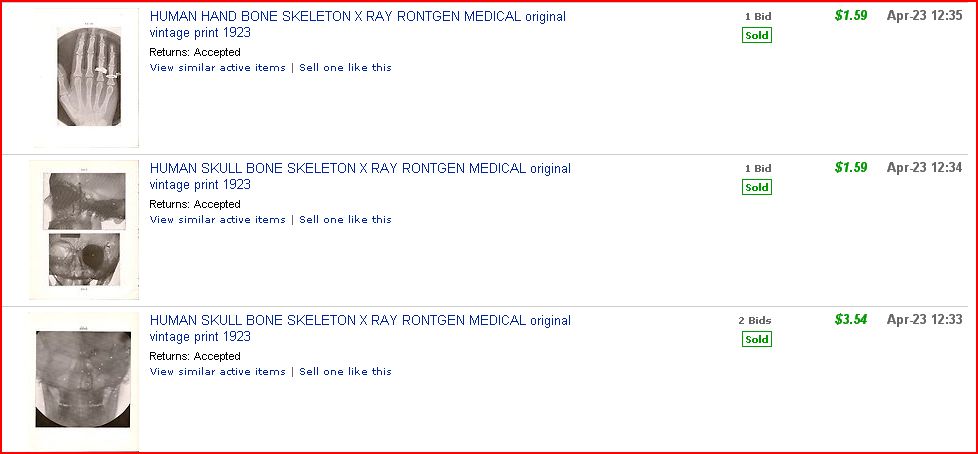 Conclusions
So far I have taken $55.77 for 10 pages taken from an old medical text book that cost me $22.
I charged cost price plus an extra $2 for shipping to cover my costs (rigid mailers, PayPal and eBay fees).
There are 207 x-ray image plates in the book although many of them are printed several to a page and back to back so there are maybe 50 pages that could be listed.
The purpose of this post, however is not to recommend this particular book as a source of profitable prints but rather to demonstrate the popularity of this particular niche.
It is clear from my test listings that the skull images are the most popular and if you carry out a completed listings search for the key words "human skull" and "human skull print" you'll see just how popular this subject is.
Now that we have identified a popular niche with hungry buyers it is up to us resourceful eBay sellers to use our imagination to come up with items to present to these eager buyers!
My Thought Process
Human skull images are the most popular so I ran this search on addall.com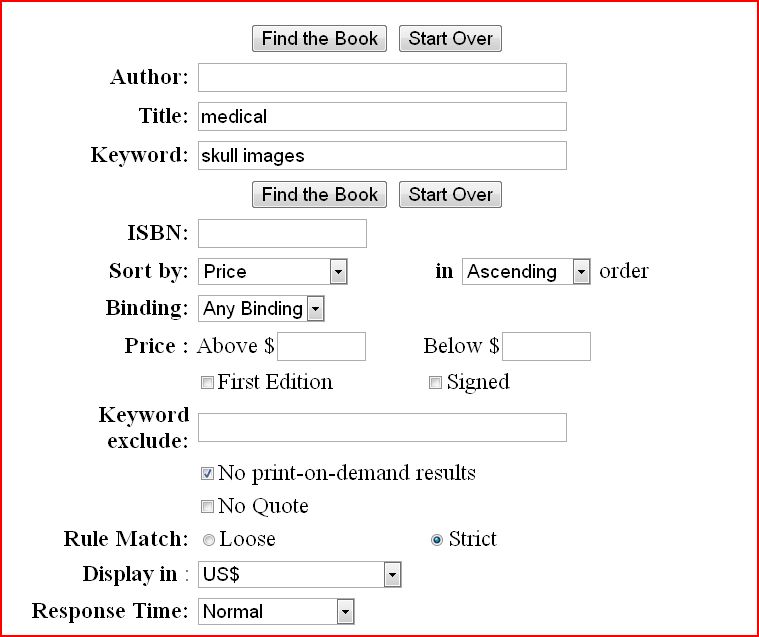 this led me to this book

the description sounds very interesting with lots of skull images!
My next step was to run a search for this particular book title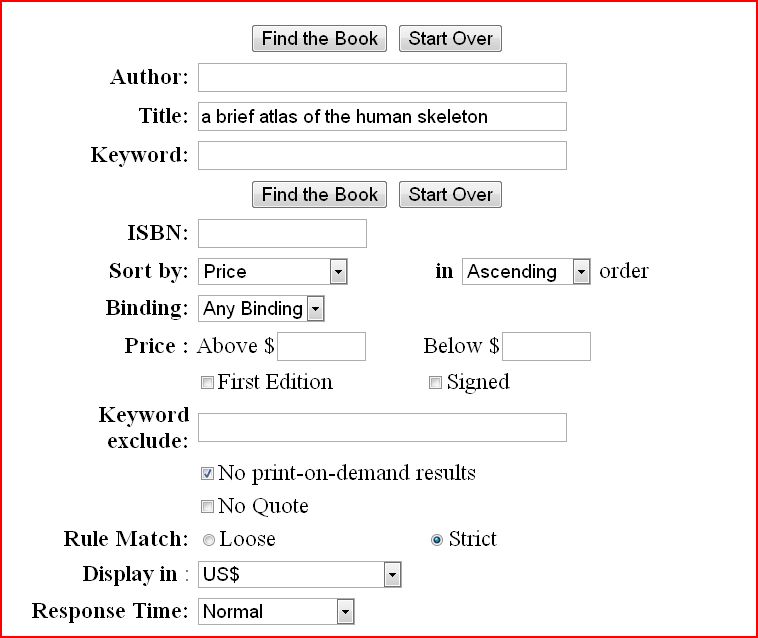 This search yielded 90 results ranging in price from $1 up to $40 for a brand new copy

a good tip when you are researching books in this way is to look out for any Amazon listings like this one

although this copy appeared more expensive if you click on the book title you'll be taken to the Amazon site, in this case I got a very pleasant surprise!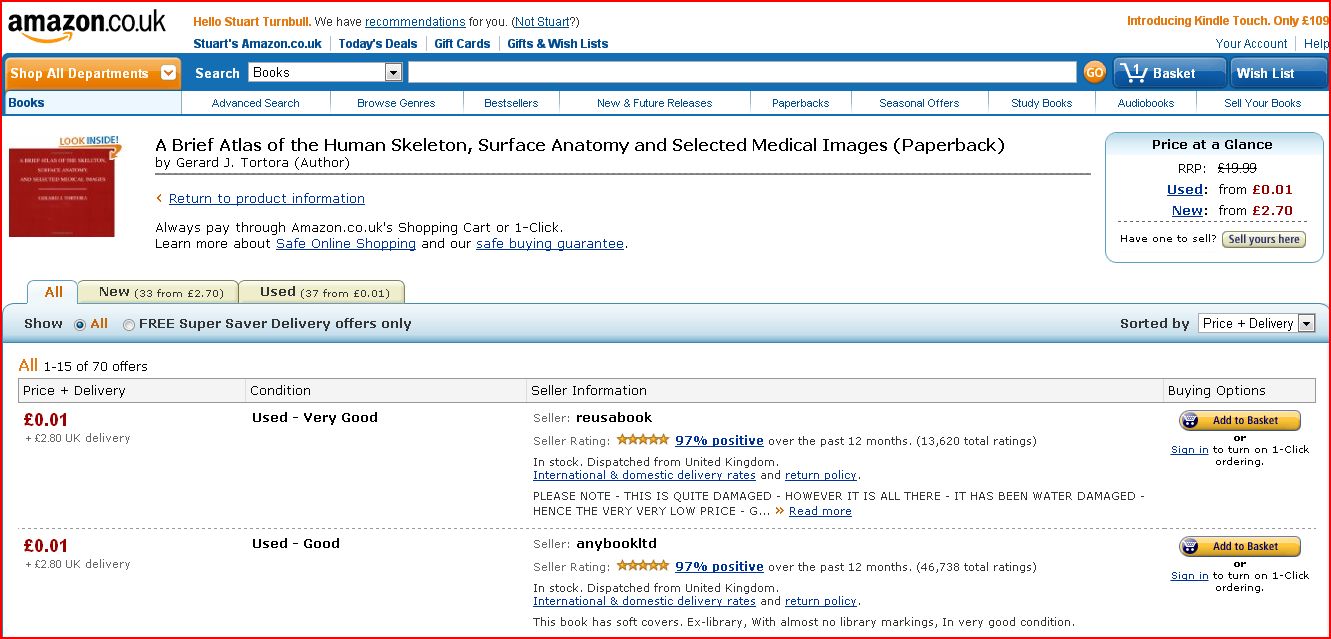 Yes! this book is being sold on Amazon for the princely sum of 1 penny!
I ignored the top seller whose copy was described as "water damaged" but still managed to secure a ridiculous bargain!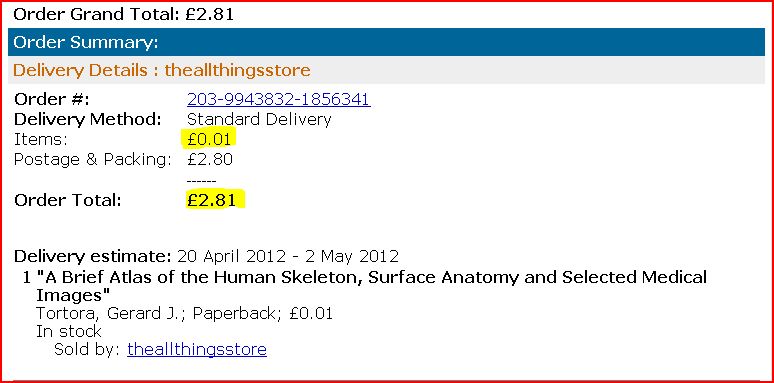 a couple of additional Amazon features also help with our research.
The "look inside" feature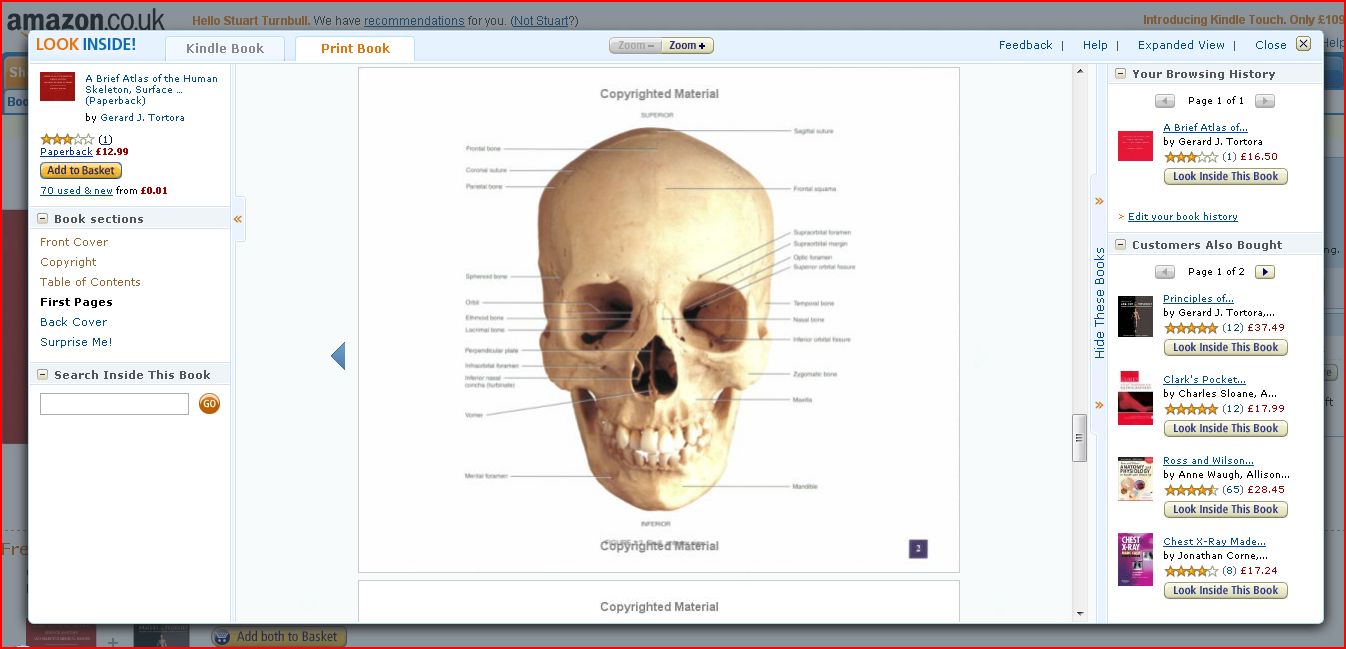 this lets us see exactly what we are buying – I'm thinking these skull images will look amazing matted in a charcoal black mat!
and my order confirmation email includes recommendations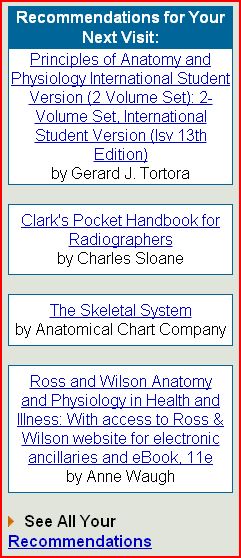 these books may also contain prints that will appeal to this niche.
Want to work with me personally to build your own vintage print business on eBay?
Recently we have received several emails asking when we will be accepting new students into the Prints Make Profits Workshop.
The Prints Make Profits Workshop is our unique "business in a box" concept and includes everything that you need to kickstart your very own vintage/antique print business.
And when I say "everything" that is exactly what I mean!
Each Workshop Kit includes an antique book carefully researched by me containing valuable prints that are hot sellers on eBay.
Archive quality mat kits custom cut to match your antique prints and rigid mailers to dispatch them safely are also included.
Workshop Kits also include printed and bound reference guides and a tutorial DVD showing every step of the process from safely removing the plates from the book to trimming and matting them for a professional quality product and then how to pack them to arrive in pristine condition.
We even provide ALL of the tools required – from craft knives to artists tape!
But that's not all!
Personal one to one coaching is provided to get your new business up and running as quickly as possible plus a lifetime promise that we will be there whenever any support, advice or encouragement is needed.
Because of the level of coaching and support provided it is essential that we strictly limit the number of students we accept onto the Workshop so we will be opening the doors to 5 new students only.
These new places will be offered to the pre-launch notification list subscribers first so it is vital that you register your interest now!
THIS OFFER IS NOW CLOSED, TO BE KEPT IN THE LOOP WITH MORE GREAT MONEY MAKING IDEAS SIGN UP TO MY BLOG USING THE OPT-IN FORM BELOW!
Talk soon!



Want 5 easy side hustles?
Get your FREE guide: "5 Easy Etsy Product Lines You Can Do Right Now!"