Last year I bought a book through Amazon called "White Ear and Peter" which was published in 1912 and illustrated by the famous English sporting artist Cecil Aldin (1870 – 1935)

see the detail – all images will open in a separate window if you click on them
The price of £21 sterling (including shipping) equates to roughly $32
I then invested in mat/mount kits which consist of a custom cut mat, back board and self seal cellophane bag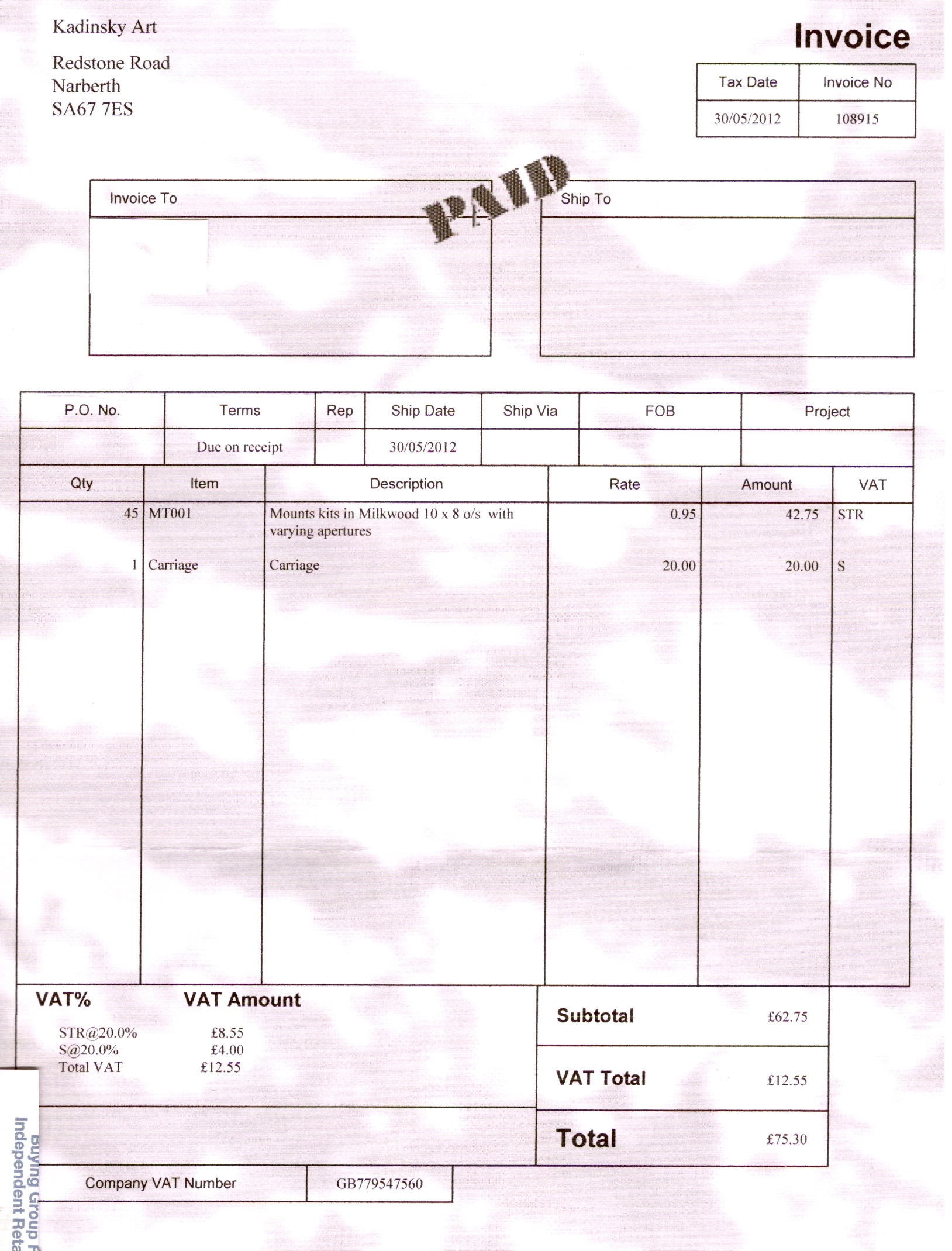 As you can see from my invoice above, I bought 45 mat kits (this particular book contains 16 plates but I try to buy my mat kits in bulk to reduce the shipping cost per kit)
I paid a total of £75.30 ($117) which is £1.67 per kit ($2.61)
I began listing the plates on ebay a couple of weeks ago, initially I listed 10 of the 16 plates with a start price of £17 ($27) and sold 5





I re-listed the 5 plates that didn't sell with a reduced starting price of £9.97 ($16) and this time 3 of the 5 plates sold



In the last week I listed a few more with £17 ($27) start prices and sold these:


The buyer of the beautiful parrot print above sent me this lovely message:
"Thank you so much for listing this GORGEOUS, rare print.  I am a parrot breeder and collect vintage/antique "parrotphernalia" so this will be a wonderful addition to my collection that I will enjoy in my home each and every day!"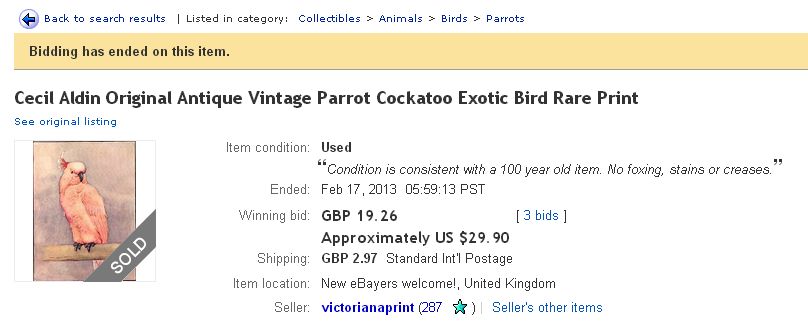 As you can see from the image above I chose to list this particular print in the 'Collectibles>animals>birds>parrots' category and not the 'art>prints' category as I did with the other prints from this book.
Do consider the subject matter when listing your own prints, some print subjects will fit naturally into a dedicated category such as this one.
Some ebay shoppers search their favorite categories for items that  catch their eye so this technique ensures your item is visible to the right people.
OK, so how much money have I made so far?
I have sold 10 of the 16 plates taking a grand total of $295.09!
Less ebay/PayPal fees of $44.26 and the cost of 10 mat kits at $26.10 leaves a NET PROFIT of $224.73!
I am sure you will agree that this is an excellent return on my original investment of $32
AND I still have 6 plates left to sell!
This represents a 600% profit and is a perfect example of why vintage book plates are THE PERFECT ebay product:
 Anybody with internet access can do this!
 No special tools or skills required.
 Thousands of hungry niches to target.
 Simple step by step product sourcing.
 No need to leave home.
 Your product is easy to store, cheap and simple to ship.
 This business is interesting and fun!
 You can get started for next to nothing.
This looks great, Stuart – how can I learn how to make these amazing profits for myself?
Click on the graphic below to find out more about the Prints Make Profits Workshop LITE  (affordable coaching and mentoring)
Do it NOW because places are limited and are selling fast.
This offer is now closed, to be kept in the loop with more great money making ideas sign up to my blog using the opt-in form below!
Talk soon!



Want 5 easy side hustles?
Get your FREE guide: "5 Easy Etsy Product Lines You Can Do Right Now!"