Support my blog – I get commissions for purchases made through the links in this post
Kids love puzzle books!
Parents also love kids puzzle books because they occupy and exercise young minds!
How do you cash in on this evergreen and under served market?
Remember Ken Bluttman, the creator of "Puzzle Book Mastery" the software that creates adult puzzle books? The Puzzle Book Mastery software and training package proved extremely popular when I reviewed it last May.
Now Ken has created "Kidz Puzzle Books" which works in a similar way but creates different puzzle types unique to kids!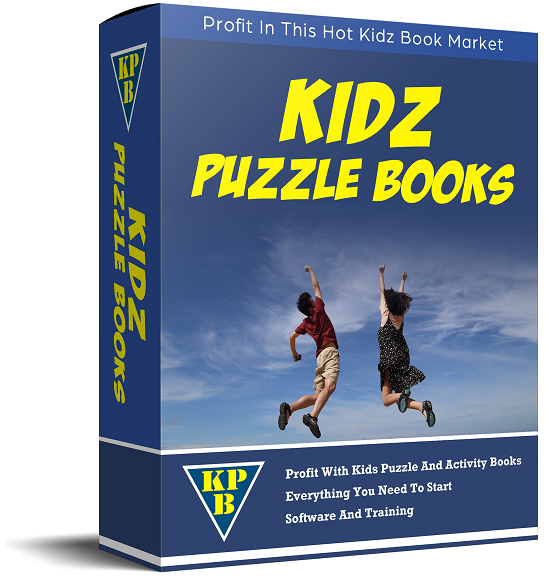 The Kidz Puzzle Books software creates 8 different puzzle types including;
Hangman
Tic Tac Toe
Dots & Boxes
Dot to Dot
Sudoku
Word Search
(To ensure your word based puzzles are unique the software allows you to upload your own word sets.)
No previous knowledge is required –  the software puts the puzzles in book format – you simply have to add a book cover (the training includes step by step videos that walk you through creating covers using Canva – a free online tool) and upload to the Amazon KDP platform (more easy to follow videos step you through the KDP set up!)
You can have your first puzzle book published within the next 24 hours!
There is no limit to the number of puzzle books you can create using the Kidz Puzzle book software – the more you create the more passive income you can potentially make!
(It costs nothing to publish a book on Amazon KDP!)
I have spent the last week reviewing and testing Kidz Puzzle Books and I have to tell you I am seriously impressed!
Ken has put together a top quality resource that enables even complete newbies like myself to successfully create attractive puzzle books that will be snapped up by the millions of buyers worldwide in this super hot niche!

What is included in the package?
The package consists of the puzzle creating software (cloud based so nothing to instal on your computer) plus 5 videos that show you how to use it.
There are additional videos as follows;
Market Overview – 2 videos that look at the market place and the most popular kids puzzles.
Step by Step training – 12 videos covering the whole process from creation to publishing;
Researching the title/sub title
Creating the book PDF
Creating the title page
Merging the title page and the book into 1 PDF
Downloading the KDP template
Creating the book cover
KDP set up – covers right up to the book going LIVE on Amazon!
Ken has also created 13 additional videos that provide comprehensive training on using Canva to create your stunning and eye catching book covers!
All of the videos are top quality, easy to follow and SHORT! (one of my pet hates is long training videos!)
There is a Facebook group for any training questions so you will always have the support of other more experienced users.
Finally Ken backs the whole package with a 30 day, no questions asked money back guarantee!
I urge you to click the link to the offer page now and view the 4 short videos that Ken has provided to show you just how simple it really is to use this software.
Sincerely Yours,



Want 5 easy side hustles?
Get your FREE guide: "5 Easy Etsy Product Lines You Can Do Right Now!"