It is finally ready!
My best selling eBook Prints Make Profits has undergone a major revamp and is now bigger and better than ever!
I have been selling prints on eBay for several years now and as my experience has grown I have continually refined my methods and this edition includes my very latest research techniques.
I have also included bang up to date examples of prints you can buy today and sell on eBay tomorrow at a 900% profit!
Prints just like the John Craxton lithographs I told you about in my post Profitable Prints on eBay – Make Money Watching TV!
To date I have sold 10 of the 16 prints contained in the book that I purchased for $53.99 (including postage!)
My total takings are $239.70!
Which leaves me with a substantial profit after eBay/PayPal fees…
PLUS I still have 6 prints left to sell!
Remember, I have done nothing to these prints, I haven't matted them I simply bought the book online (I show you exactly how to find the cheapest books containing the hottest sellers in chapter 5 of Prints Make Profits.)
I removed the prints, scanned them, listed them and then posted them in rigid backed envelopes to my buyers……….simple!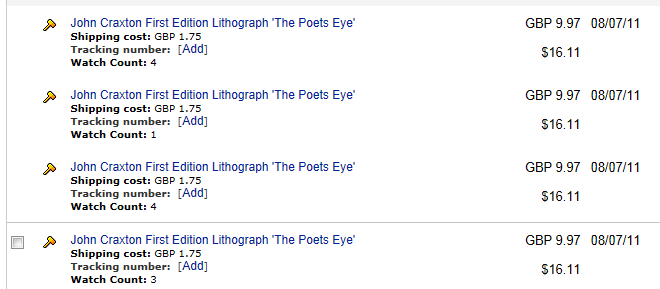 Click to see enlarged view of total sales to date
I received a comment on my recent post My eBay Profit Secrets suggesting that it can't be as easy to make money as I say it is. Well I promise you it really is this easy!
Once you master the research techniques I teach you in Prints Make Profits,
you can do this yourself:
You don't need any special tools
You don't need to invest a lot of money
This business needn't take up a lot of your time (unless you want it to)
In fact anyone can do this regardless of where they are in the world.
If you are a past buyer of my eBook then look out for my email containing your FREE copy of the third edition update in the next day or so.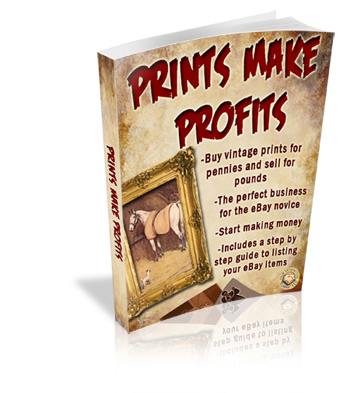 Everyone else will be able to buy the updated edition from its brand new website next week.
Do please bear in mind that the price of the new edition will be much higher ($27) than the current ridiculously low sale price of $9.97 so this represents a final opportunity to buy at the low price and receive the updated third edition at no extra charge!
For your last chance opportunity to purchase the brand spankin' new,  updated version at the current reduced price make sure you:
Click the graphic NOW!
This offer is now closed, to be kept in the loop with more great money making ideas sign up to my blog using the opt-in form below!
Talk soon!

| | |
| --- | --- |
| | If you have enjoyed reading this post and you'd like more FREE TIPS and ADVICE pop your best email in the box and I will email you whenever I update my blog PLUS send you advance notice of all my future product launches! |