I hope you are enjoying the season (fall/autumn depending on where you live!) Here on the east coast of Ireland we have been lucky with remarkably mild weather for this time of year – particularly welcome with the huge increases in fuel costs this year.
This morning I enjoyed a very pleasant walk in the early sunshine before sitting down in my home office to write this post, I took this pic from my office window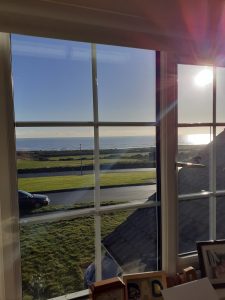 Bart and I have been reviewing our popular course Custom Template Treasure Chest and updating it where necessary. Past buyers get free updates and the link to the updated course was emailed to the buyers list a couple of days ago – drop me a line if you haven't received yours – support@stuart-turnbull.com
We are planning to celebrate this update with a Black Friday Weekend Sale commencing on the 22nd so do look out for our emails if you have yet to cash in on this lucrative and super hot niche!
==================================================
In addition to this we have also been working on a couple of brand new projects!
We have a brand new Etsy niche course in the works – as always we have chosen a popular niche (possibly our best niche yet!) with hungry buyers and low competition. The products are easy to create and you can get started with zero upfront investment! Watch this space for further details!
Secondly, we are working on an exciting, brand new surprise project – An Exclusive Membership! This is a completely new idea for us to help you succeed. If you've ever felt "held back" from success, this will get you on track like nothing else! We feel that the time is right to share our most closely guarded "make money online" secrets with you. This won't be our usual step by step guide to a specific business model or niche but rather a collection of multiple models revealed in regular monthly newsletters and videos that share our most private methods, strategies and insider info – the stuff we don't share anywhere else.
Enrollment will be strictly limited so be ready to act when you receive our email!
=====================================================
Last month we shared the link to our 2022 Christmas gift (the early release this year to give you time to put our ideas into action before the Christmas shopping frenzy!)
Here it is again if you missed it;
Cash In This Holiday Season! HOT Christmas Products For Etsy!
====================================================
To wrap up this catch up post we have another valuable, free gift for you!
In response to lots of questions about Etsy's Offsite Ads (this ads program is not to be confused with the voluntary opt-in 'Etsy Ads' program where you control your ad budget and choose which listings to advertise) we have put together a short report on the subject – this is a quick read but it covers what you need to know to get free money from Etsy and how to keep them from taking yours!
Your Free Guide to Etsy Offsite ads!
=====================================================


Want 5 easy side hustles?
Get your FREE guide: "5 Easy Etsy Product Lines You Can Do Right Now!"