Auto Listing Renewal
This new feature allows you to set your individual listings to renew automatically at the end of the 4 month listing period (the 20c listing fee is taken at the time of renewal).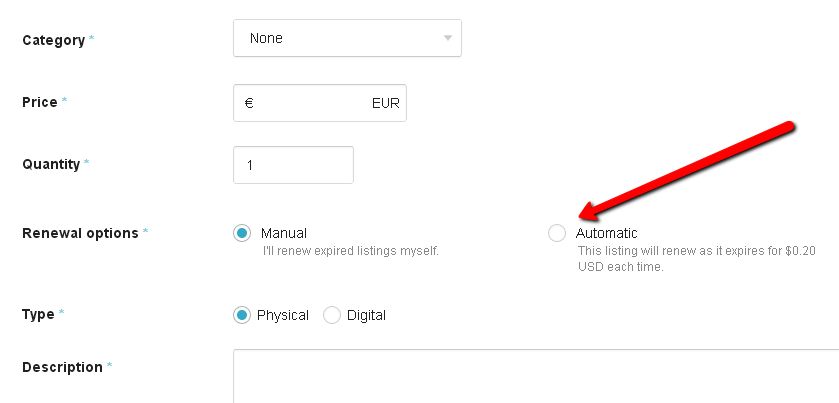 click on the image to enlarge it
This is a great idea if you have many hundreds of listings and you are sure that you want them all to renew continuously.
Personally, I won't be using this feature because I prefer to review each listing upon expiry to ensure that it is worth renewing.
I find that I never sell every single print in any book that I list – there are always the really popular items that get snapped up within a few weeks of listing and the less popular ones that may not sell at all.
My Strategy
Step 1
I identify popular prints that are selling successfully for other sellers and I research the source books.
Step 2
I use addall.com and ebay.com to locate cheap copies of the source books.
Step 3
I list all of the prints from each source book over a 3 or 4 day period – so, for example if I have 20 prints from a particular book I list 5 per day for 4 days.
Because new listings are featured in the news feeds of Etsy members who have favourited my shop this brings a flow of traffic to my shop and often leads to fast sales of recently listed items.
Step 4
Once I have sold several prints from a particular book and am convinced of the viability of the niche I go back to addall and ebay to source a second copy so that I can renew sold out listings as soon as they sell.
This strategy results in a constant flow of traffic as I am renewing successful listings on a daily basis.
RINSE & REPEAT
Step 5
At the end of the initial 4 month listing period I review each listing (Etsy emails me to remind me when a listing is due to expire) and only renew prints that have sold at least once.
Prints that haven't sold in 4 months are likely to remain unsold – these can be put together with other unsold prints and listed as a bundle for a 'no brainer' price at a later date or can be used as free gifts and slipped in with buyer's orders to build customer loyalty.
Calculated Shipping
Etsy announced the launch of calculated shipping to US sellers on March 30th
I do get a lot of questions from new sellers who are confused about how to quote shipping rates so I am sure this new feature will be welcomed!
You can read all about it by clicking > HERE
As it is only being made available to sellers in the US I won't be able to provide you with my thoughts and impressions based on using the feature but I welcome any feedback from my US based subscribers.
STOP PRESS!
Today I made my 500th Etsy sale and I would like to celebrate this milestone in my own personal Etsy selling journey by encouraging you on yours!
To this end I am offering a $5 discount off each of my 3 best selling products –
To get $5 off Prints Make Profits – the video course that teaches the product sourcing secrets that I use in my own Etsy business simply click the link to visit the sales page and add the coupon code 500special at checkout


To get $5 off Your Etsy Profit Machine! – the course that will take you from Etsy novice to Etsy expert simply click the link to visit the sales page and add the coupon code 500special2 at checkout
To get $5 off Your Etsy List Builder – the course that teaches you how to build and market to your very own Etsy buyers list simply click the link to visit the sales page and add the coupon code 500special3 at checkout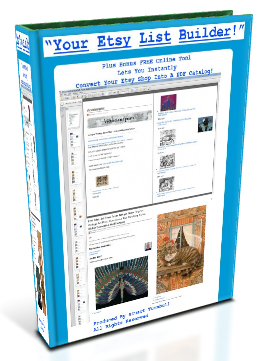 And, yes you can take advantage of all 3 discounts and save a total of $15 but please don't sit on this as all of the codes will expire at midnight on Sunday 19th April
Talk soon!

.


Want 5 easy side hustles?
Get your FREE guide: "5 Easy Etsy Product Lines You Can Do Right Now!"